When I saw my first dog-themed cake, I was amazed by the artistry, creativity and sheer cuteness. Clearly, a lot of love went into baking cakes inspired by man's best friend.
Just for fun, I decided to dig around the web to look for more canine cakes. It didn't take long to find hundreds of photos of adorable dog cakes from all over the world. These included cakes inspired by beloved pets, famous dogs and even cakes made just for dogs. Here are eight of the cutest dog cakes we found online.
1. Sculpted dog cake
Oakleaf Cakes creates stunning custom cakes such as these sculpted dogs created for a wedding. Instead of a traditional cake, the bride and groom requested cakes in the likeness of their two dogs. The cakes were displayed side by side at the reception.
At Oakleaf Cakes, sculpted dogs are one of their most popular cakes, followed by cars and purses. If you live in the Boston area, you can order your own custom cake to look just like your dog — fluffy tail and all.
2. Yorkie cake
On the deviantART website, artisans share their latest creations and there's a section just for food art. This Yorkshire Terrier takes the cake for incredible detail with its intricate icing fur and soulful eyes.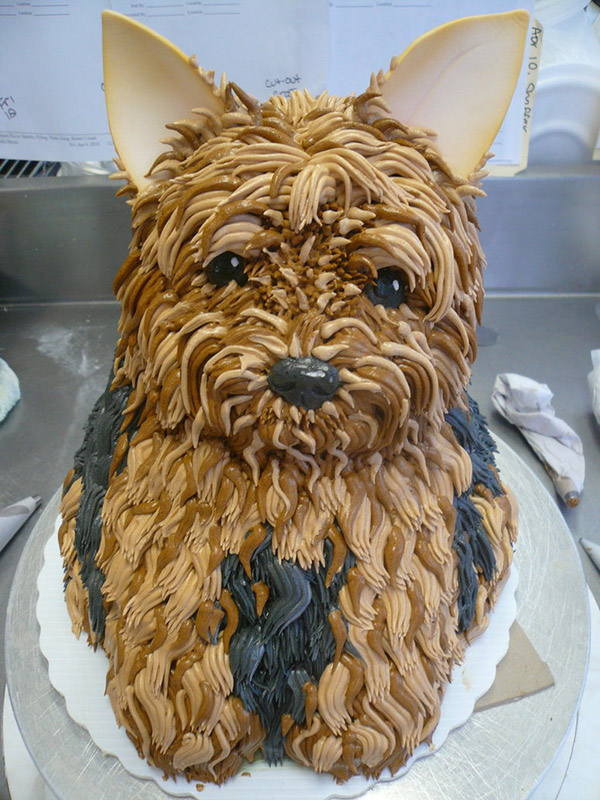 The artist, Keki-Girl, writes, "I did this cake for a little girl's birthday. She wanted me to make her three animals into cakes. This was the first one."
3. Dog-themed cupcakes
Speaking of Yorkshire, these dog-themed cupcakes were created by Cassandra Hickling of Cupcake Creations, based out of West Yorkshire, England. Cassandra is a mom to three kids and started cake decorating after struggling to find a modern christening cake.
These vanilla cupcakes are topped with dog-themed creations made out of fondant. The toppers include a friendly pooch, a very large bone and a bowl filled with dog food.
4. Pug cupcakes
These baked treats are begging to be called "pugcakes." They're the cutest pug-faced cupcakes that we've ever seen. There must be something special about the UK and cupcakes, because these little cuties were also created by an English bakery.
Carousel Cupcakes is based out of Eastbourne, England and was started by two childhood friends who've always been passionate about baking. They even won cake competitions while in school. Although they currently bake part-time around their day jobs, judging by these adorable pugcakes, they'll be baking full-time in the very near future.
5. World's cutest cake pop
Here's Boo, the Internet sensation known for being "The World's Cutest Dog." This adorable Pomeranian has over nine million Facebook fans and has inspired countless products, including two photo books and his very own likeness as a Gund plush animal.
On Bakerella.com, Boo was the inspiration for these adorable cake pops. Visit the website to find detailed instructions and photos on how to make your own Boo cake pops. It's amazing what you can create with a little bit of cake, candy wafers and a toothpick.
6. Le Marcel Cakes for dogs
Why should humans have all the fun? If your dog has a special celebration coming up, get a cake made just for him. Le Marcel Dog Bakery specializes in creating all-natural, hypoallergenic treats for dogs. Using only raw, human-grade ingredients, this San Francisco-based bakery serves up everything from pooch pastries to Beagle bagels.
Special occasion cakes are available in two shapes, both round and bone-shaped. The large bone cake is about a foot long and has enough space to include a custom salutation written in dog-friendly icing. You also get to choose your dog's favorite flavor — carob (no chocolate for dogs) or peanut butter.
7. Custom cake that looks like your dog
If you live in Tokyo or are planning a visit with your dog, you'll want to pop into Lovina Bakery. Here, you can get a custom cake made in the likeness of your pet. What's unique is that it's a not a cake for humans. It's just for dogs.
All you need to do is bring in a photo of your pet and the bakery will create a custom cake using quality ingredients that are healthy and delicious for your dog.
8. Bake your own cake
We all know that the best ingredient when baking is love. And, no matter what the end result, the cake that you make will always be top dog for your pet. At Allrecipes.com, you can find a recipe to bake your own doggie birthday cake.
With yummy ingredients like peanut butter, eggs, honey, and carrots, it's no surprise that the majority of the 100-plus reviews gave it two paws up. One reviewer even tasted the cake herself and wrote that it was pretty good.
Have your ever baked a cake shaped like a dog? Or a cake for a dog? Tell us about it in the comments!
Check out these adorable stories on Dogster: