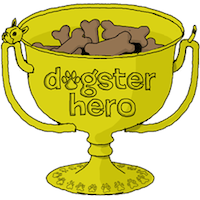 Chopper the Biker Dog is well-known for his leather duds and for his good works as a therapy dog in San Diego, California. From cruising on the back seat of his owner's Harley Davidson to curling up on patient beds in hospitals, the 6-year-old Boston Terrier is a superstar with a big heart and an even bigger job — helping others heal. His human and therapy partner, Mark Shaffer, remains humble and gives credit to Chopper, but there's no doubt that he makes just as big of a difference in people's lives as Chopper.
Mark, who has a full-time job as a Realtor, began his work as a therapy dog handler over 10 years ago with his first biker dog, Bandit. He felt inspired to start working in pet therapy when his good friend, Mickey Jones, former drummer for Bob Dylan, invited Mark and Bandit to a fundraiser for the Children's Hospital of Orange County. Before Bandit could go into the hospital, he had to be a trained therapy dog. Once Mark and Bandit were certified as a therapy team, they began visiting the children's hospital. "From there, it just kind of snowballed," says Mark.
After Bandit passed away, Mark found his heart again in Chopper, who took right to the biker dog persona. Mark and Chopper have many people and places they visit in their therapy work, but one of the patients closest to their hearts is SPC Chase Simmons. Chase was in a major car accident last December while on leave and visiting his family in California. Since then, he has remained in a coma. Mark heard about Chase's condition through mutual friends who also happened to be Harley riders like Mark and Chopper.
Mark started taking Chopper to visit with Chase, and a bond quickly formed between the pair. Throughout Chase's visits with Chopper, he has begun to wake from the coma, opening his eyes, speaking, and reaching to hold Chopper's paw during visits. Since Chase is still a long way from full recovery, he was moved to a hospital in northern California for intense rehab. Although this location will be a much greater distance from Mark and Chopper, they are still planning to visit with Chase as much as they can.
Despite all of the amazing work Chopper and Mark have done, Chopper's career as a therapy dog has faced some serious challenges. Chopper was registered as a therapy dog with Pet Partners, the "nation's largest and most prestigious nonprofit" that registers dogs and others animals and their handlers as therapy teams. The organization sent Mark an email last summer, stating that Chopper's registration was suspended, citing his biker vest as a "costume," which is against the rules.
Alison Andrew, a representative for Pet Partners, stated, "With Pet Partners, no animal should wear any costume when visiting. This is for infection control, but also a costume can cause a barrier between the patient and the animal. We also require that all they must always be on leash, and there were some issues with that. If he (Mark) had a change of heart and wanted to abide by our policies, we would certainly review that." However, Mark views the situation differently.
"It's not a costume," he says. "Therapy dogs wear vests, and that's what Chopper is wearing. They said the biker persona was bad for their image." Bandit also wore a biker-type vest, and both Bandit and Chopper have their biker vests on in their therapy dog ID photos. The organization's decision was both upsetting and confusing for Mark, "This (suspension), after being registered with this organization for 10 years, two different 'biker/therapy dogs,' and being evaluated every two years with Pet Partners having full knowledge of both Bandit and Chopper being 'biker dogs' and dressing in a biker vest."
Mark is looking for another program to certify Chopper under, but he wants to make sure the program aligns with the work he and Chopper have been doing. In the meantime, Chopper has been able to continue most of his therapy visits. "Chopper is still a trained and evaluated 'therapy dog,' even though we are not registered with the Pet Partners organization any longer," says Mark.
Earlier this year, Mark and Chopper faced another challenge when they had a break-in at their home. Not only did their landlords not want to add a security light to make the area safer, but they informed Mark that he had 60 days to evacuate his home due to their desire to make improvements to their property. Trying to find a new place to live, as well as moving, has significantly impacted Mark and Chopper's ability to visit PFC Chase and the nursing homes and hospitals they frequent. A fan of Chopper's started a GoFundMe for Mark and Chopper, and the dog community rallied together and raised more than $10,000 in a month to help them move. With this help, Mark and Chopper were able to find a new home and will be donating the additional money raised to others in need, such as PFC Chase's family.
In the future, Mark hopes to expand the work he and Chopper are doing. "Our dream is to take to the road and share Chopper's love to all in need around the country," he says.