It puts the ball in the basket! It puts the ball in the basket!
For crying out loud, this product review had me feeling like Buffalo Bill in Silence of the Lambs.
Charlie, my high-drive, athletic Springer Spaniel, is a highly trainable dog, so why after weeks of trying could he not merely drop a tennis ball into PetSafe's Automatic Ball Launcher and subsequently enjoy hours of independent fun?
Answer: The idea behind the automatic ball launcher is that the dog plays independently, and my dog is extremely codependent. I knew this about my beloved 8-year-old, however I was sure his love of all things ball related would win out and make him the perfect candidate. He is, after all, the dog who jumps the fence to join the neighborhood Wiffle ball game. He prefers catching a ball to eating treats. And if Charlie had it his way, I'd throw said ball until my shoulder separated from my collarbone.
He'd be OK with that, so to save my shoulder and give him the proper distance and repetition necessary for a good workout, we started training on the launcher, which features multiple distance and angle settings as well as a built-in safety sensor to keep your dog from getting pelted in the nose. But the feature I appreciated most of all was the sound of the launcher preparing to send the ball because it cued Charlie to look ahead and ready himself for the throw.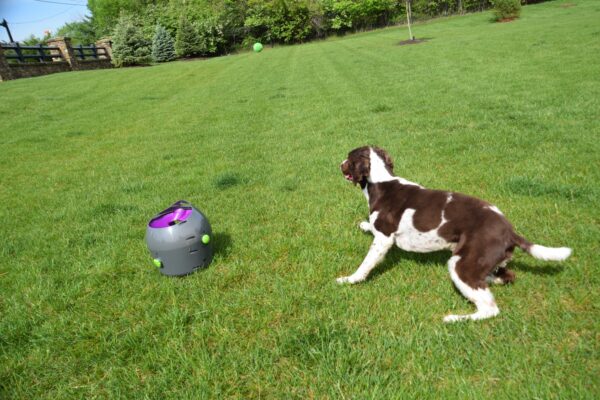 And now back to the training. It was simple, really. If your dog has a solid drop-it command and interest in retrieving, then you're good. To train Charlie to drop the ball into the hopper, I held a treat in my closed hand and used it as a target over the hopper and gave the verbal "drop-it" command. When he dropped the ball into the hopper, I opened my hand revealing the treat for him to take. I then quickly put him in a sit behind the machine and told him to wait. The launcher sound cues him that the ball is about to send. The ball launches, he takes off, and returns the ball to the hopper with my guidance.
With my guidance and presence is only how this all worked. He executed per the directions of the product, but only if I was guiding him. If I didn't cue him, then he'd drop the ball at my feet. Looking for different results, I left him in the yard alone with a few balls and the launcher. I went inside. Here's what he did: Charlie sast down near the launcher and stared intently at the house awaiting my return. Sad, I know.
It was time to call PetSafe, makers of the launcher and dozens of other pet tech toys and products.
Mandie Sweetnam, product manager for the PetSafe Automatic Ball Launcher, reassured me I was training correctly and commended me on having such a tight bond with my dog.
"He might just be the type of dog who really wants your interaction," she explained. "He wants you to play with him. We've heard of situations like this…maybe one or two."
Of course Charlie is always the exception to the rule.
"He's telling you no, no, we are going to do this together. It's a team effort," Sweetnam said. "I recommend more repetition, more training sessions in short intervals. No more than five to 10 minutes at a time."
I get it. Playing fetch with me is his favorite thing to do. Taking me out of the game is taking away the fun. I give him praise, rub his ears, and psych him up. Maybe it's not the actually fetch he loves but the ball coming from his person. That's my best guess and my excuse as to why I couldn't train this when I've trained him to run agility courses advanced enough to make your eyes cross. He also knows a plethora of tricks and how to play hide-and-seek.
"It's possible," Sweetnam said. "It's just going to take more time. Since he's obviously smart and knows lots of commands, you might want to try more of a jackpot and phase out your hand as the target."
Agree. So for $200, I'd buy this product because I have another way I could use it. My 6-year-old son is into the launcher's techy appeal. He gets bored of throwing the ball and could benefit from a gimmick. Or maybe if I'm having a conversation in the yard and want to entertain Charlie at the same time, I'll bust out the launcher because it's less distracting and requires less effort.
Sweetnam said the launcher could also come in handy for those physically incapable of throwing the ball for their dog or those who can't throw far enough. It also holds more than one tennis ball at a time. It certainly has potential, but for us the Automatic Ball Launcher was the equivalent of tossing Charlie his leash and telling him to go walk himself.
Dogster scorecard
Quality: The Petsafe Automatic Ball Launcher is a solid piece of equipment. It claims to be water resistant, too, but I never went as far as leaving it in the rain or whatnot.
Style: Very stylish! At first glance, you don't even know it's a dog toy.
Functional: The launcher has a nice handle built into the design, but the fact that it requires six D-cell batteries makes it a bit heavy.
Creativity: I like how this company is always finding way to entertain pets and accommodate the busy or working dog parent.
Value: The suggested retail price of the launcher is $200, but I found them on certain websites for just under $150.
Bottom line: I believe the launcher can be a fun tool in your trick bag, but it's not a baby sitter or replacement for a dog's human. If you're busy or bored of traditional fetch, throw the launcher into the mix. It's fun and different.