When Katie Beth Maddox was in third grade, she told a lie to save a dog.
A stray Labrador mix had followed her to school one morning, and when inside her class, Maddox noticed a staff member had tied the dog to a street sign and aimed to call animal control.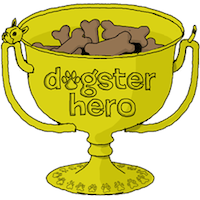 Following her heart, Maddox devised a plan.
"I told the lunch ladies he was my dog," Maddox recalled. "And that if I went to call my grandpa, he would come get him. I called Poppy and said, 'Hey, Poppy, it's Katie Beth. Our dog is tied to a sign outside the school. Could you come get him.'"
Grandpa went along with the con and never questioned his young, well-intended granddaughter, now a 27-year-old lobbyist in Indiana who, since graduating college in 2011, has fostered nearly 80 at-risk dogs in danger of losing their lives.
The number is remarkable indeed, but she doesn't work alone. She has a silent partner, so to speak. Brigg — a saint by most accounts — is a highly sensitive, overly affectionate 5-year-old Vizsla, who Maddox purchased from a breeder north of Indianapolis just after college. The two set out to have a life of leisure and share companionship, but what happened next confounds Maddox even today.
"Brigg became a little doggie counselor," said Maddox, referring to Brigg's reaction to the first few foster dogs she brought home. She only expected her big, red dog to be decent, but soon Maddox realized she had a healer on her hands.
"I could give them medicine and take the foster dogs to the vet, cure physical problems, but the mental scars … that's where Briggy comes in," she said. "He teaches them how to be happy again."
And the two of them care for some of the most challenging cases — under-socialized adolescents, puppies with parvovirus, and even dogs recovering from gunshot wounds.
During the Christmas of 2013, Maddox was called to take a 5-month-old Pit Bull mix who had been shot in the face, chest, and tail. The puppy's jaw was shattered, and you could see through her muzzle. Maddox brought her home and started the rehab process.
"Briggy was a nervous wreck because he knew [the puppy] was in pain," Maddox recalled. "He threw a fit and was pawing at the bedroom door when I wouldn't let him be with her. He knows when they need extra attention."
After lots of syringe feedings and jaw reconstruction surgery, along with some Brigg therapy, the puppy named Joy was ready to go to her forever home — healthy and well adjusted despite the trauma.
"The nice thing about Brigg is that he shared me with Joy," Maddox said. "It's like he was saying, 'Hey, I can give up my mom for an hour so she can snuggle you. You need it.' He's so patient."
Tara Harris is the executive director and owner of Every Dog Counts Rescue in Zionsville, Indiana. Maddox and Brigg make up one of the most effective resources her group has come to depend on. She too understands the gift Brigg shares with dogs in need and said that humans can't teach nearly as effectively as canine teachers such as Brigg.
"He has a very peaceful yet confident demeanor," Harris said. "For scared dogs, seeing and feeling his calm is reassuring. For playful, wild dogs, he has a nice, balancing energy. Many of the dogs we take in really haven't been socialized appropriately, so spending time with dogs like Brigg is invaluable for them. They need to learn dog manners, and Brigg helps them do that. They need to learn, for example, that it's not polite to jump on another dog while they are resting. Some dogs would react and bite the offender. Brigg gives them correction that helps them learn, but doesn't hurt them."
When Maddox brings home a litter of puppies to foster, which is more often than one might imagine, Brigg follows them around like a mother hen. When Rocky arrived with mange and necrosis last year, Brigg snuggled him on the couch. And when Princess Di arrived last winter with a feisty attitude and razor sharp teeth, Brigg took it on the chin, literally.
Because of this, Harris said Maddox and Brigg always make room for a dog in need.
"Even if their last foster dog just left hours before," Harris said. "Katie and Brigg are all-stars. Many foster families will foster a handful of dogs per year, and they take breaks in between dogs. Not Katie. She is always willing to help, even when it's not convenient for her."
Maddox said it is Brigg who has made it possible for her to devote a significant portion of her life to successfully fostering needy dogs throughout the Midwest.
"No, I never set out to be the crazy dog lady," Maddox said. "But Briggy just makes it easy."