In 1820, Dorothy Wordsworth, diarist, amanuensis, and, if truth be told, the real source of power behind many of her brother William Wordsworth's lasting poetic works, took a tour of the European continent. Early August found her in the Swiss canton of Bern. While her diaries make no explicit mention of Bernese Mountain Dog puppies, which are named for that region, Dorothy's reflections on Bern fit Bernese Mountain Dog puppies quite well.
Dorothy writes, "There is a beautiful order, a solidity, a gravity in this city which strikes at first sight, and never loses its effect." The same can easily be said of the classic brown, black, and white coat patterns of Bernese Mountain Dog puppies. Unlike Dalmatian puppies, who only acquire their trademark spots after a few weeks, there is no mistaking Bernese Mountain Dog puppies from the moment they emerge into this world that we all share. Let's take a tour around Bern and through the seasons with Dorothy Wordsworth and a carefully chosen selection of Bernese Mountain Dog puppy pictures!
Autumn in Bern
Dorothy's mind was always active, always observant, and always learning. It's an excellent analogue for these cute puppy pictures of Bernese Mountain Dogs. Well-trained and brought up in a loving home, Bernese Mountain Dog puppies grow quickly into gentle giants — loyal, intelligent, and as great lovers of the outdoors as either Dorothy or William Wordsworth.
Devoted as they are to their parents and owners, it's no surprise to see Bernese Mountain Dog puppies, like this one, trying to follow their favorite human into the local pub. This Bernese Mountain Dog puppy lives in Louisville, Kentucky, though it would be easy to mistake the "handsome public buildings, with appropriate decorations symbolical of a love of liberty, of order, and good government" in the photo with those of Bern.
One thing that is always important when you're raising Bernese Mountain Dog puppies, as with any other breed, is to closely monitor their diet and food intake. Everyone loves and instinctively coos over chubby babies, and what would these puppy pictures be without a portly little Bernese Mountain Dog puppy? Chances are this tiny fellow will grow into his pleasing girth as the seasons pass.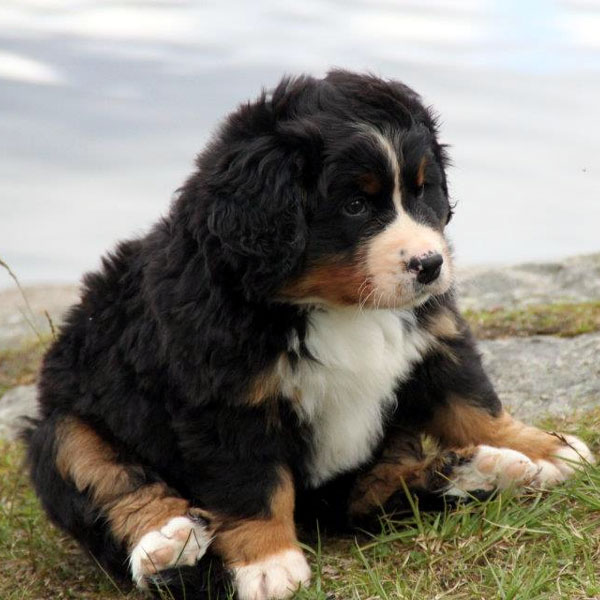 Winter is coming
Dorothy lamented that no one in her traveling party "had the skill to sketch rapidly with the pencil, and appropriate colors, some of the groups or single figures passing before us." Fortunately, the advent of digital cameras and smartphones means that we can record and preserve the happiest moments in the lives of Bernese Mountain Dog puppies. Bernese Mountain Dog puppies, like the other Swiss Mountain Dogs, originated in the Alpine environs of Switzerland, and they never look more at home than surrounded by snow.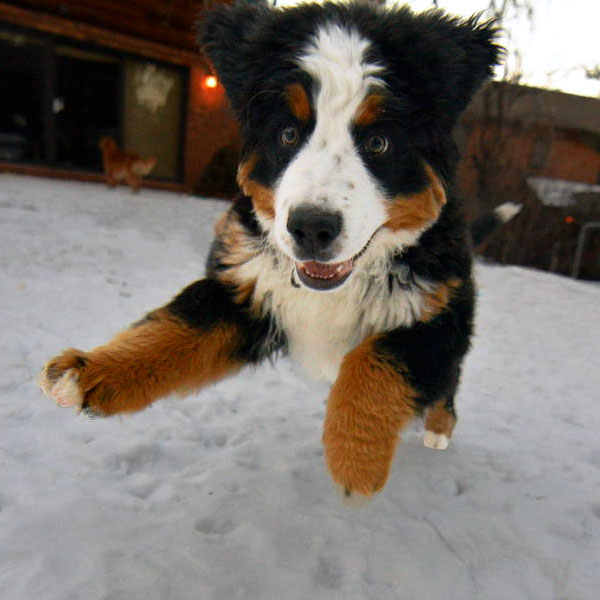 Even in early August, Dorothy speaks of the charming and reflective effects of the setting sun on the snow-capped mountain peaks. This Bernese Mountain Dog puppy seems just as pensive as Dorothy, and you can imagine her considering the "evening gloom … gathering over the city, and over hill and dale, while the snowy tops of the Alps were still visible." So much fluff, so much character! I want to hug all these Bernese Mountain Dog puppies.
Bernese Mountain Dog puppies are hardy souls, who, like Dorothy Wordsworth, love nothing so much as a good walk out in nature, regardless of the season. Of course, with their nice thick coats, Bernese Mountain Dog puppies are most at home when the weather is most inclement and inhospitable. Here's a Bernese Mountain Dog puppy, poised in the snow for more adventuring and exploration. You may be freezing, but surely the warmth of these puppy pictures encourages you to press on!
The return of the spring
No matter how long and drear the winter may be, it must always yield to the delights of spring. For Bernese Mountain Dog puppies, this delight is accompanied by some fairly heavy shedding. Just as we shed our coats and the bulk of little hats and scarves, Bernese Mountain Dog puppies tend to relieve themselves of excess outerwear when the weather improves and the sun returns in glory. It is time to celebrate and break out the vacuum cleaner for all the hair that Bernese Mountain Dog puppies inevitably leave behind.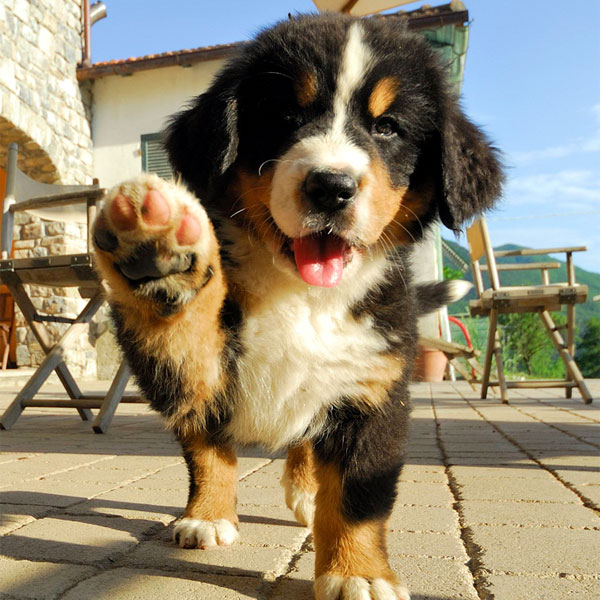 One reason that puppy pictures are so appealing, particularly those of Bernese Mountain Dog puppies, is that they allow us to revisit and recall the innocence of youth. Enjoy picking up and hugging Bernese Mountain Dog puppies while you can — this tiny, frolicking baby puppy will soon grow into a massive dog. As Dorothy Wordsworth says of Bernese architecture, Bernese Mountain Dogs are "large and sober, but not heavy or barbarous."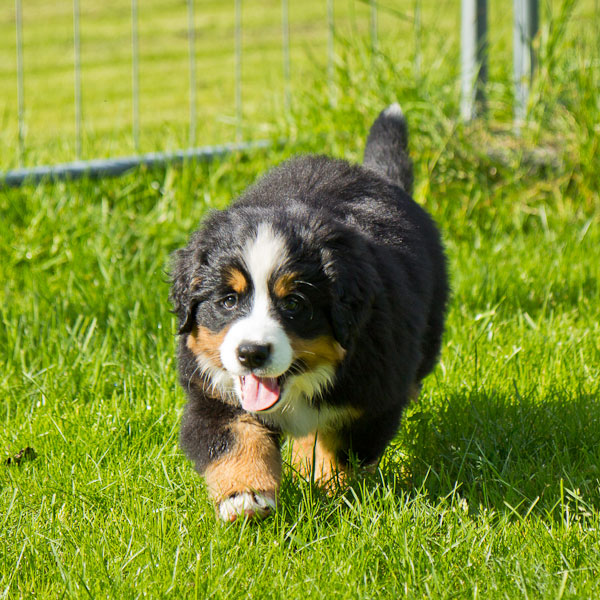 Summertime with Bernese Mountain Dog puppies
Perhaps the greatest joy Dorothy Wordsworth found in Bern was the social harmony of its residents. She observes "the peasant and the lady, the petty shopkeeper and the wealthy tradesman's wife, side by side in friendly discourse" throughout the city. I would be remiss if I didn't include this happy trio of Bernese Mountain Dog puppies gathered together in peaceful friendship.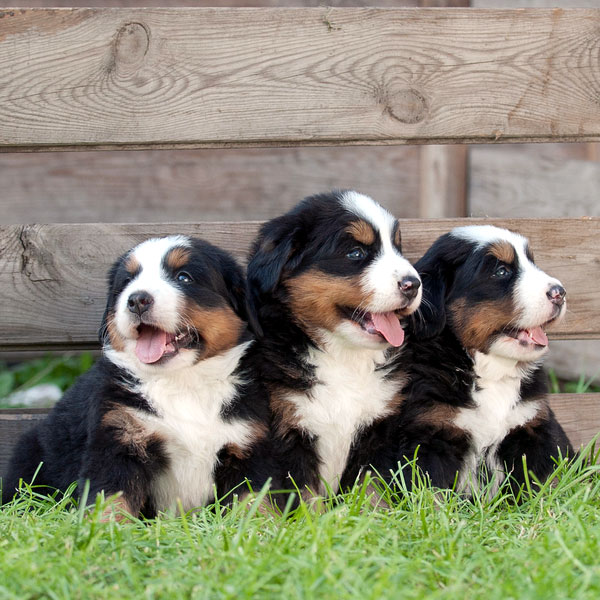 Calm but curious, docile but engaged, Bernese Mountain Dog puppies exemplify all that Dorothy Wordsworth found most charming in Bern and its surrounding countryside. Are you the proud parent of a Bernese Mountain Dog? Share your experiences, photos, and memories of this beautiful breed in the comments!
Learn more about dogs with Dogster: