This dog from Down Under is the only dog with Dingo in his background. Maybe that's why the Australian Cattle Dog is a little on the wild side. Brains, bravery and brawn — he's a dinki-di cattle controller as well as his human's best bud.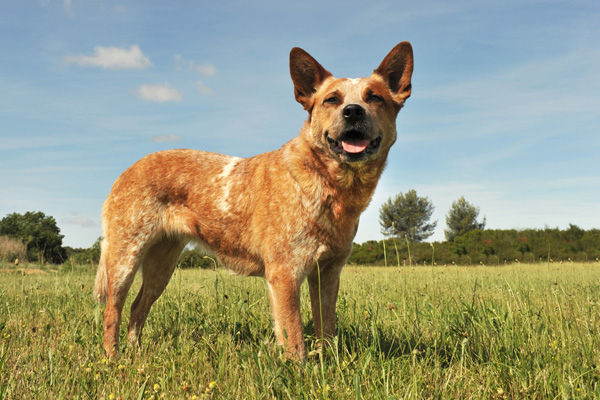 More interesting things about Australian Cattle Dogs
Cattle ranching in Australia in the early 1800s was hard work, especially when it came to getting unruly cattle to a market that could be a thousand miles away over rugged, unfenced terrain. Most herding dogs from England and Scotland were developed to drive sheep and complacent cattle fairly short distances over pleasant terrain.
The Hall family imported blue-mottled dogs used by drovers in Northumberland, England, then bred them with Dingoes they had tamed. The resulting dogs, called Halls Heelers, combined herding abilities with ruggedness.
After Thomas Hall died in 1870, his line of dogs became available to others.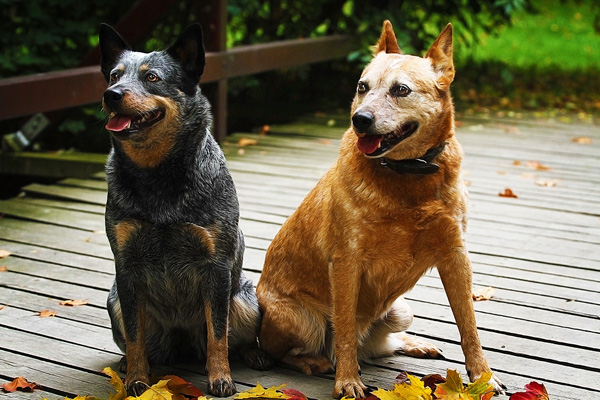 Other breeds may have been infused into the mix, including Dalmatians, Bull Terriers, and black and tan Kelpies.
They became known as Queensland Blue Heelers.
The ACD May be confused with the Canaan Dog, but the Canaan Dog is taller and more slender, and does not come in roan or speckled color patterns.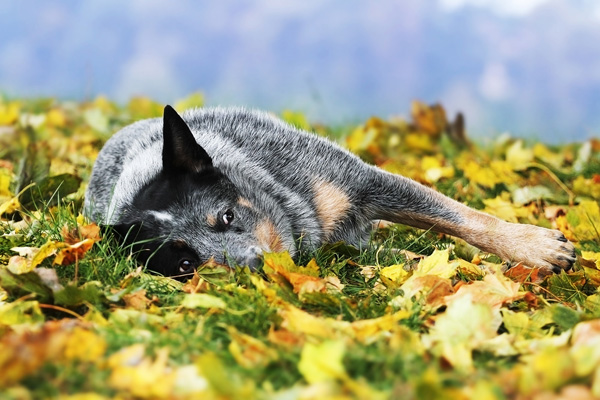 Don't confuse the ACD's color pattern with the merle pattern. The ACD is not a merle. They can be either red or blue mottled.
Puppies are born white and get their color within a few weeks.
The genes behind the ACD's roan-like color pattern have not yet been identified. The color may be a case of extreme white spotting (in other words, a mostly white background) covered with tiny intermingled ticking. But nobody knows.
ACDs have a high rate of deafness (about seven percent deaf in one ear, and three percent deaf in both ears.) Those with facial masks or body patches have a lower incidence. This is characteristic of dogs with extreme white spotting.
The ACD is a member of the AKC Herding group.
The ACD is the 58th most popular AKC breed, up from 73rd a decade ago.
No ACD has even placed in the group at the Westminster dog show. That just doesn't seem right. They've been competing there since 1981.
A dog named Wooleston Blue Jack is ancestral to most, if not all, Australian Cattle Dogs whelped since 1990 throughout the world.
The world's oldest dog was an ACD named Bluey, who died in 1939 at the age of 29 years and five months.
Skidboot, known for his amazing intelligence, was half or more ACD.
ACDs played roles in Mad Max 2, Secret Window, Last of the Dogmen, The Silver Stallion movies and in the Fallout video games.
Owners include Matthew McConaughey, Steve Earle, Owen Wilson, Mark Harmon, Luke Wilson, Mark Salling, George Strait, Allison Janney and Kelley McGillis.
Do you own a Australian Cattle Dog? Have you spent time with one? Let's hear what you think about this fascinating breed in the comments! And if you have a favorite breed you'd like us to write about, let us know that, too!
Interested in other breed profiles? Find dozens of them here.
Learn more about dogs with Dogster:
About the author: Caroline Coile is the author of 34 dog books, including the top-selling Barron's Encyclopedia of Dog Breeds. She has written for various publications and is currently a columnist for AKC Family Dog. She shares her home with three naughtySalukis and one Jack Russell Terrier.