Max the Boxer passed this summer from cancer, and Buttercup the Pug died just last month of a blood disease. Both were beloved dogs of dear friends. I told the pet parents how sorry I was for their loss, but I now realize I did not do enough. With that in mind, I put together the following five ways to show you care when a friend's dog dies.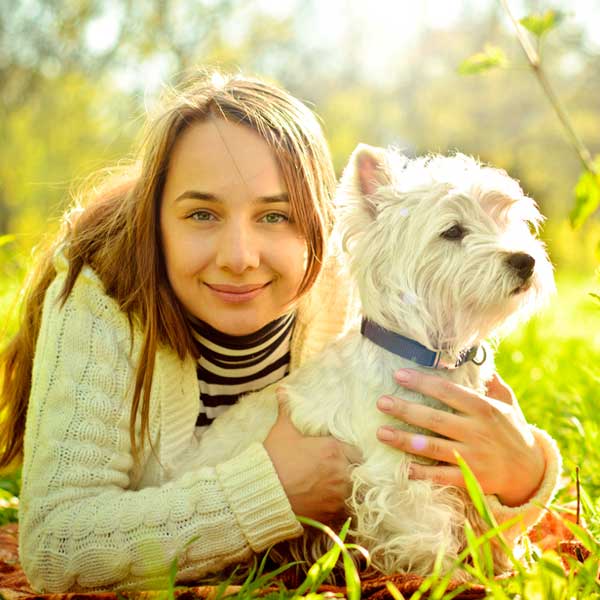 The 5 Ways to Show You Care When a Friend's Dog Dies
1. Send a card, but not just any card
Skip the card aisle at your grocery store and hit Etsy instead for a handmade expression of sympathy. I love this plantable card from the Recycled Ideas shop. It has forget-me-not flower seeds embedded into the paper shape of a pup on the front, with planting instructions provided on the back.
The shop — run by Washingtonians Holly, Alasdair, and their two Newfies — will even personalize the card with the dog's name or a special message at no additional charge. In the spring, your friend can peel off the dog shape and plant it in memory of the pet to enjoy pretty blue flowers for years to come.
2. Have a basket delivered
The right gift basket also can show your friend how much you care. Green Pet Gifts specializes in baskets filled with eco-friendly, healthy products sourced locally in Oregon.
The Deluxe Pet Bereavement Basket features items meant to comfort a pet parent during a difficult emotional time. Among the items in the basket are Tibetan pet prayer flags, a soy-wax memorial candle, a wooden photo frame with the words "Pawprints in heaven, pawprints on my heart," and a tin of comforting loose-leaf Jasmine Pearl tea.
3. Give a small gift
A small token representing the dog who died makes a nice gesture. I adore this Guardian Angel Pin from Cloud K9. Plated with antique pewter and handcrafted to order, it could become a favorite piece of jewelry for your friend because of the memories it sparks. The company makes angel pins for more than 40 breeds.
4. Make a donation
Many animal organizations make it easy to donate money in memory of a beloved pet. For example, the American Society for the Prevention of Cruelty to Animals accepts donations online in the form of an eMemorial. You simply donate an amount via credit card, check, or PayPal, and the ASPCA will send a memorial card to your friend in recognition of the gift.
The Humane Society of the United States also accepts memorial donations online in the form of a Kindred Spirits gift. Your friend will receive a memorial card, and the dog's name will be added to the HSUH Book of Kindred Spirits, located in the organization's operations center in Maryland.
5. Plan play dates with other pets
You need not spend money to show how much you care about your friend's loss. If the dog left behind a sibling, include the pup in fun activities with your pets. Whether you hit the park or simply one of your backyards, both your friend and the grieving sibling will appreciate the gesture. Had Sampson not been two states away, Spot, Dolly, and I would have paid our respects in person and provided comfort with a little playtime.
How do you express sympathy when a friend's dog dies? Please share your experiences and advice in the comments!