I've been a dog sitter for almost two years now. During this time, I've learned some very valuable lessons about dogs, their behavior, and their interactions. I thought I would share a few of those insights so you can get a glimpse into the brain of a pup and the life of a dog sitter.
1. Whatever room you are in is THE BEST ROOM EVER, and everyone must be in there
I have a small house with tiny rooms, but that doesn't stop the parade of dogs who follow me everywhere I go. When I'm working in my office on the computer, they all come in and plop down in their respective corners, with the "winners" finding space under my desk and in my lap.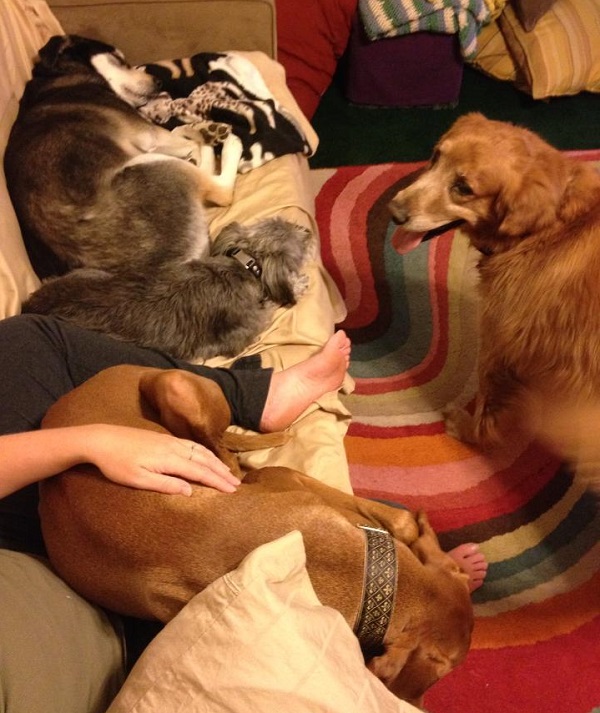 2. When you aren't around, your dog likes to sleep
I recently left four large pups in my backyard so they could run around and play together. When I went to check on them 15 minutes later, they were all fast asleep. When my dog decided he was done with the napping and wanted to come inside, the barking started — and barking, like yawns, are contagious. I brought the pack in the house, where they followed me into a room and immediately started the World Dog Wrestling event of the year. They just wanted a human audience.
3. Sometimes it's just easier to eat in your car — parked in the garage — in peace and quiet
Do you realize how unnerving it is to have five sets of eyes and five teeth-filled smiles watching your every movement while you eat? My meals are peppered with statements like "sit," "don't drool on me," and "no beg." It's quiet in my car. There is great music, wonderful mood lighting, and no drool.
4. Dogs like to sleep on a pillow, especially yours
For some reason, the human bed makes a dog think he is human and, therefore, a pillow is mandatory! My dog is the king of this move. He naps on my bed, and I'll find him sprawled out with his head smack dab in the center of my pillow. When I ask him what is up, he just looks at me as if to say, "Lady, can't you see I'm sleeping? Now scram."
5. It doesn't matter how long you hike or walk — sometimes a dog will hold it just so he can pee in your living room
You have no idea how many times I've yelled, "We just went on a two-and-a-half-hour hike. HOW did you hold it until you got in here? WHY did you hold it until you got in here?" The little guys, in particular, love to pull this one on me. I can only assume they are mocking me and think it's hilarious.
6. A water sprayer won't work on a dog who likes to drink water from a hose. The "deterrent" just becomes his personal water fountain
Recently, I wasn't feeling well, and my folks popped by to check on me. My dad got sick of one of the dogs I was watching torturing another by humping her, so he brought me a water bottle to stop that filthy behavior! The problem was, the risque pup liked water and would just position himself so that the spray hit him in the mouth. Once refreshed, he went back to humping.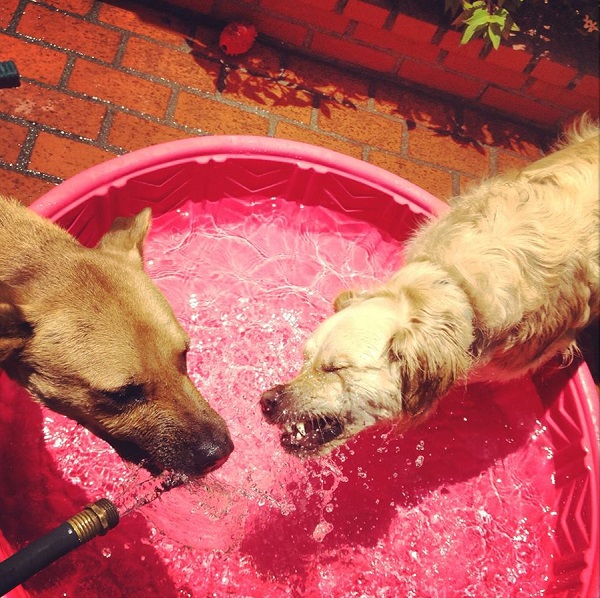 7. The littlest one is always in charge
I watch a Schnauzer named Dragon. It doesn't matter who is here, Dragon is always in charge and owner of the sofa, bed, and any other coveted spot. This past weekend, I had a Pit Bull come stay with us while Dragon was here. When I introduced the pair, Dragon scared the poor Pit so bad she ran around until she found cover under her mom's legs. Napoleon complex at its finest.
8. Horse poop is delicious
I don't think it's delicious, although to be fair I've never tried it. Riggins, Asscher, and Shadow, three pups that are often with me on hikes, feel it is the most delicious thing ever. The fresher, the more delectable. I have very strong biceps from pulling pups away from piles of horse poop.
9. Exercise does indeed calm the wildest of dogs. Unfortunately, you have to exercise with them, and it tires you out more
I take the dogs in my care on an adventure every day, which usually means a two-hour hike. When we get home, the little furry darlings arrange themselves around me and start snoring while I hit the computer to work. About the time I'm able to rest, they are up and ready to play again. Play, sleep, eat, repeat. They have the life!
10. If you have a dog that likes to grab your scarf, don't wrap it around your head multiple times and secure it with multiple knots
Asscher, my lovable daycare Golden Retriever baby, gets VERY excited when she sees me, or when she poops, or when she sees she is going for a walk — really, anything makes her super-duper happy. When she gets excited, she HAS to have something in her mouth, and she looks to me for that something.
If I'm leaning down, it's usually my hat or sunglasses, but if I have a scarf on, her eyes light up. One day, I was wearing a beautiful scarf that quickly became a noose. I performed moves that were worthy of Cirque du Soleil to untangle myself while Asscher's tail wagged back and forth with my scarf securely in her teeth.
It's a good thing dogs are so darn cute and lovable because they sure can be a handful!
What have your dog and his friends taught you about how they see our world? Let us know in the comments below.
Read more stories by Wendy Newell:
About the author: Wendy Newell is a former VP of Sales turned Grade A Dog Sitter. After years of stress, she decided to leave the world of "always be closing" to one of tail wags and licks. Wendy's new career keeps her busy hiking, being a dog chauffeur, picking up poo, sacrificing her bed, and other fur-filled activities. Wendy and her dog, Riggins, take their always-changing pack of pups on adventures throughout the Los Angeles area, where they live together in a cozy, happy home. You can learn more about Wendy, Riggins, and their adventures on Facebook and Instagram.