Just like humans, most dogs have a daily routine when it comes to eating, sleeping — and, of course, relieving themselves. So, when dog parents notice that a dog won't pee — or seems to be straining — it can definitely be a cause for concern.
"Dogs often have very different urinary habits based on owner's schedules, their access to outdoors, and the presence of any other underlying health conditions that might increase their need to urinate," explains Dr. Katherine Scott, DVM, a veterinarian with VCA Alameda East in Colorado. "Since there's no rule as to how many times per day a dog should urinate, it's important to learn your own dog's habits."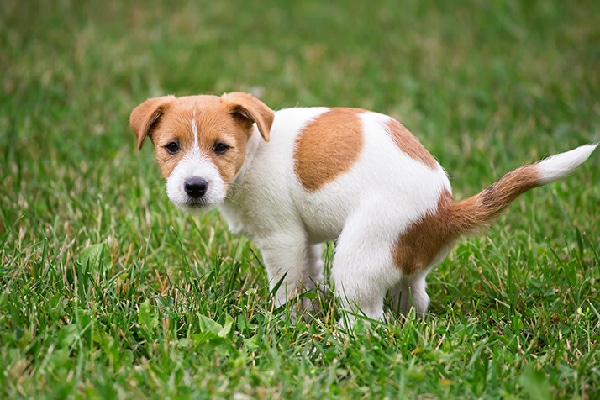 Thinking That Your Dog Won't Pee? Here's How to Tell if Your Dog Truly Isn't Peeing
According to Dr. David Dilmore, DVM, a veterinarian with Banfield Pet Hospital, when a dog won't pee or a dog is straining to urinate, pet owners should look for their abdominal muscles tightening or a change in posture when they get in their normal position to relieve themselves.
"Straining to urinate may look like the dog attempting to urinate multiple times in a short amount of time with little to no urine coming out," adds Dr. Dawn Spangler, DVM, assistant professor of shelter medicine at Lincoln Memorial University College of Veterinary Medicine in Tennessee. "If the dog is having difficulty urinating and is possibly obstructed, they may begin to look bloated as their abdomen may be starting to distend … and an owner may even notice the dog crying out when trying to urinate if they're in pain."
In some cases, only a small amount of urine will come out. Or they'll urinate a small amount in one area and then move to another area and do the same. "Other signs your dog might be straining to urinate can include accidents in the house that are out of character for him, urinating more frequently or blood in the urine," Dr. Dilmore adds. "If you see any of these symptoms or notice something is 'off' with your pet, it's important to take your dog to see a veterinarian. Straining can be uncomfortable for your dog and these symptoms can be caused by underlying medical issues."
What If Your Dog Won't Pee at All?
And what if your dog won't pee — not even a little bit? According to Dr. Scott, urine habits represent water balance in the body, which is why any change might be cause for concern. "Usually dogs have fairly specific patterns to urination … so if that pattern changes, there may be a problem," she says. "If it just seems as though your pet is urinating less than they usually do, it could be a sign of dehydration … and should always be investigated if they seem to feel poorly in any other way."
Other warning signs to look out for include an increase or decrease in urinations per day, increase or decrease in volume of urine per urination, or any change in the color of the urine to be lighter or darker. "These would all warrant further investigation with your veterinarian," Dr. Scott adds. "If a dog is straining frequently and cannot seem to void their bladder, this is a medical emergency and should be addressed as soon as possible to prevent bladder rupture."
What Causes a Dog to Stop Peeing Normally?
According to Dr. Dilmore, when a dog won't pee or is straining to urinate, it can be a sign of a urinary tract infection (however, a UTI might be challenging to diagnose, since some dogs have no symptoms and will sometimes just drink more water than normal), bladder stones, kidney disease or an obstruction that's affecting the outflow of urine. "If your pet is struggling or not able to urinate at all, you should take them to see a veterinarian immediately," he warns. "A backup of urine can prevent the kidneys from being able to filter blood, which can potentially lead to severe and life-threatening electrolyte abnormalities."
Dr. Scott says the most common cause of a urinary obstruction is urinary stones, but tumors or irregular muscular contractions can also cause these problems. Dogs with bladder irritation or infections very commonly strain to urinate, but are able to void their bladders completely. "It often requires a veterinarian to feel a dog's bladder to know if it is too large or if it is a normal size," she explains.
Diagnosing a Dog Who Won't Pee
If your dog won't pee, your veterinarian might perform tests including a urinalysis, urine culture, blood work, x-rays and/or ultrasound. "Treatment will vary based on the individual pet and the underlying cause of straining, but could include antibiotics, diet changes or even surgery," Dr. Dilmore adds.
Dr. Spangler explains that urinalysis will assess for bacteria, crystals, abnormal cells, pH and the concentration of the urine. Radiographs may be done if there's suspicion of a stone somewhere in the urinary tract. Ultrasounds can be used to rule out tumors in the bladder and prostate. Your veterinarian may run blood work if they suspect a metabolic issue, such as a portosystemic shunt causing stones, particularly in younger dogs.
The Bottom Line on What to Do If a Dog Won't Pee or Has Trouble Peeing
"If there's concern that your dog is urinating less frequently or straining to urinate, you should seek medical care as soon as possible with your veterinarian," Dr. Spangler concludes. "The inability to urinate is a life-threatening emergency and needs treatment as soon as possible to relieve any obstruction."
Thumbnail: Photography ©Artnature/Thinkstock.