Bringing your dog to the vet can be nerve-wracking as you wonder just how sick he might be. Worrying about how much your bill will be only adds to the stress. Thanks to advances in veterinary medicine, dogs can now receive tests and treatments for almost anything that humans do. While lifesaving, many of these treatments come with some steep costs. Depending on the illnesses or accidents, some of the expenses associated with dog diseases and injuries are downright shocking.
Is Pet Insurance for Dogs Worth It?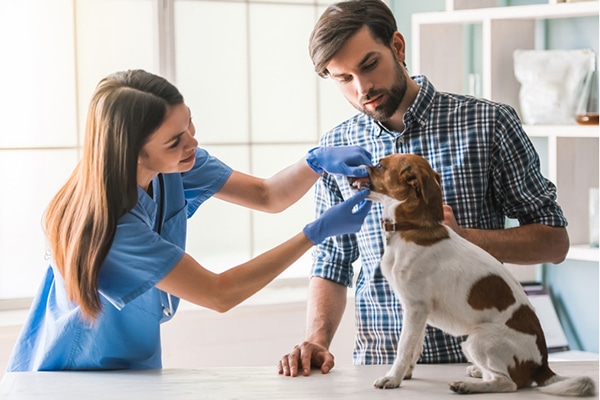 Pet insurance is one way to worry less about the costs of your dog's medical care. With an accident and illness policy, the fees for your pet's care will be reimbursed to you when he is sick or hurt (pet insurance doesn't cover routine care like vaccines or teeth cleaning unless you purchase a special wellness add-on). The actual out-of-pocket costs you'll see with pet insurance vary depending on the specific policy you choose, including the policy's annual premium, deductible, coverage, exclusions and reimbursement percentage, but in general, you can save a lot if your pet experiences an illness or injury. (Read more about pet insurance here.)
Lots of dog owners wonder if pet insurance is really worth the cost of the annual premium. "I've seen claims that have crazy dollar amounts attached to them," says Jenna Mahan, a registered veterinary technician and director of claims for Embrace, a pet insurance provider based in Cleveland, Ohio. "A pet who gets a case of pancreatitis, and then is hospitalized, and if it's over a weekend or holiday, you could have easily a $4,000 bill."
To get an idea of the costs associated with veterinary care for dog diseases and injuries, let's take a look at some common and unusual insurance claims from 2016 to Embrace.
Top Dog Diseases and Injuries on Pet Insurance Claims
The most common claims vary from gastrointestinal upset like diarrhea (13,239 claims in 2016) and vomiting (11,184 claims), to ear infections (9,586 claims), cranial cruciate ligament tears of the knee (7,562 claims) and urinary tract infections (7,224 claims). The costs associated with some of these common claims are less, and for others, more. Take a look at these examples:
Illness/Injury
Average costs of care without pet insurance
Average costs of care with pet insurance*
High cost of care based on claims
Intestinal issues
$861.18
$172.24
$7,181.22
Ear infections
$324.01
$64.80
$5,994.00
Urinary tract infections
$522.84
$104.57
$11,673.89
Allergic reactions
$520.12
$104.02
$13,167.96
Cruciate ligament injuries
$4,503.72
$900.74
$21,047.00
Pet Insurance Saved Big for These Dog Injuries and Illnesses
Some types of accidents and illnesses occur less frequently, but when they do happen, they can be costly. For instance, a 5-year-old mixed breed dog from Ventura, California, was bitten by a poisonous snake. Because the dog was insured, the dog's owner was reimbursed $6,712.26.
A retired show Cocker Spaniel named Ori was bitten by a tick and contracted Rocky Mountain Spotted Fever. She became gravely ill and nearly died. Thankfully, Ori survived her ordeal but the treatment was extraordinarily costly. The final bill was $15,232.76, but thanks to insurance, Ori's owner was reimbursed $11,426.21.
A 2.5-year-old rescue dog named Buddy was diagnosed with early onset cataracts. Rather than allow the dog to lose his eyesight, his new owners chose cataract surgery on both eyes. The surgery was a success, but he later developed cherry eye (a protrusion of the third eyelid), which required another surgery. Buddy also has chronic allergies that require monthly medication. Over the years, Buddy's owner has amassed vet bills amounting to close to $10,000, but has been reimbursed $7,554.56.
The Bottom Line on Pet Insurance for Dogs
So, is pet insurance worth it? Every situation is different, but paying a little bit each month might save a lot in the long run.
"The whole point is peace of mind," Mahan says. "You don't have to depend on what you've saved or what you have available on your credit card to care for your pet. With pet insurance, you know you have coverage and that helps you make your decisions based on what's best for your pet medically and what's best for your family, and not what's in your pocketbook."
As with any decision as a pet parent, do your homework and choose what's best for you and your dog!
* Actual costs will vary depending on the insurance provider and specific policy.
Thumbnail: Photography ©monkeybusinessimages | Thinkstock.
Read more about dog health on Dogster.com: