I work with clients all over the world who share an important connection: They understand the power of nutrition and aspire to feed their dogs the best diet possible. But opinions about what is the best diet differ. Some people believe that raw food rules as the optimum diet for dogs, while others are adamantly against it. Others would like to try feeding raw but don't know how to go about it. Wherever you stand, my Raw Dog Food Rules can help you fine-tune your raw-feeding practice or determine if a raw diet rules for your canine companion.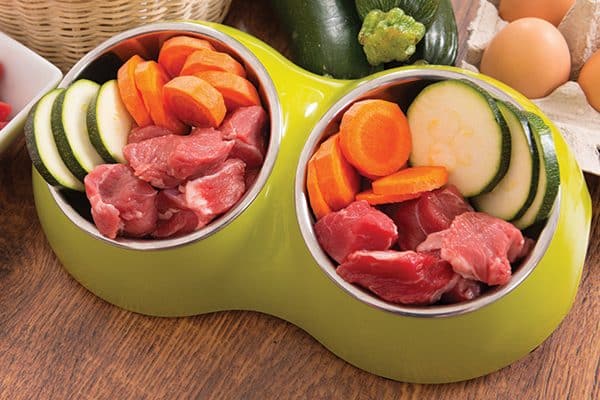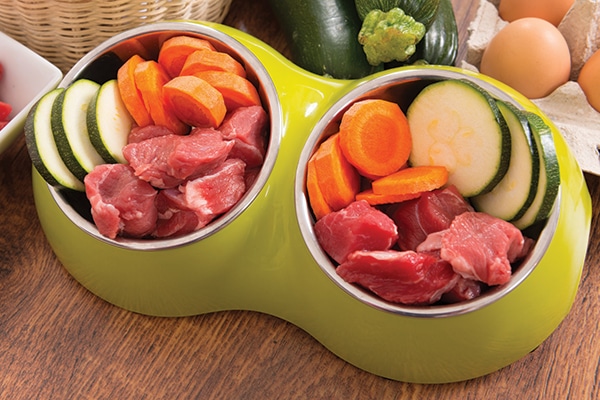 Raw Dog Food Rule #1: Go lean with your meats
Raw meat-based diets tend to be high in fat, which can cause problems for many dogs, especially those prone to pancreatitis, obesity and gastrointestinal issues. Fat also contains more than twice as many calories per gram as protein and carbohydrates. Because dogs typically eat to satisfy their need for calories, dogs who consume less of a higher-fat food may not obtain enough vitamins, minerals and other important nutrients, while those who consume more may become obese. Fortunately, preparing your own raw diet enables you to control the fat content.
My rule: Select lean meats that contain no more than 10 percent fat.
Raw Dog Food Rule #2: Balance the bone
Edible bone refers to the bone without the skin, fat, connective tissue and muscle meat. Edible bone fed in the appropriate amount provides the calcium and phosphorus dogs need without the use of separate supplementation. If your raw diet does NOT include bone, and you're feeding an adult dog, you must supplement with calcium. Growing puppies, regardless of breed, require more of both calcium and phosphorus than adults, so puppy diets without bone must include both a calcium and phosphorus supplement. Avoid feeding excess bone, which can pose health hazards such as hard stools that are painful to pass and hypercalcemia, excessive blood calcium levels that can lead to organ damage.
My rule: About 10 percent of a raw diet (by weight) should consist of edible bone.
Raw Dog Food Rule #3: Feed your dogs some veggies (and fruits)
Some raw feeders believe that vegetables and fruits have no place in the canine diet, but I hope you'll keep an open mind on this one. Phytonutrients (beneficial plant chemicals) such as carotenoids and flavonoids exert numerous benefits on the health of people and animals, including: serving as antioxidants; enhancing immune response; inducing cancer cell death (apoptosis); enhancing cell-to-cell communication; repairing DNA damage caused by exposure to environmental toxins; and detoxifying carcinogens in the body. On a cellular level, phytonutrients can trigger genes to express in a manner that defends against disease.
My rule: Include colorful, non-starchy, dog-friendly vegetables and fruits as about 15 percent of a healthy raw diet. Read up on some dangerous fruits and dangerous veggies for dogs here.
Raw Dog Food Rule #4: Don't skip the dog supplements
In today's modern world of depleted soil, factory-farmed animals and environmental toxins, even raw diets benefit from supplementation. As previously mentioned, bone-free diets for adults require a separate calcium supplement, while bone-free puppy diets need a calcium/phosphorus supplement. Diets with bone still often come up short in several nutrients, including vitamins D and E, linoleic acid (especially if using red meat rather than poultry), EPA and DHA (omega-3 fatty acids) and trace minerals such as iodine, manganese, selenium and zinc. The more varied the diet, the fewer the supplements that will be needed and the more likely the diet will be balanced over time.
My rule: Identify nutrients that might come up short in your home-prepared diet, and compensate with high-quality supplements. Do not use a copper supplement in diets containing beef liver, which is high in copper. Consult with a veterinarian who is knowledgeable about nutrition regarding the supplements you use. Inappropriate supplementation could cause issues with your pet's health.
Raw Dog Food Rule #5: Beware of leaky gut
Healthy intestines contain a barrier of cells that allow the absorption of desirable nutrients from the digestive tract, while blocking harmful molecules from crossing into the blood stream. "Leaky gut" is a condition in which the bond that connects these cells becomes compromised, creating a permeable, or "leaky" intestinal environment. Dogs with leaky gut are at increased risk of pathogens such as Salmonella, Listeria and E. coli from raw foods crossing from the digestive tract into the blood stream.
My rule: If your dog suffers from symptoms of any condition commonly associated with leaky gut, including food intolerances, inflammatory bowel disease or irritable bowel syndrome, lightly cook the meat (but never cook bone) until the symptoms resolve.
Raw Dog Food Rule #6: Stomach acid required
This rule closely relates to Rule #3. Veterinarians often treat gastrointestinal symptoms in dogs with medications, such as Pepcid, designed to decrease the amount of acid produced by the stomach. Unfortunately, this attempt to resolve one issue can lead to other problems. Strong stomach acid and low pH helps protect a dog's stomach from pathogens in raw meat. Take it away, and you have a recipe for disaster, especially if the dog also suffers from leaky gut.
My rule: Avoid feeding raw meat to a dog on a medication designed to decrease stomach acid. Whether you already think raw food rules or you are just testing the waters, I hope these tips will help you and your dog get the most out of the raw food experience.
Read more about dog food and dog diets on Dogster.com:
Diana Laverdure-Dunetz, MS, is a canine nutritionist and co-author, with W. Jean Dodds, DVM, of two books, including Canine Nutrigenomics: The New Science of Feeding Your Dog for Optimum Health. Their online course, Complete Canine Nutrition, can be found at myhealthydog.dog.