Quick Facts
Weight: 20 – 40 pounds
Height: 13 – 18 inches
The Look of a Miniature Australian Shepherd
Miniature Australian Shepherds are a hardy and rustic breed — a little longer than tall. They have slightly rounded heads, medium-length muzzles and almond-shaped eyes. Their ears are triangular and set high, their chests are deep and their tails are straight. They have a medium-length, weather-resistant coat that's slightly wavy, creating a little bit of a mane. Like their larger cousins, Miniature Australian Shepherds can be found in black, blue merle, red merle, solid-red or red with white and/or tan markings. Overall, Miniature Australian Shepherds have a rugged but cuddly look.
Traits
Miniature Australian Shepherd Traits:
Calm
Playful
Trainable
Dependable
Protective
Intelligent
Ideal Human Companion
Who gets along with Mini Aussies?
Active singles
Outdoorsy types
Families
City dwellers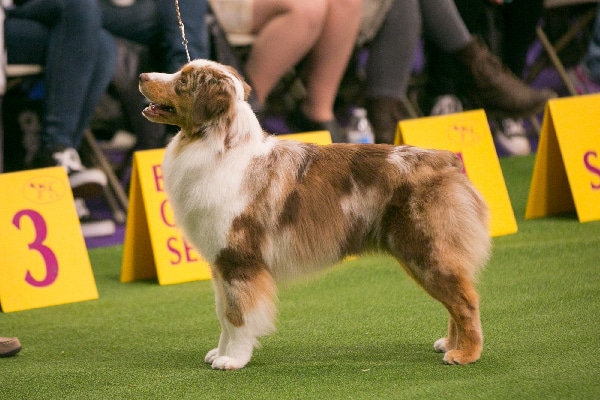 What They Are Like to Live With
If you're an apartment dweller who loves boisterous Australian Shepherds, take a look at Miniature Australian Shepherds, which deliver all of the Aussie's easygoing, dependable playfulness in a much smaller package.
When it comes to their love of play, Miniature Australian Shepherds never really outgrow the puppy stage. They are superb with children—the more active, the better. But they have a gentle nature that prevents playtime from ever getting rough. They are also eager to work: Give them a job and they'll finish it with loads of energy to spare.
Miniature Australian Shepherds have excellent guarding instincts and a strong sense of loyalty to their families. They will definitely cause a ruckus if anything suspicious happens around the house.
Things You Should Know
Left alone indoors for too long, Miniature Australian Shepherds can go a little batty. Take them out for a long run as often as possible—the activity and mental stimulation will result in a very content Miniature Australian Shepherd.
A healthy Miniature Australian Shepherd can live as long as 13 years. Common health issues include hip dysplasia and cataracts. Some may be born deaf, so test puppies early. Do Miniature Australian Shepherds shed? Miniature Australian Shepherds don't shed very much, and they only need occasional brushing.
Miniature Australian Shepherd History
The modern Australian Shepherd has no real connection to Australia. Originating in the Basque region (between Spain and France) as a working dog and sheepherder, the breed drew the name "Australian Shepherd" because many of the Basque shepherds came from Australia. North American breeders developed Miniature Australian Shepherds from a group of small Australian Shepherds. Their intention was to create a more compact version of the dog without sacrificing its dependable character and keen instincts. They succeeded with flying colors with this dog, also known as the Mini Aussie, Mini Australian Shepherd and Mini Aussie Dog.