September is National Puppy Mill Awareness Month. It's dedicated to exposing the horrific operations for what they are and putting them out of business.
We'd like to acknowledge the fact that, in the past, our awareness of puppy mills may have been clouded by popular culture — the image of small farms and breeders dedicated to loving manufacture of cute baskets of puppies is a hard one to give up. 
We'd also like to acknowledge that that image was nailed to perfection by Charles M. Schulz, creator of the Peanuts comic strip, movies, and TV specials.
Snoopy, Charlie Brown's dog, came from a puppy mill. Namely, the Daisy Hill Puppy Farm, a farm where puppies are bred and sold. It first appeared in the feature-length movie Snoopy Come Home. The farm even has a sign out front: The Daisy Hill Puppy Farm. Of course, Schulz' puppy mill was awesome — I would have liked to grow up there myself, and I'm not even a puppy. 
He got a few things wrong, however. 
No, puppy mills don't give puppies lots of free space to play around.
No, puppy mills don't give their puppy awesomely large bones. 
No, puppy mills don't have kick-ass buffets. 
No, puppy mills don't have band practice.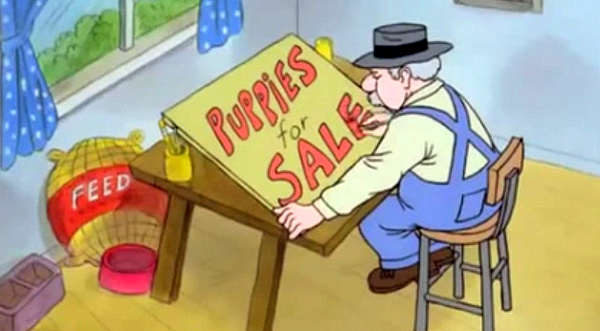 No, puppy mills aren't owned by a kindly man wearing a mustache.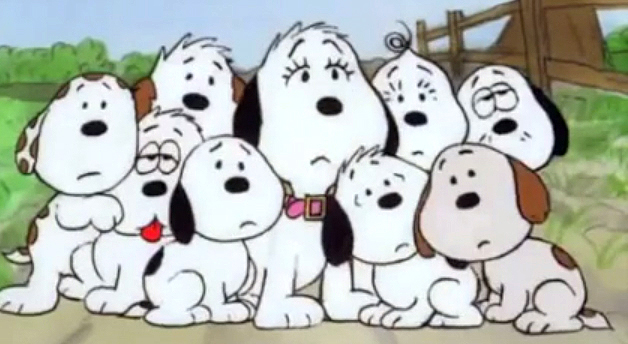 No, the puppies don't have an opportunity to gather around to mourn when one puppy is taken away. 
Granted, this place reads a heck of a lot more "small breeder" than "puppy mill," but still, that name: The Daisy Hill Puppy Farm. We couldn't resist. And those puppies aren't even purebred — I mean, one has a mustache. That's a shoddy operation for a small breeder, even one with a buffet. 
That buffet was awesome, though. 
Images via a YouTube clip of the show.