List of Purebred and Hybrid Dog Breeds
---
Discover information on all purebred dog breeds and hybrid dog breeds.
AIREDALE TERRIER
AKC SOUTHERN ROC — Sixty-five years of professional breeding. All-around usage. Licensed and affordable. Health guaranteed. Call for availability. Personally delivered. 505-384-4453; airedalesblack@aol.com; Facebook: Southern ROC Airedales
---
ALAPAHA BLUE BLOOD BULLDOG
JO-LIN ALAPAHAS — Protective, family loving, parents on site! Top-quality pups, vet checked. ABBA reg. VISA/MC accepted. 610-473-8889; www.jolinkennel.com
---
AMERICAN PIT BULL TERRIER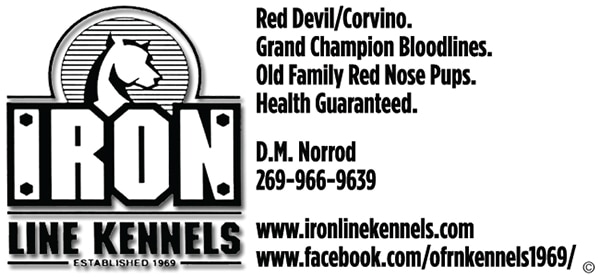 ---
AUSTRALIAN SHEPHERD
FEATURED BREEDER
FOUNDATION BREED CLUB SINCE 1957 — Performance events open to all breeds. ASCA business office, 6091 E. State Highway 21, Bryan, TX; 979-778-1082;
membership@asca.org; www.asca.org
---
BARBET
AKC, UKC FRENCH WATER DOGS — Champion- sired bloodlines bred to the standard. Puppies occasionally. Socialization. 360-331-4270; dnewkirk@whidbey.com; www.astartefrenchiesandbichons.com
---
BELGIAN MALINOIS
GIBSON KENNELS BELGIAN MALINOIS — Working dogs, personal protection. Health/hip guarantee. Police/military discounts. Worldwide shipping. 352-409-4190; www.facebook.com/billiejo.gibson.3
---
BELGIAN TERVUREN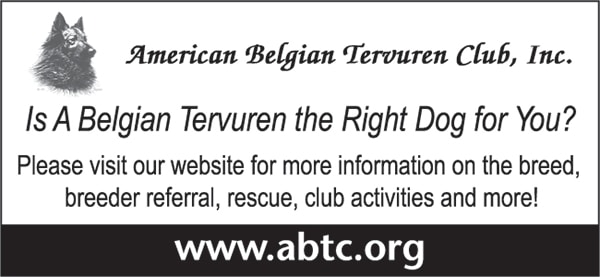 ---
BERNESE MOUNTAIN DOG
BERNESE MOUNTAIN DOG CLUB OF AMERICA — Your resource for Berner facts and education! Looking for breed information and tips for buying a puppy? Our info series provides resources and guidance. Want to talk to experienced owners and breeders? Our Breed Ambassador and Online Breeder Referral programs connect you. www.bmdca.org; and now on Facebook!
---
BOERBOEL
EGOLI BOERBOELS — South Africa's legendary foundation kennel is now in America. Brave, loyal, beautiful … proven champions. Egoli Boerboels. www.EgoliUSA.com
---
BORZOI
ARIA BORZOI — Puppies available for companionship or competition. Health and temperament warranted. Fort Worth, TX. 817-320-8551; www.ariaborzoi.com
---
BOUVIER DES FLANDRES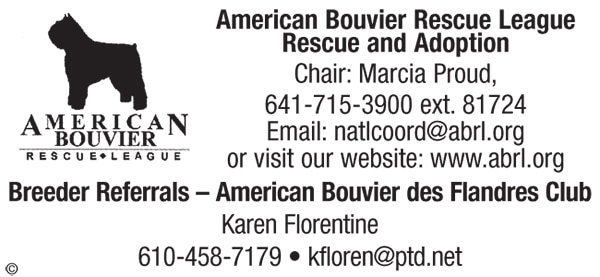 ---
BULLMASTIFF
DOX BULLMASTIFFS — Home of multi. Champion DOX FastFreddy. Breeding sound type and temperament. 815-673-2069; dox-bullmastiffs@hughes.net; www.doxbullmastiffs.com
---
CAROLINA DOG
FEATURED BREEDER
BANBURY CROSS FARM CAROLINA DOGS — UKC/ARBA registered. Intelligent, versatile, champion lines. Multiple obedience, agility and herding titles. CGC and therapy certification. Top show and ideal pet puppies to approved homes. Jane Gunnell and Wm. Benton: 803-649-0045; 803-215-6164; or 803-215-6166; Rick and Jackie Lancaster: 662-781-7818; janefoxandhound@gmail.com; www.carolinadogs.com
---
CAVALIER KING CHARLES SPANIEL
NOVA CAVALIERS — Lovely champion-sired puppies. Home raised with children. Pet/show. Health guaranteed. Shipping available. Kansas; 785-458-2928; www.novapuppies.com
MYSTICKNIGHT CAVALIERS — Located in beautiful Minnesota. 952-249-0283; mysticknightcav@aol.com; www.mysticknightcavaliers.com
AKC BREEDER OF MERIT — Show, performance, companion. Parents' hearts, eyes, hips, knees cleared. CH stud service to approved bitches. 417-840-8030; www.schoolhousecavaliers.com
---
 CHIHUAHUA
---
CHINESE SHAR-PEI
B'LEES SHAR-PEI — Puppies ready now! B. Lee Parker, 1156 Highway 43 S., Columbia, MS 39429; 601-736-3692 or 601-441-0456; to order: 800-843-4115; fax: 601-736-9950; bleessharpei@aol.com; www.bleessharpei.com
---
COCKER SPANIEL
AMERICAN AND INTERNATIONAL CHAMPION BLOODLINE COCKERS — Puppies available in silver buff, parti and chocolate. Near Dallas; 940-391-2057; www.huckleberryhollowkennel.com
---
COLLIE
SHERANDA COLLIES — Roughs/smooths. Selectively breeding quality puppies for 30 years. Conformation, obedience, therapy, companions. Fort Myers, FL; 239-728-2276; www.sherandacollies.com
KAYLOMA COLLIES — Litter planned. Rough, smooth, sable, blue, tri, color headed whites. 505-401-1406; kayloma@aol.com; www.kayloma.com
---
COTON DE TULEAR
FEATURED BREEDER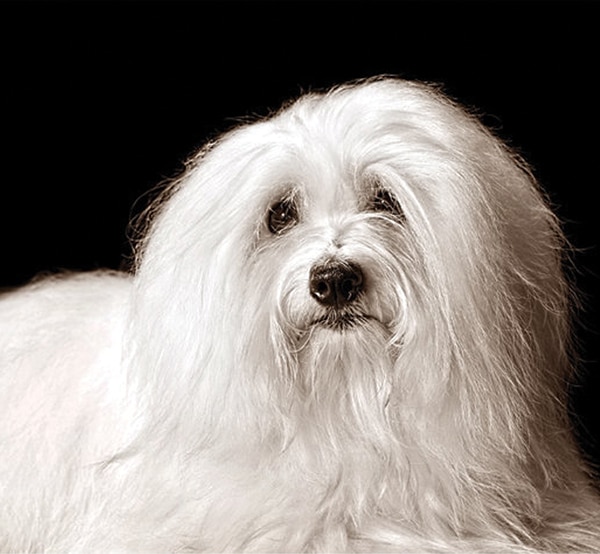 PREFERRED STOCK OF TARA — Ch. World 1999, Mexican/American. Puppies royally bred for quality, soundness, delightful dispositions. Coton de Tulear of Tara, 5725 Country Road 605, Burleson, TX 76028; Carol Hughes, 817-682-4443; taractns@cotondog.com; www.cotondog.com
MADAGASCAR COTON DE TULEAR CLUB OF AMERICA — Founded 1976. We choose not to be affiliated with the AKC! Contact us for important temperament and health information and enforced Code of Ethics breeder's list, Coton Magazine, the largest registry. 1,100 page CD-ROM Coton book. MCTCA; 607-693-2828; cotonnews@aol.com; www.cotonclub.org
AMERICAN COTON CLUB — Home of the rare breed Coton de Tulear. Mandatory health testing. 916-216-1043; info@americancotonclub.com; www.americancotonclub.com
BAR-KEN COTONS — Since 1993. Raised in home. Health tested. Health and temperament guaranteed. USACTC Code of Ethics and Register of Merit Breeder. 254-722-9222; www.coton.com
---
DACHSHUND
DACHSHUND CLUB OF AMERICA INC. — For breed information, visit our website, www.dachshundclubofamerica.org. For breeder referral, contact Vicki Spencer, 270-926-9389; lorindol@roadrunner.com
---
DOBERMAN PINSCHER
CRESTLINE — Quality Dobermans since 1993. Champion bloodlines. Puppies, young adults, stud service, health testing. Montana; 406-363-5654; www.crestline.montana.com
VAN HAITSMA FARM— European, superior, impressive, handsome, loyal, majestic, quality. Champion pedigree. Health tested/guaranteed. 417-294-4699; www.vanhaitsmafarm.com
COMPANIONSHIP DOBERMANS — Private bloodline all-American line. Medically finished pups to exceptionally trained young adults since 1945. www.hoytt.com (See display advertisement in Gallery of Breeds.)
DOBERMAN PINSCHERS — AKC. Bred for temperament and size. Reds, blacks. All shots. Ears. Parents OFA. 865-995-9205; 865-548-9205; www.animalcountryclub.com
---
FRENCH BULLDOG
FANTASTIC FRENCHIES — Top-quality French Bulldogs. All colors: red, fawn, pied and blue. European bloodline. Free delivery. 801-376-5785; donandkaren@earthlink.net; www.fantasticfrenchies.com
JK'S FRENCHIES — Champion-sired puppies available. Stud service. James Kosheba, 1759 Chatterson Rd., Muskegon, MI 49442; 231-788-3762; james10131@msn.com; www.jksfrenchies.com
---
GERMAN SHEPHERD DOG
ZWINGER VOM HEIDELBERGER-SCHLOSS — German Shepherd breeder, over 30 years. Breed only German imports. The real deal. 530-415-9144; www.germandogtrainingcenter.com
VAN HAITSMA FARM— Black and red. Show lines. Intelligent, courageous, loyal. European import. Excellent for show or pet. 417-294-4699; www.vanhaitsmafarm.com
GERMAN SHEPHERDS — Import lines top hip, DNA tested. Lovingly raised, big boned, black/red. Pet/protection. New Jersey, 856-305-8147; alurengsd@gmail.com; www.alurenmaiergsd.com
LOYALVILLE — Pups ready NOW! Occasional trained young adults, longcoats, pandas. Florida: 386-935-4737. Pennsylvania: 570-814-9422; loyalvilleK9@aol.com; www.facebook.com/loyalville
MITTELWEST SHEPHERDS — #1 breeder in North America by German SV for past 15 years, finest temperament, black and deep red Shepherds. 630-781-7472; www.mittelwest.com
---
GERMAN SPITZ
---
GIANT SCHNAUZER
SKANSEN KENNELS — Established in 1950. Top breeder of Giant, Standard and Miniature Schnauzers. 707-795-7070; info@skansen.com; www.skansen.com
---
GOLDEN RETRIEVER
SADDLECREEK FARMS — English and American lines. Parents: OFA hips, elbow, heart, CERF. Twenty-four months health guarantee. English cream and pale gold. Diane Atkinson, California; 805-705-5237; www.saddlecreekfarms.net
---
GOLDEN RETRIEVER, MINIATURE
---
GREAT DANE
CALYPSO DANES — Champion bloodline, OFA stock. Harlequins, blacks, mantles, merles. Two-year health guarantee. Russ and Susan Burbridge, Orange City, FL; 386-774-5472; calypso3@earthlink.net; www.calypsodanes.com
---
HAVANESE
Q-BIN HAVANESE — Puppies available. All health testing done. AKC champions and Westminster. Cuban bloodline. Owner of Ch. Famous Amos. No. 1 Havanese 2002. 440-725-4996; 440-960-0444; www.qbinhavanese.com
NOAH'S LITTLE ARK — Havanese puppies. Hand delivered. Simply the best! 262-993-0460; www.noahslittleark.com
---
JACK RUSSELL TERRIER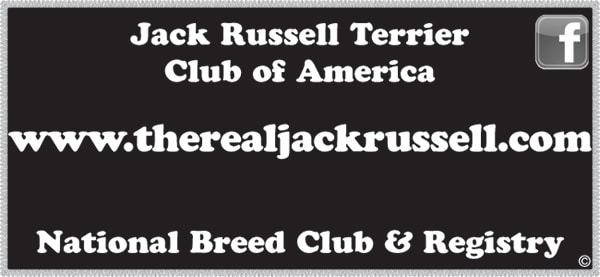 TRINITY FARMS — Irish Russell Terriers bred for temperament, health, dispositions guaranteed. Pedigreed pups hand raised. Aiken, SC; 803-648-3137; www.trinityfarmskennel.com
---
KERRY BLUE TERRIER
KERRY BLUE TERRIER FOUNDATION — An independent source of information on all things Kerry. Breeders, puppies, rescues, health. www.kerryblues.info
---
LABRADOR RETRIEVER
ALLEGHENY LABRADORS ESTABLISHED IN 1968. We are a small kennel, breeding one litter a year on average. Our aim is to produce English style Labradors, equally at home in the field, in the show ring, or as a family companion. We welcome visitors to our website, www.alleghenylabradors.com, or you can contact Clare Senfield (AKC Breeder of Merit) at 540-269-8411.
LAB IN THE SACK — 100% guaranteed AKC/OFA/DNA/CERF quality pups. Home raised underfoot. Bensalem, PA; 215-768-4344; labinthesack@verizon.net; www.labinthesack.com
---
LEONBERGER
THE LEONBERGER CLUB OF AMERICA — The LCA, founded in 1986, is the AKC parent club for the Leonberger breed. Visit our website for complete information on the Leonberger: www.leonbergerclubofamerica.com
---
MASTIFF
MASTIFF RESCUE — Friends of Rescued Mastiffs (FORM). For assistance in placing a Mastiff in need or information on adopting a rescue Mastiff. 414-875-1068; www.mastiffrescue.org
---
MI-KI
FEATURED BREEDER
LITELLTOI MI-KI — Our Mi-Kis are very calm, adorable and loving companions. They come in many colors and are easy to train. They love to play and are very smart. National/intl champions. Linda and Todd Elliott, Maryland; day: 301-924-1016; evening: 301-570-0451; signte@aol.com; www.litelltoimi-ki.com
---
MINIATURE AUSTRALIAN SHEPHERD
---
MINIATURE SCHNAUZER
AKC CHAMPION-SIRED MINIATURE SCHNAUZERS — Blacks, black and silvers, salt and peppers. Ears cropped. Call Robin, Glencoe, OK; 580-669-2949; www.curriersschnauzers.com
---
NEWFOUNDLAND
WATCHBEAR NEWFOUNDLANDS — Established 1977. Puppies available, two-year guarantee. AKC Breeder of Merit! NCA Breeders List. Ohio; 330-239-2587; www.watchbearnewfoundlands.com
BLACK/LANDSEER PUPPIES planned from U.K. sire. Health clearances, OFA proven male Landseer available! Maria Hall, text: 502-548-1075; www.sugarbearnewfs.com
---
NOVA SCOTIA DUCK TOLLING RETRIEVER
HONEYRUN TOLLERS — Finest quality Nova Scotia Duck Tolling Retrievers. Family raised, all health clearances/health guarantees. Honeyrun Kennel, Georgia; 330-621-1574; honeyruntollers@gmail.com; www.honeyruntollers.org
---
PAPILLON
NOVA PAPILLONS — Beautiful champion-sired puppies. Home raised with children. Pet/show. Health guaranteed. Shipping available. Kansas; 785-458-2928; www.novapuppies.com
---
POODLE, MINIATURE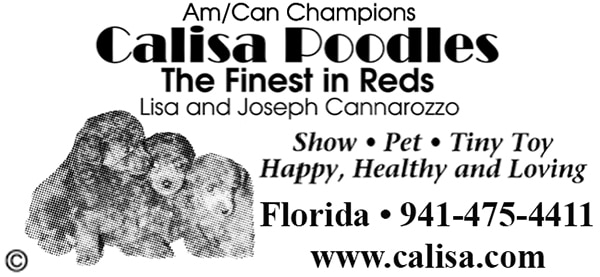 RED RAVES — Rare color-holding mahogany reds. Champion bloodlines. Wonderful  temperament/intelligence. Rally/agility/show prospects. Outstanding house-trained female. 281-466-9727; sherfame@aol.com; www.redpoodles.org
MINIATURES TO LARGE MINIATURES — Champion pedigrees. Chocolates, blacks, and reds. Quality and health guaranteed. Stud service available. 717-438-3682; www.happytailspoodles.com; www.facebook.com/groups/267961530178/#!/bonnie.arndt.7
---
POODLE, TOY
FOURPOINTS POODLES — AKC Toys/teacups. Champion pedigrees. All colors. Home raised. Shipping available. Southwest Ohio; 919-915-0000; www.poodlesrus.com
SHERFAME — Beautiful mahogany reds/honey apricots. Champion bloodlines for show/pet/agility. Leash-and house-trained puppies. Some adults. 281-466-9727; sherfame@aol.com; www.redpoodles.org
---
PUG
PRECIOUS HAPPY, HEALTHY PUPPIES with champion parents are available as pet/companions or top show prospects. Champion stud service on approval. Millie White, 724-529-7251; www.whitesshihtzuandpugs.com
---
PYRENEAN SHEPHERD
LA BRISE PYRENEANS — AKC, CKC. One hundred-plus champion, performance titles. Rough faced, smooth faced. Patricia Princehouse, Ohio; call/text: 440-478-5292; www.pyrs.net
---
ROTTWEILER
VAN HAITSMA FARM— Rich mahogany markings. Blocky, strong, exceptional, loving, large, European. Envy of your town! 417-294-4699; www.vanhaitsmafarm.com
GOWENHAUS — Import litter 5/18/16 Multi Sieger Xedor Alten Festung X Multi V1 Ophelia Od Vadanora. 231-879-4166; www.fifelake.com/gowenhaus
KARRIEM ROTTWEILERS — World class, top winning pedigree. German American bred. Call for puppies. New York, Ohio and Pennsylvania; 516-810-1607; www.facebook.com/karriemrottweilers
STEFANHAUS ROTTWEILERS — Established 1988. AKC, OFA. Guarantees. Puppies and CH stud service. Companion/show, excellent temperaments. 530-809-4301; www.stefanhausrottweilers.com
---
RUSSIAN TSVETNAYA BOLONKA
---
SAINT BERNARD
NATIONAL SAINT BERNARD RESCUE has Saints for adoption. Altered and temperament tested. For information on adoptions in your area, contact Carol Varner-Beck, 541-878-8281; www.saintrescue.org
VON DUEWERHAUS — Breeding exceptional Saint Bernards for over two decades. Farm raised. Champion and imported bloodlines. Guaranteed. 217-675-2276; www.vonduewerhaus.com
---
SHIBA INU
FREROSE SHIBAS — AKC Breeder of Merit. Home of top-winning Shiba of all time. Quality puppies. South Carolina; 803-473-3369; www.freroseshibas.com
---
SHIH TZU
PRECIOUS, HAPPY/HEALTHY PUPPIES with champion parents are available as pet, companions or top show prospects. Champion stud service on approval. Millie White, 724-529-7251; www.whitesshihtzuandpugs.com
---
SIBERIAN HUSKY
TROIKA SIBERIANS ESTABLISHED 1962 — Health guaranteed. Puppies, adults, show/pets. Blue eyes. Starring in Disney's Eight Below. 940-665-3343; www.troikakennels.com
---
SILKY TERRIER
TESSIER — Since 1981, quality breeder of AKC champion Silky Terriers. Puppies and young adults sometimes available. Florida; 727-452-5745; www.tessier-silky-terriers.com
DELAYRE KENNELS — Beautiful Silky Terriers. Breeding quality Silkies since 1970. Sun Valley, CA; 818-767-7212; delayre@earthlink.net; www.delayrekennel.com
---
STAFFORDSHIRE BULL TERRIER
COALMINER'S KENNEL — "Nanny Dog." World class Staffies, blocky heads, stocky, superb temperaments. 352-304-9414; (Nov-April) 519-872-1093; (May-Oct.)  www.ewsz.com
PANDEMONIUM STAFFORDSHIRE BULL TERRIERS — Puppies available. Many colors. AKC papers. 269-758-4206; lotsadogs1@gmail.com; www.reddogridge.net
---
WELSH TERRIER
AKC WELSH TERRIERS — Puppies available. Home raised, excellent temperament. Health guarantee. Teresa Smith, Indiana; 812-620-1519; tesmithwrk@blueriver.net; www.walnutridgeterriers.com
---
WEST HIGHLAND WHITE TERRIER
BET'S WESTIES — Puppies. Hand raised, socialized. AKC registered. Quality bloodlines. Cowan, TN; 931-967-7400; betswesties@bellsouth.net; www.betswesties.com