"All beings tremble before violence. All fear death, and all love life. See yourself in others. Then whom can you hurt? What harm can you do?" — the Buddha
These words were penned more than 2,500 years ago, long before any of us were born. Yet they still stand true today. Though spoken by the Buddha, they are not religious dogma or political argument, but merely a simple observation followed by thought to its ultimate conclusion.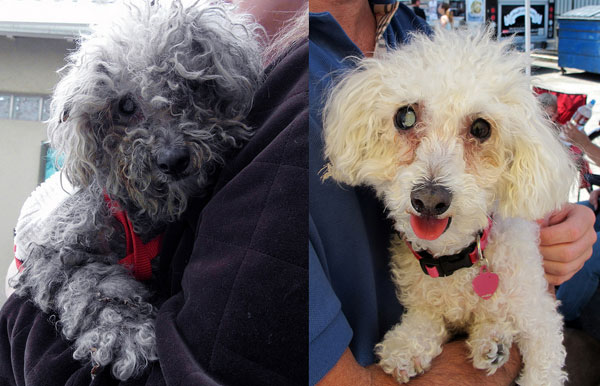 In my life I have learned from books, teachers, friends, art. I have learned from example, from personal failures, and from years of living (from which only fools learn nothing). Yet I am consistently surprised that there is always another lesson to learn, another teacher to find, a new example to follow. One of the great joys of life is that people can surprise you, and that you can surprise yourself.
Recently the good people at Amazing Animal Rescues created a video to honor Eldad Hagar, an advocate and dog rescuer in Los Angeles. It uses clips from Hagar's dog rescue videos to celebrate his work and draw eyes to his cause of saving homeless and discarded pets. The video is simple, with a three-act structure:  Dogs need help, people help them, their lives get better. Really, that is it. 
So, why do so many viewers of this video have tears in their eyes? Why do they share the video?  Why do they engage communities of people to donate and help Hagar continue saving lives? 
I have a theory that the thing we get out of these videos is a surprise. After years and decades of horror movies, news stories of violent attacks, and a lifetime where people we know are crushed by the world and are never given a chance to get off the mat, it's a thrill when we see humans take a chance on someone or something and it pays off. 
In this moment, Eldad's rescue, Hope For Paws, lives up to its name. The rescues he performs and the videos they inspire surprise people by what is possible when one human takes action. What might we achieve if we all took action?
Buddha said, "All fear death, and all love life." The reaction to Eldad's work and the videos that celebrate it show that love for life is not limited to our own; we celebrate life of all kinds, if we simply open our eyes and hearts to it. 
The animal rescuers of the world have self-imposed missions to save the lives of animals who cannot save themselves.  The rest of us have an invaluable part in this as well.  To share and celebrate rescuers' work, and the lives they save — yes — and to help others do as Buddha advised: To look into the eyes of other living souls and see ourselves. Then ask: how can we help alleviate others' pain?
For if everyone could do that there would be no violence to tremble before, no abused or forgotten dogs to be saved. No hurt could be issued, no harm could be done. We would see our obligation to dogs and other living beings as our obligation to ourselves… And the world would be better for it.
Please watch and share the video.
We all have a voice and the ability to help change the future for animals in need.  An we must all join forces and do our part. If we all rescue, foster, adopt, volunteer, donate or share, we will stand together, united by Hope… For ALL Paws.
Read more by Annie and about Eldad and other rescuers: 
Annie Hart is the executive director of Bill Foundation Dog Rescue. Be sure to follow her on her NEW Facebook page for more inspiring rescue stories. Follow the Bill Foundation on Facebook, YouTube, Flickr, and Twitter.