A widespread question about canine behavior is this: Why do dogs insist on rolling on wretched, repulsive, nauseating things? When I hear it, I always think of Trucker and his nonchalant ways of dropping to do the "smelly roll," often when I least expect it.
We used to live in a subdivision nestled along a river. Trucker came into my life with severe separation anxiety, anxiety that made him crawl through screened windows, mangle doorknobs with his teeth and mutilate wood trim. He seemed more comfortable if I left him in our fenced-in yard when I was gone. But I had never left a pet outside unattended, and it made me nervous.
In the course of getting to know Trucker, an animal behaviorist told me, "I give you permission to leave your dog outside." If it helped him stay calm and not hurt himself by chewing on objects or running away, and he was safe in the yard with shelter (my garage), it was an option.
Our yard, however, wasn't the only domain Trucker claimed. I learned from neighbors that while I was gone he jumped over our fence to explore their yards, then trotted back home at his leisure and hopped back over the fence.

One afternoon I came home from work and he was in the fenced yard, standing in the breezeway and covered in a greenish-black, oily substance, which soaked his white neck fur to the skin. His new $40 red collar was black, and he smelled so vile that I could not stand to be close to him. He sought my attention fervently while I slipped his collar off over his head, left it outside and hurried him to the bathtub. Two baths later and he still smelled. 
The next morning I took him to be professionally groomed. When I explained to the groomer what had happened, I opened a baggie containing his soiled collar. Her response was, "Oh, my" and a step backwards. The professional groom helped, and I purchased a deodorizing pet shampoo for future smelly rolls. His identification tags I soaked in Lysol, and I washed the collar several times. I had to throw away the washcloth I used to bathe him.
To this day I have no idea what he rolled in. My theories are slimy algae and goose poop he found along the riverbank, or oil and debris he found under a neighbor's boat trailer.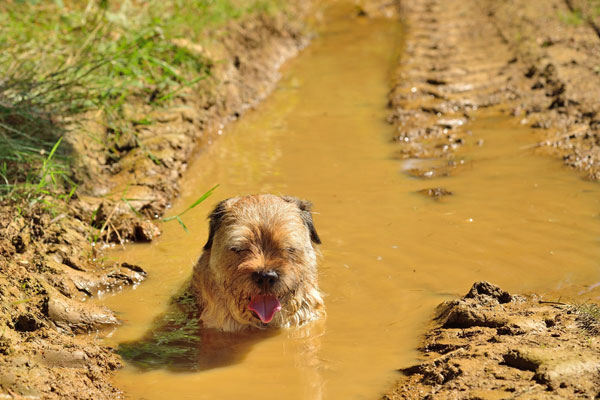 We moved a year later to another home along the river. Trucker trotted off one afternoon while we were outside and came back to greet me with another large greenish-black smudge on his neck. I'm quite sure it was also goose poop.
My friend Nan's little terrier mix named Cocoa also has a preference for rolling on bird poop. But one afternoon, Nan said, she picked an exotic smelly to accentuate her coat –- a dead, dehydrated toad. 
My latest smelly roll incident came after a very long day at work and tending to troublesome family matters afterwards. When I came home that afternoon, Trucker rushed outside to enjoy a stroll around the yard. We were walking around gardens in front of house when I heard him snorting behind me. He was rolling in the grass — smiling, grunting — and I moved closer to rub his belly. 
That's when I realized what he was rolling on — runny, smelly dog poop. When he looked at me he had streaks of this wretched stuff all over his shoulders, the side of his face and his red collar (the same $40 red collar he desecrated during his first smelly roll). 

I could not yell at him. He was just being a dog. Beyond exhausted already, I took him to the backyard, brought out a bucket of warm water and pet deodorizing shampoo and washed his head and neck down to the middle of his back. I knew I couldn't bring him inside to bathe him because he immediately rolls on blankets, the carpet and so forth. 
The collar received spraying by the garden hose and was promptly taken to the washing machine for another deep clean. 
I have read pet-expert comments that dogs do the smelly roll to camouflage their scent. Ironic, since we groom our dogs and spray them with fruity and perfumey scents. It's hard to harmonize in nature when you smell like a basket of potpourri. 
I remember Trucker's first professional groom. He became a mobile air freshener at home, bringing me relaxing apricot smells. The reality is, every time we groom our dogs they are going to snuff out those soaps and sprays. The surprise is what they'll choose to replace them with. 
Does your dog roll around in horrible things? What horrible things? Tell us about all the grossness in the comments, and don't hold back! 
Read more by Tracy:
Learn more about dogs with Dogster:
About Tracy Ahrens: A modern-day Tasha Tudor with a pen as an eleventh phalanx, Tracy is a magnet for small children and creatures, along with strange mishaps and writing errors in need of correcting. Her mind is akin to a 24-hour bustling liquor store and prone to late-night inspiration. She's most happy planting or pruning something, drinking tea, throwing a tomahawk, drawing or napping. Her obsessive compulsions include planting a peck on each of her pets' heads before leaving home and brushing/flossing her teeth before bed. Add her book, "Raising My Furry Children," to your collection.