It's been months since I had a chance to visit with longtime TV and film actor Dabney Coleman, one of my all-time fave people in the world, who I've known for more than 20 years. Usually we meet for a casual bite to eat with friends, so to spend this type of "professional" time was indeed special. I was looking forward to the day, but very nervous at the same time. No sooner was I greeted by chattering dogs behind the main door, when out pops Dabney sporting a big Texas grin and hello hug.
"How are ya! Come on in. Take the scenic route," he chuckles, as he points the way.
In gabbing about photographing his treasured dogs, black and white mix Spanky and Chihuahua mix Georgie, Coleman wants to show off how fast George runs after the ball. We move into the hallway, where as quick as lightning and too fast for my camera, Georgie bolts after a well-gnawed tennis ball.
Just as Coleman expresses his concern about disturbing his neighbors, in comes comedian Sarah Silverman and her puppy, Mary, who join in the fun. What a surprise! There's now a scramble of dogs running around everywhere. After Silverman graciously poses for a snapshot, the ruckus dies down and we part company to "git down to bizness," says Coleman, amplifying the accent with a funny expression.
He suggests we shift our location to the rooftop. It's a bright, warm day, as we find a comfortable spot by the pool area. Coleman insists on sitting in the sun to "catch some rays," which intensifies his mischievous twinkling blue eyes (and a certain silver-fox sexiness!).
As he focuses in on a woman with her baby passing by, Coleman turns gushy, doting on the child. Quite a different impression from the surly, sometimes smarmy and obnoxious characters he's noted for. His career spans almost 50 years, which includes two SAG Awards, Golden Globe and Emmy Awards, as well as an additional eight nominations for his accomplishments. Coleman's long list of memorable television shows and feature films include Nine to Five, Buffalo Bill, Sworn to Silence, On Golden Pond, Tootsie, Short Time, and, most recently, Boardwalk Empire.
After he waves "g'byee" to the baby, he insists on cleaning up the organic veggie juice that was spilled in the process and disappears in search of paper towels, only to come back empty-handed. He's frustrated the bathrooms were locked. It's only after someone at the pool offers to retrieve a supply and all traces of the liquid have been removed that we begin the interview. He's comfortable now that the right thing was done. 
Marina Anderson for Dogster: When was the first time you had a dog? 
Dabney Coleman: When I was about 40, we got Soxie, a little Sheltie. Soxie was a great dog. If anyone said any of the children's names with any tension in their voice (or not) she would run into them. It cost her life. Randy had to cross the street and his mom yelled out, "Randy! Be careful, Randy!" And when Soxie heard that, she ran across the street to go to Randy and a car hit her. [Coleman's eyes well up.]
Then we got another Sheltie. A friend said he looked like Richard the Lionhearted, so we named him Richard. A cute little guy. Then Mary (his youngest daughter), came home one day with this little dog she and her boyfriend found under a bridge, no collar, no ID, part Australian Cattle Dog and part Chow. So that was this killer, emotionally bonded dog to me. Mama. 
Mama was the one who had the tendon surgery, right?
Yeah. She was just a total athlete, as strong as hell, constantly running for the ball. Could do it all day long. First time I threw a ball she caught it in the air. She could do it in the dead of night too. Couldn't see a thing, but she knew where to go. Never dropped it. She passed away about three years ago. She's buried up on the hill. [Tears well in his eyes again and he starts to choke up on his words when he refers to the spot in his backyard.] It took me months before I could even go up there. The whole area is manicured with little white rocks, all around.
After Mama died, we went to the pound for some months until we finally found Georgie. 
How did you find Spanky?
Mary used to go to the veterans hospital in Westwood and visit with them once a week, talk to them, play her guitar, and sing. One day she comes back with little Spanky, four months old. She said she saw Spanky out there walking around with no collar, no nothing, and she says, "Hi little girl, who are you?" And Spanky ran up to her and jumped right up into her arms.  
Have you worked with any dogs in any films or TV shows?
Boardwalk Empire. His name is Einstein. A cute little dog. What do you call those little Beverly Hills [bleep] dogs? This was a cute little boy though, Einstein. Before we shot, I was staying in a hotel across from Central Park, and I said, "You gotta bring the dog before we shoot tomorrow and I'll go for a walk with him in the park to get to know each other. So we won't be strangers." So we spent an hour and a half doing that. 
Great idea. How are your pooches with other dogs?
They're both very protective. Spanky is extremely friendly, but as you know, when you put them on a leash they can get very protective of you, the owner. So when I take them out to the park, leash-free, they're fine. But when I put them on a leash, especially Georgie, she's antisocial and very protective of Nikki, because Nikki takes her out alone a lot. 
That's good, isn't it? To be protective?
She's not. She's a pain in the ass. [We both chuckle.] Fifty yards away she starts acting up if she sees another dog.
Do they have any idiosyncrasies or quirks? 
No. They are just so cute. By nature they do such cute stuff.
Are there any problems like peeing inside or …?
Georgie's gotten better. She was fine back at the house. Here, she doesn't have a big yard like she did. 
What about the fake grass box thing on your patio?
She doesn't like that box. She puts her front legs in the grass and then pees in the back on the porch! 
So who sleeps with whom?
Spanky always sleeps with Randy and Nikki, and we split it with Georgie. Whoever goes to bed first gets Georgie. So half the time it's them and half the time it's me. 
And their favorite toys? I know Georgie loves that ball!
She loves this horrible-looking dragon. Orange and yellow. I hate the color of it, the size of it. Looks like a sitcom — orange, green, yellow, blue — colors of sitcoms. I thought, well, it won't last that long anyway.
She found that squeezebox – well, it's now a year and a half later and that's her favorite. She kills it, you know? It's amazing how it's still alive.
Do they watch TV with you? 
Mama used to. If she saw a dog, she'd run around to get to the other side of the TV to try and find it. After 15 years, she never got it. There's no dog. 
But she was smart enough to go around to look. Most dogs would just sit there.
Yes.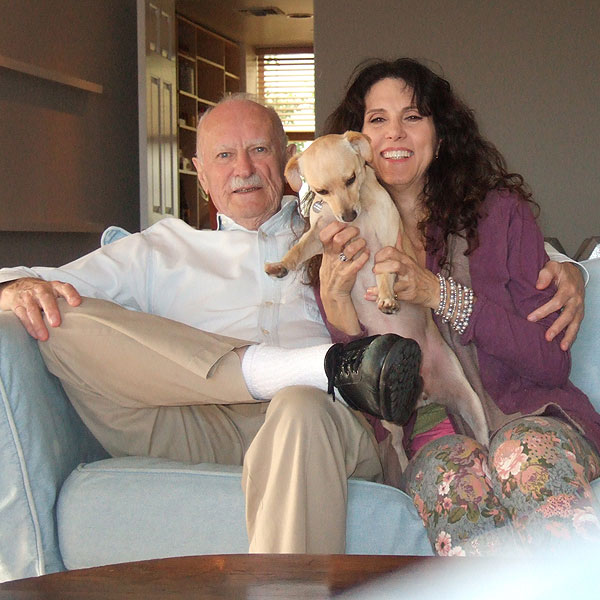 What are some things about dogs you like most?
They're attentive, sensitive to people. Their lives center around people. A dog, if he had the option, he would probably lay down his life for you. There are stories where they have done literally that. 
If you're gone any length of time, which one goes the most wild when you return? What about if you're not feeling well or in a down mood?
Well, Georgie is a bit younger, but they both go wild. 
There was a time when I was sick and Spanky knew. They calmed down, they sat with me very quietly, they sought me out to see if I was OK. To just sit with me as opposed to playing was a big sacrifice for Mama. Huge. She was so active. If I would sneeze, Spanky would come running over and jump in my lap and start licking my face. I started faking it and it worked for about six months until she knew when I was faking it and stopped doing it. 
If they could actually talk to you in English, what do you think the first thing they would say to you would be?
"You got the time? It's mealtime, isn't it? Time for chow?" They're not stupid.
If you could be a dog, is there a particular breed you would be?
I like golden Labs and Golden Retrievers. They are just so loving. They look so loving and they are so loving. 
Have you taught your dogs any tricks?
I appreciate when another dog can do them, but …
So forget the costumes?
God, no! Nikki bought Georgie a little sweater the other day, but we're going to lose it. Not going to happen. A little pink sweater. Jesus!
Are there any misconceptions you think the public might have about you? 
I kind of enjoy this kind of villainous reputation I have. It's fun. [He gets that Texas grin on his face again and a twinkle in his eyes.] It's fun!
Photo credits: Marina Anderson (all except for photo of Mama –- courtesy of Coleman)
Read more interviews with celebrities and their dogs:
Learn more about dogs with Dogster:
About Marina Anderson: Marina is an established actress, professional freelance writer, best-selling author (David Carradine, The Eye Of My Tornado), jewelry designer (The Flying Goddess) and publicist (The Media Hound PR) for clients such as Robby Benson, Ed Begley Jr., and music icon Alan Parsons and Gary U.S. Bonds, to name a few. She is also a personal manager and career and spiritual consultant.   
Her film/TV credits include Dexter (opposite Jennifer Carpenter); co-lead in the Emmy-nominated web series Sophie Chase, Law & Order LA, and Desperate Housewives; supporting and guest star roles in Dangerous Curves, Sex & Mrs X (opposite Linda Hamilton), Forever Knight, and Kung Fu: The Legend Continues (opposite David Carradine); the Genie Award-winning film 32 Short Films About Glenn Gould; and many other productions, national commercials, and voiceovers. Marina's passion is helping animal rescue organizations. Look for her next book, The Adventures Of Lulu The Collie,which stars her beloved dog, Lulu, daughter to Lassie VIII, and keep up with her work by following her on Facebook.