Beginning in early 2021, new regulations from the U.S. Department of Transportation (DOT) will likely ban emotional support animals from flying in cabins with their owners. The regulations were recently announced as part of an update to the DOT's Air Carrier Access Act (ACAA), which is responsible for regulations connected to service animals on airplanes. Expected to take effect in early 2021, these new regulations will significantly change travel experiences for everyone who flies commercially.
What do the new regulations mean for flying with Emotional Support Animals and Service Dogs?
The biggest change that comes with the new DOT regulations is that Emotional Support Animals (ESAs) will no longer be given access rights to fly on planes with their owners. The ADA prohibits discrimination against individuals with disabilities around public accommodation, employment, commercial facilities and all transportation except commercial airlines, which are covered by the Air Carrier Access Act (ACAA).
ESAs do not have any public-access rights in accordance with the ADA, however, the ACAA has historically allowed ESAs to fly with their disabled owners outside of carriers and free of charge. While for some people with disabilities who have ESAs this has been helpful, it has also led to an increase in pets being passed off as ESAs illegally in order to fly in the cabin with their owners and fly for free. Unfortunately, people see pretending to have an ESA or a service dog as a victimless crime, but it not only creates an unsafe working environment for actual service dogs, it can also tarnish the general public's opinion of service dogs, which can cause access issues for legit service dogs in the future. In many states, it's against the law and punishable by fine or jail time to try to pass your pet off as a service dog.
The new regulations put into place are primarily in response to complaints that have arisen from the general public: reported bites and other incidents of aggression that have occurred on planes from untrained ESAs. Prior to this ruling, the DOT had a public comment period and has disclosed with the announcement of the new regulations they received more than 15,000 comments about proposed changes. In response to concerns raised by the airplanes, flight attendants, members of the general public, airports, as well as individuals with disabilities and disability advocates, ESAs will no longer be permitted on flights.
Under the new ACAA regulations, a Service Dog will be defined (similar to ADA language) as a dog that has been individually trained to work or perform tasks that specifically benefit a person with a disability. Some exciting news with this is that under the new ACAA regulations psychiatric service dogs who work with people who have disabilities from PTSD to Autism will be treated like any other service dog. Prior to this shift, people with psychiatric service dogs could be required to provide additional documentation about their disability. This shift is aligned with the ADA, which does not treat one kind of service dog any different than any other or require additional levels of disclosure about the handler's disability. Under the new regulations, airlines can require disabled passengers who are service-dog handlers to complete DOT service dog forms 48 hours in advance of travel but prohibits airlines from requiring disabled flyers with service dogs to physically check-in at the airport and allows for online check-in. Service dogs must fit within the handler's foot space on the aircraft (this is why service dog handlers with large dogs teach them to tuck under seats) and continues to allow airlines to refuse to transport service dogs that exhibit any kind of aggressive behavior. Another positive aspect of the new regulations is that it also forbids airlines from discriminating against a service dog because of the dog's breed.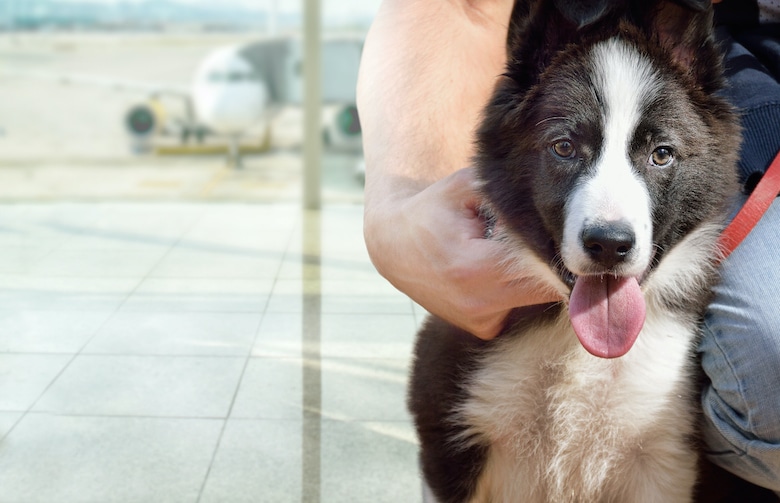 What is the difference between a Service Dog and an Emotional Support Animal?
Unlike Service Dogs who are specifically trained to perform different tasks that help a person with a psychiatric or physical disability, ESAs simply provide supportive comfort to their disabled owners. ESAs are not required to have any kind of training including the rigorous public access training process that gives Service Dogs the tools they need to ignore all food, distractions, people, animals' distractions and not interact with their environment in any way.
However, contrary to some of the predatory advertising you might have seen online that says anyone can have an (ESA), you actually must be disabled to have an ESA prescribed to you.
Related: Emotional Support Dogs — What to Know About Certification, Public Access and How to Get One
For the most part, ESAs do not have public-access rights and are not allowed in public places that aren't dog friendly such as stores, restaurants, hospitals, theme parks, etc. However provided they are not disruptive, ESAs are allowed to live with their owners in housing that is not pet friendly and until the new DOT regulations take effect were allowed to travel with their owners in airplane cabins.
What if you were planning to fly with an ESA?
The new regulations take effect in early 2021 and at that point, passengers with Emotional Support Dogs will no longer be permitted to fly with them. If you have previously flown with your ESA and were planning to do so again for an upcoming trip, you will need to make different arrangements for traveling by either leaving your dog at home with a pet sitter or depending on your airline carrier your ESA may be able to fly with you as a pet.
When the new regulations take effect, ESAs will be considered the same as any other pet. Meaning if the airline permits small dogs to travel in a carrier under seat, owners can purchase that add-on to their ticket but do not have any access or privileges for their dog different than they would if their dog was a pet and are subject to all pet-related fees, restrictions, and limitations. When the new regulations take effect, individuals whose ESAs are large breed dogs will not be able to fly with their pets at all unless those dogs are flown cargo, same as any other large pet dog.
Featured Image: Capuski/Getty Images
Read Next: Best Dogs for Travel