When Allison Phillips first laid eyes on the little tripod Pit Bull puppy who would change her life, she could only think of one word: No.
"I always said I would never, ever, ever have a Pit Bull, just because I was in military housing for a while and most of them don't accept Pit Bulls," says Phillips, who had left the Coast Guard shortly before meeting the pup she would eventually name Starbuck.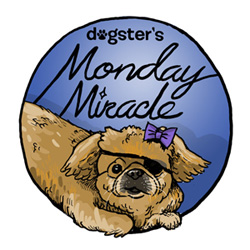 "My boyfriend is still in the Coast Guard still, and I just didn't want to risk it," says Phillips, who already had two Labrador Retrievers at home (and was on a waitlist for a third) when she met little Starbuck at the pup's first adoption event.
A friend of Phillips' was running the event for Lotsa Love Pet Rescue and was perfectly positioned to play matchmaker.
"She said, 'Oh, we have this little three-legged pup, you should check her out,' and I was like, 'Don't do that to me,'" Phillips remembers.
Learning the puppy's backstory made Phillips heartstrings pull even harder.
"She was about three months old when somebody threw her out of a car. A police officer was doing a patrol, and they found her laying on the ground, so they scooped her up and brought her to a rescue who couldn't do anything for her, but they did drop her off at the vet," Phillips explains.
That vet saved Starbuck, but had to amputate her damaged back leg, and the pup racked up about $1,500 dollars in medical bills before Lotsa Love stepped in to pay them, rehabilitate her, and get her to the adoption event where she met Phillips.
Despite having concerns over how adopting a Pit Bull could impact future housing choices for her family, Phillips found herself falling in love at first sight.
"At the time, we had a high chance of going to Miami, and they've had breed specific legislation there since 1989, and they're very strict," says Phillips, who was torn between wanting to help the puppy and not wanting to commit.
"In my head, I was going through all the reasons why I couldn't have her, and my friend said that if I would just foster her, it would really help them out."
Looking back on that first day with Starbuck, Phillips laughs at how quickly she went from fostering to forever.
"Everybody knew what was going to happen," she recalls.
Phillips' two Labs, Scout and Bubba, certainly seemed to know that they wouldn't be giving this pup back.
"They were there at the adoption event, and they just hung out and played like dogs do. Then, when I put her in the car with me, Scout just hovered over her and held her, like, 'Oh, she's mine now,'" Phillips remembers.
"They usually get jealous, but they didn't get jealous at all. It was like she was already home and they knew it."
In the days that followed, Phillips named Starbuck after actress Katee Sackhoff's character in the television series Battlestar Galactica. According to Phillips, the character and the Pit Bull are both survivors. Just like the TV Starbuck inspired shipmates with her strength, the puppy Starbuck inspired Phillips with hers.
"She kind of gave me my voice back, because when I got out of the military, I got really depressed. I felt like I'd lost all my purpose," says Phillips, who left the Coast Guard after developing arthritis and suffering issues with her knees, ankles, and hips — some of which required surgery.
"I was all sorts of 'Woe is me, I'm so hurt,' but then I got her and you know, she's missing a leg — I've got both of mine."
Phillips couldn't ignore the way little Starbuck was impacting her, and neither could Philips' boyfriend, who fell in love with the little dog over email while he was working away. The couple decided to keep the pup, and found having a Pit Bull didn't impact their housing choices as much as they'd thought.
"We moved to D.C., and it's actually incredibly dog friendly. There's a lot of Pit Bulls," explains Phillips. "Our only issue is that I actually have three dogs, and most places have like a two-dog limit."
Thankfully, the family was able to find a place for the doggy trio, and Starbuck recently celebrated her one-year anniversary as a member of the pack. Phillips says the tripod pup is so full of energy she wears her people out, and she can do everything her Lab siblings can do.
"She can swim, she can hike. Every now and then she gets too tired and we have to carry her. We are prepared for if something were to happen, that she might need a prosthetic leg, or a wheelchair or physical therapy, but as of now there's no issues."
Phillips says she can't believe how well-adjusted Starbuck is, considering the abuse she suffered early on. Starbuck's resiliency has inspired her pet mom to advocate against animal abuse.
"You can get angry, but you need to make sure you follow it up with taking action," says Phillips, who raises funds for rescues, advocates for Pit Bulls, and spreads Starbuck's message online.
"I didn't realize how bad it was until I started her Facebook page, and I was reading more and more horror stories. Starbuck's story is not the worst one."
Starbuck doesn't let her dark beginning impact her bright future. Everything is looking up for the Pit Bull survivor, and for Phillips, who is now balancing her fur family with her packed college-course load and a career as a dog-groomer.
"She's helped me a lot physically and mentally," she says, adding that Starbuck's long-term goal is to eventually visit with veterans at the Walter Reed Army Medical Center. The young dog still has a couple years of training to complete before she gets there, but if any dog can do it, it's Starbuck.
Read more about Monday Miracles on Dogster:
About the Author: Heather Marcoux is a freelance writer in Alberta, Canada. Her beloved Ghost Cat was once her only animal, but the addition of a second cat, Specter, and the dog duo of GhostBuster and Marshmallow make her fur family complete. Sixteen paws is definitely enough. Heather is also a wife, a bad cook, and a former TV journalist. Some of her friends have hidden her feed because of an excess of cat pictures. If you don't mind cat pictures, you can follow her on Twitter; she also posts pet GIFs on Google+.