Last March, Kimberly Valentine learned her dog, Sparky Pluggs, had less than a year to live. Diagnosed with mitral valve disease, Sparky's heart was failing. The cardiologist said there was no surgery to cure Sparky's condition, but after many hours of internet research and long-distance phone calls, Kimberly learned that wasn't exactly the case.
No one was doing the surgery in the United States, but if she could get Sparky from Pennsylvania to France, maybe both their hearts could be unbroken.
"He's my child, I would do anything for him," Kimberly tells Dogster.
Rescued from the Camden County Animal Shelter in New Jersey as a youngster nine years ago, Sparky Pluggs — a Chihuahua–Toy Fox Terrier mix — has been with Kimberly even longer than her husband, Richard. In 2011, Sparky welcomed a sibling into the household when Kimberly adopted another Chihuahua, Jina, from Dutch Country Animal Rescue. Sparky's new sister spent the first five years of her life in a cage as a puppy mill breeder and didn't really know how to be a dog until Sparky showed her the way.
"Sparky is her therapy dog," Kimberly explains. "Any time she gets scared or fearful, she goes to him."
But Kimberly was the fearful one when Sparky suffered a seizure-like collapse in early March. She was shocked to hear the mitral valve disease doctors had referred to as 'nothing to worry about' in 2014 was now putting Sparky's life at risk.
"The mitral valve, the purpose of it is to close and force the blood to pass blood down through the heart. When the valve isn't working and it's not shutting properly, blood is flowing backwards, so fluid goes out into the lungs," Kimberly explains. "Basically, they drown to death."
While searching the internet, Kimberly learned of Dr. Masami Uechi of JASMINE Veterinary Cardiovascular Medical Center in Japan. A pioneer in mitral valve repair in small breed dogs, Dr. Uechi is experienced in the very surgery Kimberly thought didn't exist. He's repaired the mitral valves of hundreds of dogs using cardiopulmonary bypass machines, and Kimberly found a story online about a surgery he'd done in the United States, at Cornell.
"So I called Cornell, but they weren't doing the surgery there anymore and there were no plans for him to return," she recalls.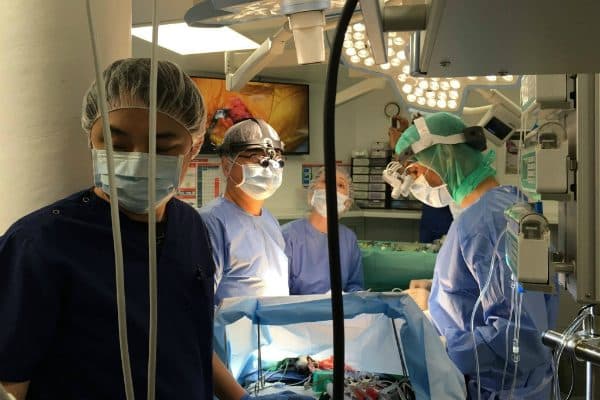 The open-heart operation Sparky needed isn't commonly available in the United States for several reasons. It's expensive, considered high-risk, and can only be done using cardiopulmonary bypass. Often referred to as a "heart-lung machine" when used on humans, cardiopulmonary bypass sees an external pump replace the heart's pumping action, leaving the heart still for surgery.
Undaunted, Kimberly continued searching and learned Dr. Uechi was collaborating with the Bozon Clinic in Versailles, France. According to Dr. Sabine Bozon, 26 American dogs have had mitral valve surgery at the clinic over the last year.
It would take a lot of money to fly Sparky Pluggs to France for his surgery, but Kimberly was determined. When a Go Fund Me campaign only raised a fraction of the $35,000 needed for the international undertaking she took out a loan. Soon she, her husband and Sparky were flying to France.
On July 2, Dr. Uechi led the medical team for Sparky's mitral valve repair. Kimberly and Richard looked on as their dog was prepped, sedated, and operated on for nine hours.
"I watched the entire surgery," Kimberly recalls. "I even helped hold him while they shaved him."
Sparky was discharged from the Bozon Clinic one week later, and after a few days he flew home to America on July 14.
Since Sparky's surgery, Kimberly has committed herself to sharing his story via Instagram and Facebook in the hopes of educating other dog lovers and veterinarians about mitral valve repair.
She says she recently got quite a surprise when a mysterious benefactor contacted her via social media to arrange a five-figure donation to the Bozon Clinic. The $75,000 paid for an equipment upgrade and Dr. Bozon confirms the clinic is extremely thankful.
Kimberly too is thankful for the gift she's received and is happy to see Sparky once again running around with his little sister, free from the multiple heart medications he was on before the surgery.
"He's such a fighter," she says.