A favorite of fashion magazines, the West Highland White Terrier (Westie to his friends) is more than just a cute face. He's got a wild side (or two) and won't back down from a challenge or adventure, especially if digging, barking, and turning his fur black with dirt is involved. He's a jaunty classic, equally at home in an English manor as on a Hollywood red carpet — or in a barn searching out rats.
Some people may confuse the Westie with the Cairn or Scottish Terriers, but Westies are always white, and Cairns and Scotties are never white (although they can be tan). The Westie may also be confused with the Sealyham Terrier, but the Sealyham has a longer body, longer head and folded ears. If you're really bad at identifying breeds, you might also confuse a Westie with a Bichon Frise, but the Bichon has curly hair, a long tail, and hanging ears.
More interesting things about the Westie:
Westies come from a group of related terriers that were originally used to rid Scottish farms and surrounding areas of rodents, fox, badger and other small mammals.
Westies, Scottish Terriers, Cairn Terriers and Skye Terriers were originally all grouped together as Scotch Terriers.
In many breeds, white dogs are considered weaker and not desirable. But legend has it that Colonel Edward Donald Malcolm, of Poltalloch, Argyllshire, Scotland, once mistakenly mistook one of his red dogs for a fox when it emerged from the brush, and he shot it accidentally. It's said he decided on the spot to only keep white dogs so such a thing would never happen again. Malcolm is considered the founder of the breed, although he never wished to take credit for it.
By 1900 this short-legged white strain of Scotch Terrier became known by various names: Poltalloch, White Scottish, Little Skye and others. The AKC recognized it as the Roseneath Terrier in 1908. The name was changed to West Highland White Terrier in 1909.
Westies appear in the media in advertisements for Black & White Scotch whiskey and as the mascot for Cesar dog food.
A Westie stars in the film The Adventures of Greyfriars Bobby (playing the role of a Skye Terrier!).
Westies appear on the TV shows Hamish MacBeth, 7th Heaven, House, Jeeves and Wooster and King of the Hill; and in the book Good Boy, Fergus! and in the McDuff book series.
Westie owners include Robert Pattinson, Christian Serratos, Matthew McConaughey, Rob Schneider, Tommy Hilfiger, Carolyne Roehm, Alfred Hitchcock, Cary Grant, Joan Caulfield, and E.B. White.
West Highland Whites have twice won Best in Show at the Westminster dog show, but the most recent time was way back in 1962.
Two Westies have also run Best in Show at the Crufts dog show in England, the most recent in 1990. Crufts is a much larger and debatably more prestigious show than Westminster.
Westies are currently the 36th most popular AKC breed, down from 31st a decade ago.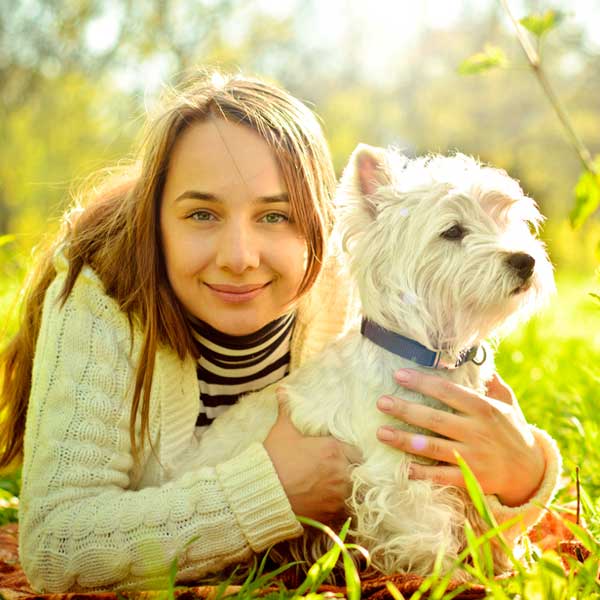 Do you own a Westie? Have you spent time with one? Let's hear what you think about this fascinating breed in the comments! And if you have a favorite breed you'd like us to write about, let us know that, too!
Interested in other breed profiles? Find dozens of them here.
Learn more about dogs with Dogster:
About the author: Caroline Coile is the author of 34 dog books, including the top-selling Barron's Encyclopedia of Dog Breeds. She has written for various publications and is currently a columnist for AKC Family Dog. She shares her home with three naughty Salukis and one Jack Russell Terrier.