Nine years and 19 days after her Shih Tzu disappeared from the backyard, Mikah Gesler got the call she'd been waiting nearly a decade for. Her long-lost dog, Oliver, was waiting for her at the Lied Animal Shelter in Las Vegas.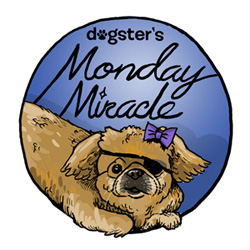 "I was so excited I ran out of the house without my purse. I didn't have any shoes on. I was like, 'Oh my God, I have to turn around.' I was out of my mind," says Gesler, who had made sure to keep Oliver's microchip information updated over the years.
"I lived in three different states, so I always left my mom's address and phone number, so they called my mom," she explains.
For nine long years, the microchip wasn't scanned, and Gesler found out why when she arrived at the shelter to pick up her now-12-year-old dog: Oliver hadn't been taken to a vet since he went missing. The dog who'd been a pampered family pet for the first three years of his life had been cruelly neglected for the remainder. Gesler was shocked when she first saw him in the shelter.
"He had on this little tiny extra-small sweatshirt that just covered his shoulders — he was way too big for that," she recalls, adding that Oliver looked like he had gained a ton of weight, but much of the extra bulk was actually just matted hair. He was also filthy — a thick layer of dirt had turned Oliver's black and white coat into a dusty, charcoal grey.
"He did look like he was going to die," says Gesler. "I didn't think he would make it. He shook so badly, he wouldn't walk, his tongue was hanging out."
The shelter staff explained that Oliver had been surrendered by someone who said he had found him. The person didn't want to give his name, but stated he'd found him at an intersection that's only about 18 miles from the home he disappeared from on Halloween 2006. The last time the family saw Oliver, he was trotting out into the fenced backyard with his buddy Annie, a then-6-year-old Shih Tzu.
"My oldest daughter let the dogs out to the bathroom," Gesler remembers. "Somebody just probably lifted him over the fence."
According to Gesler, Annie wouldn't have come near a stranger, but it's not hard to imagine Oliver rushing right over to say hello. When Annie came in without her little buddy, the lost-dog search began.
"We did posters, we did flyers, we did the newspaper," says Gesler. "It was always like unfinished business. Like we just never knew what happened to him."
Gesler had heard that people steal pets to either sell them or breed them, but figures that because she'd had Oliver neutered as a puppy he wouldn't have been useful to a thief.
"Maybe they just gave him away to someone or let him go," she says, adding that Oliver's life after Oct. 31, 2006, is a complete mystery. He was just gone, and slowly the family got on with life. Even Annie and Gesler's other two dogs — a pair of Golden Retrievers named Copper and Rusty — eventually adjusted.
"It was awful. We just never found him, so it was really a shock to get him back," says Gesler, who credits shelter staff with saving Oliver by checking his microchip.
He only had 48 hours left before euthanization when she got the call and rushed off to bring Oliver home for the second time. The first time — 12 years ago — she'd been introducing an adorable 6-week-old puppy into her household. Now, she was dealing with a terrified, sick senior. Oliver was blind, deaf, with horrible skin and a bloody foot, but Gesler and her now-grown children were just thrilled to hear he was still alive.
"My daughter hopped on a plane and came right down."
Meanwhile, Gesler wasted no time getting Oliver the medical attention he'd been missing all those years.
"I immediately took him to Craig Road Animal Hospital," she says. "They said he had six times the bacteria in his body than normal dogs, and that was because he was in a filthy environment."
The trip to the vet also revealed Oliver had cataracts, overgrown eyelashes that were scraping his eyes, infected teeth, a heart murmur, liver disease, and serious issues with his skin and nails.
"His foot was bleeding because his toenail had grown into the bottom of his pad. His toenails had never been clipped," says Gesler. "The following morning I took him to the groomers — it was really awful."
At first, Oliver didn't want eat or even go to the bathroom. All he would do was shake, but over the course of a few weeks Gesler started to see Oliver's old personality return.
"He's a happy little guy," she says, adding that he gets along great with Miska, a rescued Havanese she adopted in his absence. Unfortunately, Oliver's old pals Annie and Rusty both passed away while he was gone. Only one member of the original doggy gang was still around when Oliver came home. He was briefly reunited with Copper, an ailing Golden Retreiver who died on Super Bowl Sunday.
While Gesler is thankful that Oliver got to see Copper before he passed, she worries about her little Shih Tzu because the two dogs were the same age. Oliver might not have a lot of time left, but Gesler is going to make sure that his final days are good ones. Oliver needs daily pain killers and anti-inflammatories, two different kinds of eye drops, liver support medication, and glucosamine.
"He's super expensive, but he's super worth it," Gesler jokes.
She says that while Oliver loves to go outside and sniff around on grassy areas, he's definitely not allowed to go out alone. All bathroom breaks are now closely supervised.
Read about more Monday Miracles:
About the Author: Heather Marcoux is a freelance writer in Alberta, Canada. Her beloved Ghost Cat was once her only animal, but the addition of a second cat, Specter, and the dog duo of GhostBuster and Marshmallow make her fur family complete. Sixteen paws is definitely enough. Heather is also a wife, a bad cook, and a former TV journalist. Some of her friends have hidden her feed because of an excess of cat pictures. If you don't mind cat pictures, you can follow her on Twitter; she also posts pet GIFs on Google+.