The dog world can rest easy tonight, as a new smallest dog in the world (actual title: Smallest Dog Living) has finally been christened by Guinness World Records. This caps months of intense speculation by dog lovers everywhere, with long-winded debates breaking out in comment sections, bars, and even the senate floor (Ted Cruz, R-Texas).
Finally, a ruling came down. The 2013 Smallest Dog in the World is … small. Victory! To be sure, the dog is small. How small? I don't know.
Okay: She's 3.8 inches, from backbone to paw. Small, to use the vernacular.
Her name is Miracle Milly. She is a brown Chihuahua.
"She knows how to pose," owner Vanesa Semler told The Associated Press.
She also knows how to crush her competition. Licking her paws right now is a dethroned long-haired Chihuahua from Kentucky named Boo Boo, who stands outclassed at a massive four inches. Enough about Boo Boo.
"Milly really likes salmon and chicken," Semler said.
Here's what we know about Milly thus far, thanks to The AP:
Milly weighed less than an ounce when she was born and "fit in a teaspoon." We don't know whether Semler ever put her in a teaspoon.
Early on, she slept in a doll's crib next to Semler's bed.
She doesn't bark and likes playing with the plants in Semler's backyard. (The make of plants is not specified, so make of that what you will.)
Semler has nine other Chihuahuas.
"We give her a new toy almost every week," Semler said. "She likes to cuddle with them."
Here is Milly amongst her awards: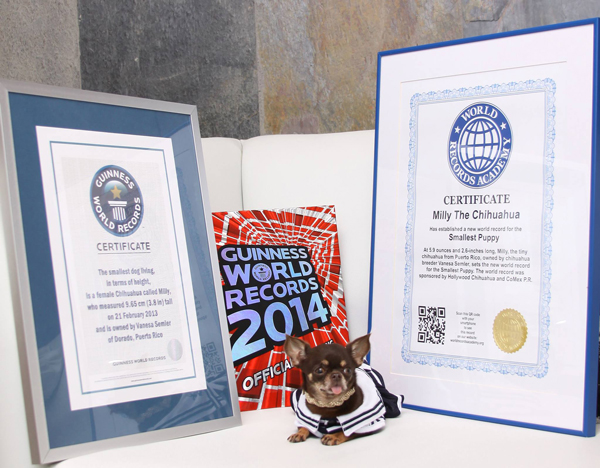 Here is Milly cavorting with a candy bar: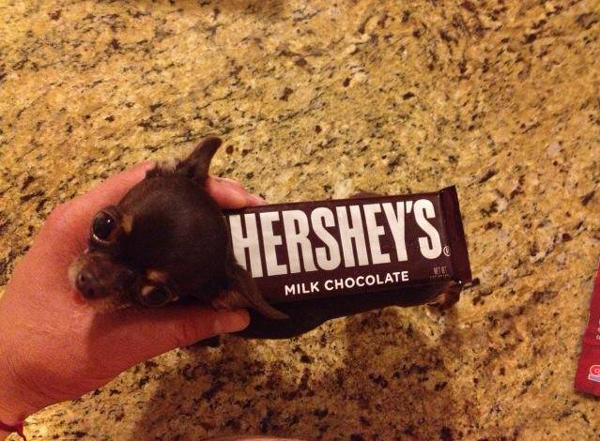 Here is Milly on the View (second from left):
Here is Milly weighing in against Floyd Mayweather (TKO):
Here is Milly eating a bone — weird!
Sorry for knocking Boo Boo a while back. Here's a picture of Boo Boo:
In Milly's honor (also Boo's), let's hope that awards like these are just a fun thing we do to celebrate a quirk in a litter and that people aren't actually irresponsibly breeding dogs to be as small (or as large) as possible to win stuff like this.
Congratulation, Milly!
Images via Miracle Milly World's Smallest Dog Facebook page
Read more about record-breaking dogs: