Editor's note: Have you seen the new Dogster print magazine in stores? Or in the waiting room of your vet's office? This article appeared in our December/January issue. Subscribe to Dogster and get the bimonthly magazine delivered to your home.
The holiday season is a time to stuff ourselves with extra food and stuff the mailboxes of family and friends with creative and campy Christmas cards. Every year, more holiday-happy pups are stealing the show in our seasonal portraits, totally taking over this once human-dominated tradition. These 11 Christmas cards prove that sharing the spotlight with adorable dogs can result in some hilariously festive holiday cards:
1. Family resemblance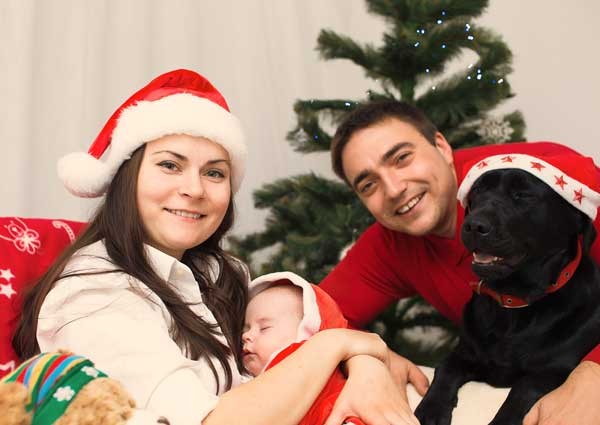 Everybody in white. Everybody in Christmas pajamas. Everybody in the ugly sweaters Mom found on sale. Having the whole family dressed the same is a staple of Christmas card photography. This season, make sure your dog is included with an ugly sweater of his own. Just because he's furry doesn't mean he shouldn't suffer these fashion sins with the rest of us.
2. The long-form brag
This card comes with a double sided newsletter — often titled "It's a Wonderful Life." This form of not-so-humble bragging from high-achieving families lists off human accomplishments as well as plenty of info about the medals Frankie won for agility and how FeFe has been accepted into a training academy that costs more than community college. Remember, there's no word limit on awesomeness.
3. Single and loving it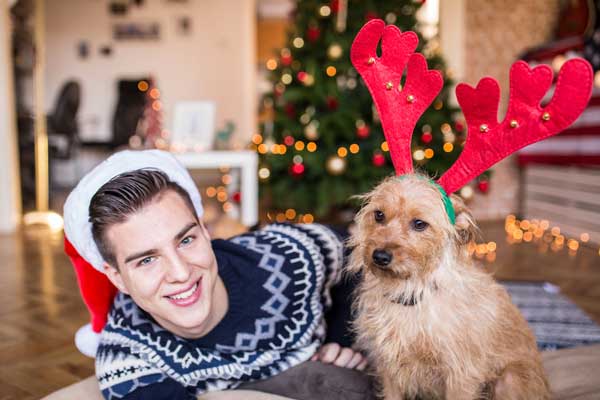 Traditionally, Christmas card photos have been the domain of soccer moms who want to show off the six coordinating outfits they bought for their brood (see No. 1 on this list), but these days, more single folks are taking up the tradition. This card category is perfect for those who are happily unattached to anyone but their dog and want to show off the sophisticated single life they've curated with a canine companion.
4. Announcing a (fur) baby
Plenty of couples use their holiday card as a pregnancy or birth announcement, but what can you do if the new addition to your household isn't a human baby? Just strike a happy family pose with your new puppy (or your fully grown, 60-pound rescue dog).
5. The not-so-perfect picture
Dogs are dogs, so not every picture is going to be perfect. Any Christmas card photographer is going to need to snap a lot of shots to get a good one — especially if the dogs involved are feeling snappy themselves.
6. All wrapped up
Similar in theme to coordinated outfits (but with cheaper wardrobe), this category of Christmas card photo combines the best parts of the season's family time and present time. It might not be easy to keep your pup encased in paper for very long, so make sure your photographer is quick with the shutter button!
7. With the man himself
This classic card category has appeared on many mantels over the years, but a portrait of your pup on Santa's knee won't win you any awards for Christmas card originality. Why not add some pizzazz by asking Santa if he'd mind a wet puppy kiss from your pet? He's gotta be a pet lover if he was willing to take that gig in the first place!
8. Naughty vs. nice
In double-dog households, it's likely that one pooch is naughtier than the other. If that's the case in your family, why not call out your bad boy or girl this Christmas? A little bit of shame can go a long way in ensuring your pups get their act together before doggie Santa comes back round next year.
9. Light it up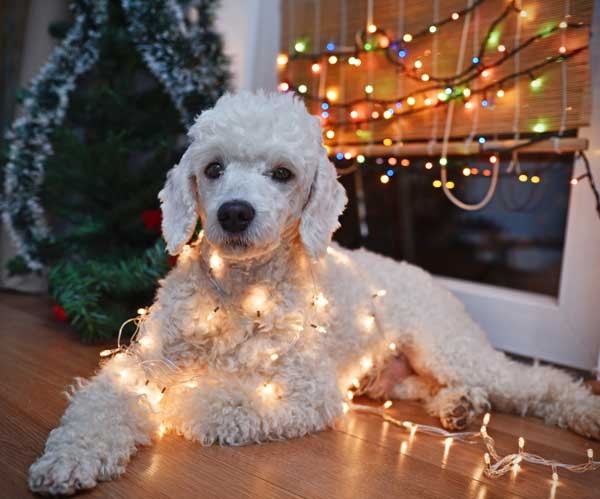 What's more festive than a row of Christmas lights? A dog lit up like a Christmas tree, of course. (Just make sure to get your shot before the bulbs start smelling like burnt dog hair.) It's totally up to you whether you go with colored lights or the more traditional white — your dog can't see red and green anyway.
10. Santa Paws
Kids are taught that the one true Santa lives in the North Pole, but at this time of year everyone wants to get in on the act — even dogs. If your dog can't grow his own white beard, you may have to buy him one, but it will be worth it. The Pinterest-perfect results will make your Santa Paws a Christmas card legend.
11. Let it snow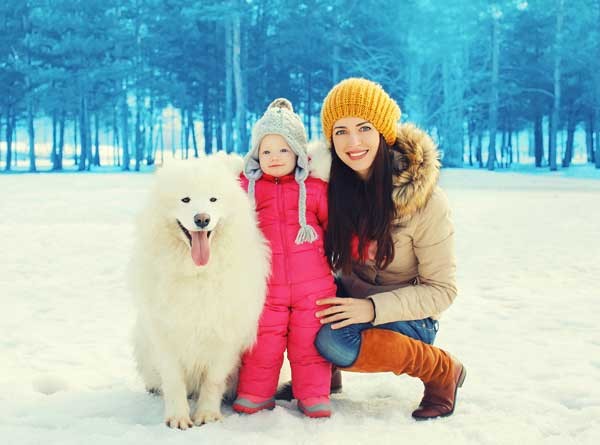 Christmas card creators in cold climates can easily take advantage of the Winter Wonderland backdrop just outside, but you must ensure all yellow snow is out of frame. No one wants a picture of that in their mailbox.
Read about more of our holiday obsessions:
About the Author: Heather Marcoux is a freelance writer in Alberta, Canada. Her beloved Ghost Cat was once her only animal, but the addition of a second cat, Specter, and the dog duo of GhostBuster and Marshmallow make her fur family complete. Sixteen paws is definitely enough. Heather is also a wife, a bad cook, and a former TV journalist. Some of her friends have hidden her feed because of an excess of cat pictures. If you don't mind cat pictures, you can follow her on Twitter; she also posts pet GIFs on Google+.