Summer is a great time to be a dog owner! Long days, water activities and outdoor sports make for wonderful times with your companion. However, be aware of hot weather risks. With a little planning, it's possible to head off even the worst emergencies and make the most of the sunny days.
How to prevent your dog from becoming dehydrated
Always have fresh water available to your dog, both inside and outside of the house. Dogs cool by panting rather than sweating and can lose large amounts of body water quickly. Dehydration may be hard to recognize until it is severe, so it is best to completely avoid it with free access to water.
Related: How Much Water Should a Dog Drink a Day?
How to prevent heatstroke in dogs
This is a common emergency in veterinary medicine. Overexertion, no access to fresh water and shade, and being confined in an unventilated vehicle are all possible causes. Heatstroke can be lethal. The symptoms include heavy panting and shaking, drooling, nausea, vomiting, diarrhea, weakness, stupor and collapse.
If you suspect your dog is overheating, immediately cool her with cold water and head to the nearest veterinary clinic. Emergency care can make the difference between life and death.
This care will usually include rapid cooling with IV fluids, fans and cold water baths. Aggressive treatment and monitoring post-heatstroke is critical, and patients will often be hospitalized for two to three days. Prognosis depends on how rapidly the heatstroke was noticed and treatment started.
There are easy ways to prevent overheating. Do not walk or exercise your dog during the hottest part of the day. Aim to exercise in the morning or around dusk. Always have fresh water available for your dog. Never, ever leave a dog in an unventilated car. If the temperature is over 65 degrees Fahrenheit, dogs should be left at home.
Related: Summer is Upon Us! This is Your Official Primer on Dealing with Dogs with Heatstroke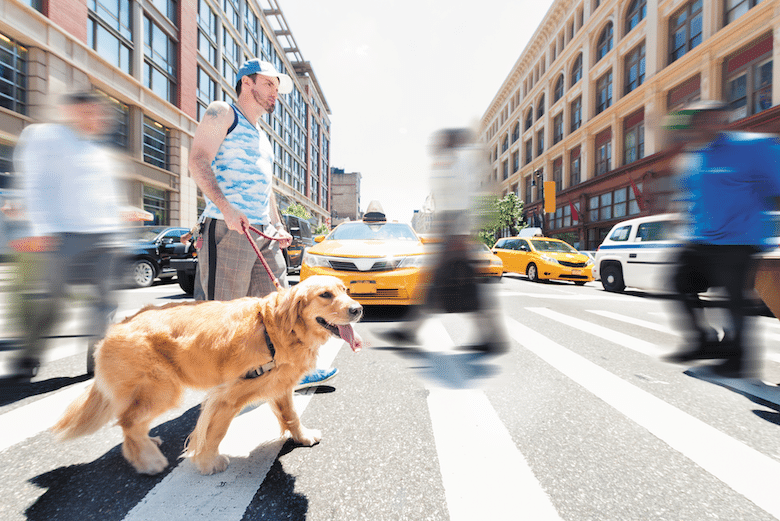 Be careful of dogs and hot asphalt
While dogs do have tough paw pads, their feet can be sensitive to hot asphalt. If the ground is too hot for you to walk comfortably on, the same is likely true of your canine companion. Avoid the hottest parts of the day for walks, and stick with grass or gravel surfaces when possible. If you suspect burns, check the paw pads and between the toes, then consult with your veterinarian. Often, treatment is rest, pain control, boots and a salve to coat the pads while they heal.
Watch out for stagnant water
Swimming is great exercise and physical therapy for older dogs with arthritis. Dogs can drink too much water, however, so while playing and swimming, monitor your dog to ensure she isn't ingesting large amounts of water. Swallowing too much will lead to dilution of electrolytes in the blood and sudden onset of neurological abnormalities like tremors, stupor and coma. Drinking stagnant water can carry a risk of algae intoxication, which can be deadly, so avoid any still water that has algal growth. When in doubt, stay out!
Related: Beware Blue-Green Algae Poisoning
Lessen exposure to fleas, ticks and mosquitoes
These parasites carry many diseases, including heartworms and Lyme disease. They are more active in the spring and summer. Making sure that your dog is current on all preventives is essential to preventing diseases. In many parts of the country, year-round, broad-spectrum coverage is recommended. Check with your veterinarian to make sure that you are protecting against all regional parasites appropriately.
Yes, dogs can get sunburns
You might be surprised, but yes! Dogs can get sunburns. This typically happens to dogs with thin hair coats and pale skin or underlying endocrine disorders like Cushing's disease. Heavily furred dog breeds are at less risk. Sunburns can be avoided by avoiding the outdoors when the sun is at its peak (12 p.m. to 3 p.m.). Dog sunscreen is available, as well. Check with your veterinarian when choosing a brand and type. Do not use human sunscreen.
Some good, general tips to remember for summertime fun include being cautious with exercise, always having water available and, when possible, keeping your dog indoors. This is especially true if your dog is older, overweight or has other health problems. Exercise in the morning and evening. If your dog wants to be outside, make sure there is ample shade and keep a close watch. With these preparations, summer can be fun and safe for everyone!
Top photograph: marcoventuriniautieri | Getty Images
Read Next: 10 Fun Things to Do With Your Dog This Summer