It's so easy to make your dog one of these five dog-friendly recipes:
1. Turkey-Rice Casserole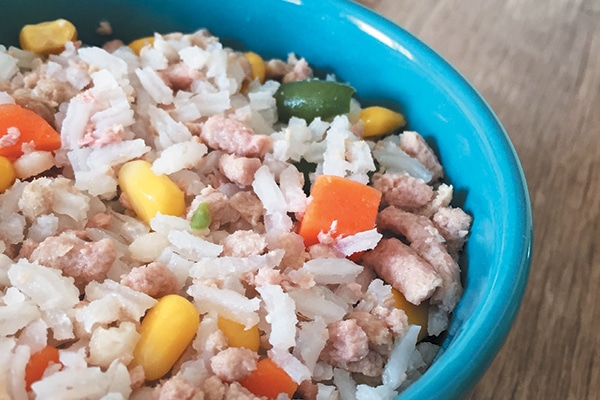 This recipe makes a great everyday meal, especially with the addition of homemade gravy.
Ingredients:
2 to 3 cups rice (white or brown), uncooked
3 tablespoons olive oil
3 pounds ground turkey
4 cups (or more) frozen vegetable medley (corn, peas, carrots, green beans), defrosted
Directions:
In a large saucepan, cook desired amount of rice according to package directions. Set aside.
Heat 1 tablespoon olive oil in a large stockpot, and add the turkey. Cook over medium heat until browned, about 5 minutes.
Stir in the vegetables, adding more if you'd like.
Transfer to a large mixing bowl, and add rice. Add gravy (see below) and remaining 2 tablespoons of olive oil. Mix well.
Spoon into plastic bags or containers. Freeze what won't be eaten within three days.
Gravy
Ingredients:
Meat drippings
6 cups water or stock (vegetable, chicken)
3 tablespoons cornstarch
3 tablespoons water
Directions:
Mix 3 tablespoons of the water and the cornstarch together until well-combined.
Add this mixture slowly to the meat drippings. Then slowly add 6 cups water or stock,
continuing to stir.
Bring to boil on high heat.
Turn down heat to medium until gravy thickens. Stir constantly.
Once desired thickness is reached, turn off heat. Add to meat in desired amount. Freeze or refrigerate leftovers.
2. Savory Stew with Roasted Veggies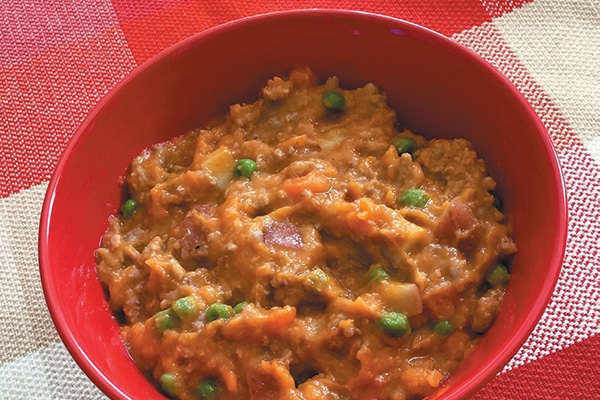 When weather turns chilly, most of us take comfort diving into a warm, comforting bowl of yumminess. Maybe our dogs do, too? This stew is a perfect dish to serve up on a cold winter's night.
Ingredients:
1 pound ground beef, chicken or turkey
1 large potato, peeled and diced
1 large sweet potato, peeled and diced
3 to 4 tablespoons olive oil or coconut oil
1 medium carrot, peeled and diced
½ cup frozen peas
Water
Directions:
Place potato, sweet potato and carrot in a roasting dish, and sprinkle with 1 to 2 tablespoon(s) of oil. Mix well. Put in a 350-degree Fahrenheit oven for about 60 minutes or until soft and lightly browned and roasted. Set aside.
Sauté meat in a large pot with 2 tablespoons of oil until cooked through. Don't drain the fat.
Add in the potatoes and carrots. Mix well.
Add 3 cups water to make the dish soupier. Bring to boil, and simmer for 35 minutes.
Cook peas according to package directions. Add to meat and vegetables. Combine well.
Cool, then serve. Freeze what won't be eaten within three days.
3. Soothing Chicken and Rice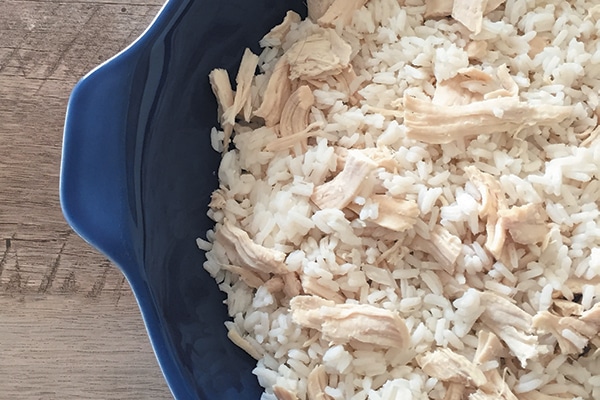 When your dog doesn't feel well, a serving of warm chicken and rice is just what is needed to soothe an irritated tummy.
Ingredients:
1 cup white rice (uncooked)
3 boneless, skinless chicken breasts, organic if possible
Directions:
Prepare rice according to package directions. Do not add any seasoning or broth. Set aside.
Place chicken breasts in a pot and cover with enough water so the breasts are submerged. Cover and boil on high heat for 12 minutes or so, until the chicken is cooked all the way through.
Remove from pot and shred the chicken into small pieces.
Mix with rice. Freeze what will not be eaten within 3 days.
4. Calming Chicken Broth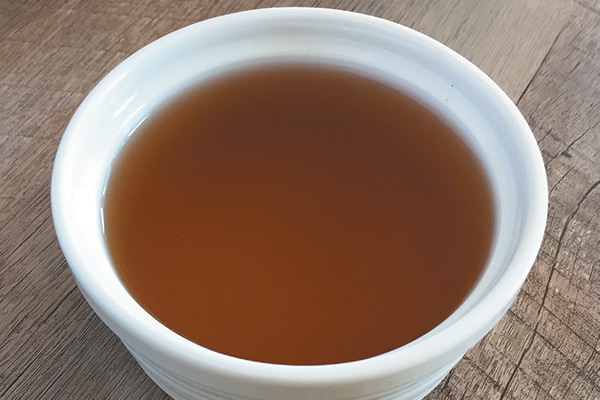 Along with boiled chicken and rice, broth is a must-have recipe in a dog parent's arsenal. This is great to add to chicken and rice, on its own or spooned over just about any other dish.
Ingredients:
1 whole chicken, cooked
2 large carrots
2 large potatoes
1 celery rib
Water
Directions:
Roast chicken or purchase a pre-roasted chicken. Let cool slightly.
Remove and discard the skin, and cut the chicken into pieces. Place in a large pot.
Wash and roughly chop carrots, celery and potatoes, and add to the chicken.
Cover all the ingredients with plenty of water.
Cook on high until it boils. Reduce to simmer, cover and cook for 2 hours. Add water if necessary, and check periodically to ensure it doesn't boil dry.
Allow it to cool, then skim fat off top.
Remove chicken and vegetables, and strain the broth to remove debris.
Store in glass jars, and use within three days. Freeze excess in freezer containers or bags.
5. Terrific Turmeric Doughnuts
While not technically doughnuts (they're actually like biscuits), these goodies aren't just tasty, but they're full of beneficial ingredients.
Ingredients:
1 cup whole-wheat flour
½ cup unsweetened apple sauce
½ tablespoon baking powder
1 egg
1 teaspoon cinnamon
1 teaspoon turmeric
1 tablespoon coconut oil
1 tablespoon honey
3 tablespoons water
Directions:
Preheat oven to 350 degrees Fahrenheit. Grease doughnut pan with coconut oil.
Add all ingredients to a food processor, and blend until smooth.
Pour into doughnut pan, fill halfway. Or, you can put mix into a plastic food storage bag, cut a hole in the corner and squeeze mix out of hole into a doughnut shape on a nonstick cookie sheet.
Bake for 20 minutes/16 minutes for doughnuts not in doughnut pan. Check all at 14 minutes.
Once doughnuts cool, remove from pan and frost. Sprinkle with turmeric.
Store in refrigerator, covered.
Frosting:
2 tablespoons whole milk (cow or goat)
2 tablespoons pumpkin puree(not pumpkin pie mix)
Sprinkle of turmeric
Dog-Friendly Recipes from Readers
Chicken, brown rice, raw carrots, peas, scrambled eggs and add low sodium chicken broth — my dogs love it! — Kim Glispie
I just started making food in a Crock-Pot for my two dogs to supplement on top of their dry food: thin-sliced sweet potatoes in low-sodium chicken broth, applesauce and turmeric powder. Cook on low for several hours. — Barbara Hudson
I've tried doggie biscuits and cakes, but my dog can't tolerate flour, so I simply dice sweet potato or pumpkin and roast, and he loves them for little bite-size treats! — Meghan Ryder
My dog loves canned pumpkin, blueberries, chicken and eggs. — Lori Smith
Get more suggestions for homemade dog-friendly recipes on Whole Dog Journal >>
Kyra Kirkwood is a writer, author (Move Over, Rover!) and journalist based in Southern California. She lives with her husband, two kids, one rescue dog and three reptiles. Follow her on Twitter at @IAmTheWriteMom.
Editor's note: This article appeared in Dogster magazine. Have you seen the new Dogster print magazine in stores? Or in the waiting room of your vet's office? Subscribe now to get Dogster magazine delivered straight to you!
Read more about dog food on Dogster.com:
---
Featured Image Credit: Barna Tanko | Thinkstock.