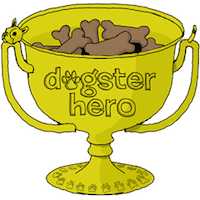 When you picture a long-haul UPS driver, you think about sewing, right? Well, if you knew Patrick Desjardins, you would definitely make the connection.
Patrick is the founder of Wrapped in Love (WIL), an artisan group who makes handmade blankets, diapers, belly bands, toys, adoption kerchiefs, and other one-of-a-kind items for dogs waiting for their forever homes (with an emphasis on helping dogs rescued from puppy mills). WIL isn't a nonprofit, though, and doesn't accept donations. Instead, the organization serves as base camp to help others do good.
Here's how it works: Animal rescue groups sign up on the WIL website and submit a request for items they need for their furry wards. The information is then sent to Patrick's league of volunteers, and they pledge to make the items they can. These self-proclaimed "artisans with a mission" buy the materials themselves (frequently sharing leads on stores and websites having fabric sales) and handcraft each item.
Patrick is proud of the fact that when volunteers commit to a project, they come through for the rescue and its dogs.
"Our fulfillment rate is between 95 and 100 percent," Patrick says. "Members know that in the event 'life happens,' to just ask and the group will pick up their pledges. This has happened a few times, and it has resulted in overstocking the rescue. Almost every project has been over pledged."
Although volunteers have to visit the website to pledge items, WIL uses several Facebook groups to stay in touch with members and lend encouragement. One group concentrates on blanket making, and another focuses on belly bands and diapers. In each group, there are friendly folks who proudly post photos of their finished crafts while relishing the camaraderie of working toward a common goal.
WIL is a community in every sense of the word. Volunteers freely offer tips and advice, while pointing fellow members to additional resources. Linda Wallace, the Facebook group's admin and WIL director, says they also have a group setup to share extra supplies, for those who want to help but are short on materials.
"If someone needs fabric, yarn, or even a signature heart to attach to a blanket, there is always a member who has enough to share."
WIL member Mistie Gillespie, as well as other active artisans, loves the fabric share concept.
"Just when you thought WIL couldn't get any better, right?" Mistie says. When she posted photos of her latest donation, she was quick to point out that three other WIL members gave her the materials. "Many of us who have extra send to those who want to help but might not have the resources. I have been on both sides of this process. It's so amazing!"
Don't be fooled by all the fabulous photos, though. You don't have to be an expert to contribute to the cause. The group offers plenty of resources to help members succeed, such as files, links, tutorials, and even online classes.
"Wrapped in Love is a great fit for all skill levels and we are completely flexible when it comes to people's time and budgets," says Linda. "When members aren't sure how to make something such as a belly band or doggy diaper, we have people who specialize in those items to lend a helping hand."
Members decide when they have time to take on a project and can choose from any of the current rescues groups that have requested items.
"WIL is full of people who care deeply about the animals and each other," Linda continues. "The people of WIL are our greatest resource of all."
Earlier this year, WIL expanded its footprint by starting regional groups that operate in Florida, Colorado, North and South Carolina, and the United Kingdom.
"Many members have been so inspired by the group that they now participate in additional projects for their local animal shelters," Patrick says. "We have folks who have enlisted the help of Girl Scouts, senior and church groups, knitting clubs, and sometimes [they] even incorporate blanket making into neighborhood summer projects for local kids while school is out."
To date, WIL members have pledged, made, and donated approximately 6,200 blankets; 4,000 tug toys; 1,100 belly bands; 300 diapers; 400 coats, sweaters, and vests; and many more kerchiefs and other darling items for dogs (and sometimes cats) in need. The regional groups have made and donated an additional 1,000 blankets. Nearly 50 rescues have benefited from WIL donations, with many making repeat requests for additional items.
"I was first a cross poster (of homeless pets), then a foster, then a transporter and rescuer of mill dogs, and finally came Wrapped in Love. At WIL we have a simple mission, a pure idea, of showing love to rescued dogs," Patrick says. "Along the way, the hope is to inspire, educate, and learn, along with providing each frightened dog something that is his and his alone."
To donate skills or resources to Wrapped in Love, visit the group's website.