My dogs love to go for rides in the car — car rides take them to the park, the pet store, or a friend's house where Spot and Dolly get to play with other pups. Sure, car rides also lead to the vet, but not so often as to make them hesitant about jumping in the backseat.
We have tried a variety of car harnesses over the years. Only until my dogs started using the Deluxe Car Harness from Solvit have I felt assured of their safety, were we to get into an accident.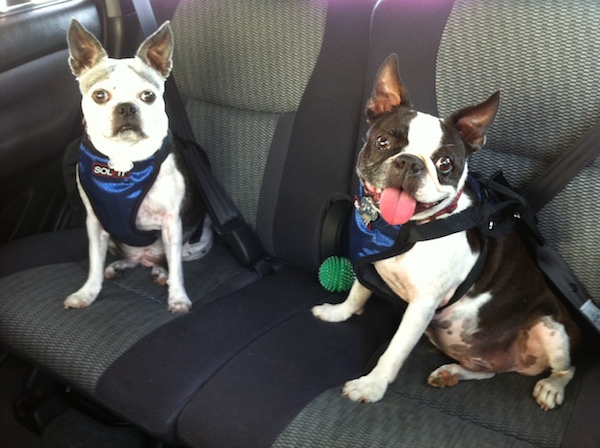 The company's newest harness underwent crash testing in a DOT-approved facility and static testing of up to 3,000-plus pounds, both to ensure strength and durability.
The step-in harness takes just a few seconds to put on, and if you leave the connector strap attached to the seatbelt like I do, just a few more to attach the harness to the seat. I like the thick padding of the vest, as other car harnesses we have tried were made from much thinner material.
I also appreciate the price: $27.99 to $34.99, depending on size. It comes in four sizes: small for dogs 6 to 25 pounds, medium for 20 to 55 pounds, large for 45 to 85 pounds, and extra-large for 60 to 120 pounds.
Does this sound like a product you need? Solvit has generously offered to outfit three Dogster pups with their own Deluxe Car Harness! Per usual, follow the directions below.
How to Enter
Create a Disqus account, if you haven't already, and include a valid email. It takes just a minute and allows you to better participate in Dogster's community of people who are passionate about dogs. If you already have a Disqus account, check it to ensure the account includes a valid email.
Comment below using your Disqus account, telling us about the car rides you take with your dogs. Bonus points for photos! Our favorite photo/comment wins. You must be a U.S. resident to score this prize.
Check your email for a "You've Won!" message from us after noon PST on Thursday, July 10. We'll give the winner two days to respond before moving on to our next favorite.
Good luck!
Learn more about dogs with Dogster: