My pups don't mind testing products for Dogster giveaways. Spot puts his all into playing with new toys on the market, and Dolly lends her sophisticated palate to treats of all kinds. This week, they gave the Orapup dog breath brush and Lickies oral health gel a try.
I'll let them take it from here.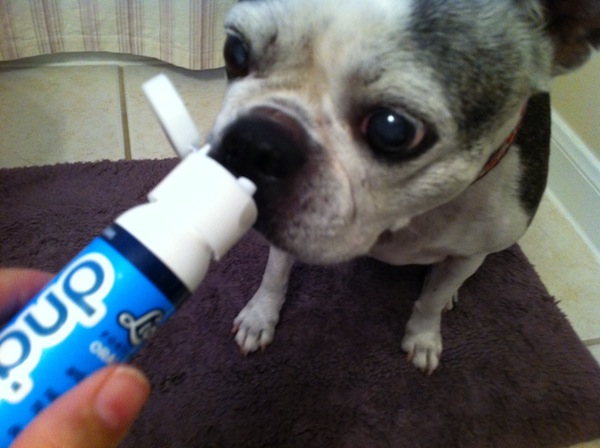 Needless to say, Spot and Dolly loved the taste of the beef-and-bacon-flavored gel. I like the purpose of the products: The soft bristles of the BPA-free brush reach deep into the uneven crevices of the tongue to loosen stinky bacteria, the scrapers collect and remove the bacteria and residue, and the gel's all-natural enzymes build up good bacteria to protect against future bad breath.
Thanks to recent dental cleanings, my dogs have OK breath, but I will certainly use the brush and gel going forward as a healthy treat and preventative measure. They can't wait to try the Cinnamon & Chicken and Cherry Chicken flavors.
Note: As your vet will tell you, these products are not a replacement for regular teeth brushing or professional cleanings, but they can help prevent the growth of bacteria and, therefore, reduce tartar and plaque buildup. The process may even help make your dog become more comfortable with a toothbrush.
Would you like to give the Orapup dog breath brush and Lickies oral health gel a try? In honor of National Pet Dental Health Month, the company will give 10 deserving Dogster readers an Orapup starter pack containing one Orapup, one 2-oz. bottle of Beef & Bacon Lickies, and two Orabrush tongue cleaners for humans. To enter, simply follow the instructions below.
How to Enter
Would you like a chance to win one of 10 Orapup starter packs? If so, please do the following:
Create a Disqus account, if you haven't already, and include a valid email. It takes just a minute and allows you to better participate in Dogster's community of people who are passionate about dogs. If you already have a Disqus account, check it to ensure the account includes a valid email.
Comment below using your Disqus account, telling us about your dog or dogs and their stinky breath or excellent oral hygiene. Bonus points for photos. Our favorite photo/comment wins! You must be a U.S. resident to win.
Check your email for a "You've Won!" message from us after noon PST on Thursday, Feb. 13. We'll give each winner two days to respond before moving on to our next favorite comment.
Good luck!
Learn more about dogs with Dogster: