Dogs should not gulp down their food. Doing so can result in choking and gagging, and in big breeds it can lead to gastric dilatation-volvulus, a digestive condition that quickly can cause shock and even death.
If your dog is a gulper, ask your vet to rule out a physical cause such as parasites or a food that leaves him or her lacking in nutrients and, therefore, always hungry. If your pup gulps because of a food obsession or other non-medical reason, this week's Friday Freebie offers a solution: an Aikiou interactive slow feeder.
The company's feeders help to slow dogs down during mealtime. Their multiple compartments require pups to use their brain, sense of smell, and paws to find the food hidden inside. The result: safe eating, proper digestion, and a healthier attitude toward food, which can lead to less anxiety overall.
The regular Aikiou feeder, shown above, has 14 compartments, and eight of them are adjustable to allow for two difficulty levels. It holds up to three cups of food, suits dogs up to 135 pounds, and comes with a brown base and pink, blue, or green top.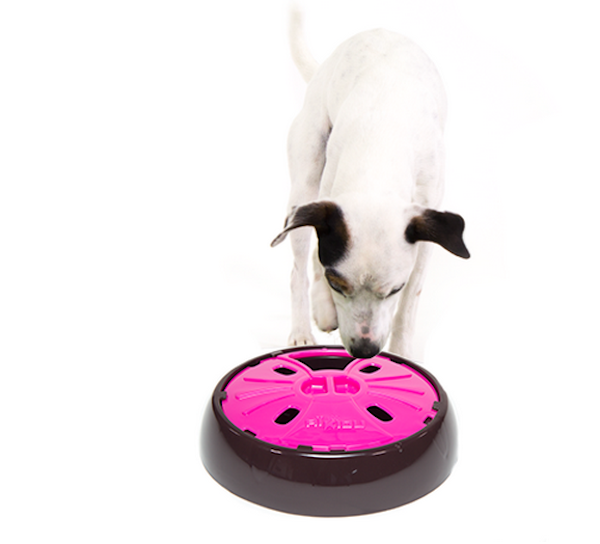 The Aikiou Junior feeder features six compartments. It holds up to one-and-a-half cups of food, suits dogs up to 35 pounds, and comes with a brown base and pink or blue top.
Made from dishwasher-safe polypropylene, none of the company's feeders contain dangerous BPA, BHT, or lead. You also can use them to dispense treats.
Would you like the chance to win an Aikiou feeder of your choice? Simply follow the directions below.
How to Enter
Create a Disqus account, if you haven't already, and include a valid email. It takes just a minute and allows you to better participate in Dogster's community of people who are passionate about dogs. If you already have a Disqus account, check it to ensure the account includes a valid email.
Comment below using your Disqus account, telling us about the gulper in your family. Bonus points for photos! Our favorite photo/comment wins. You must be a U.S. resident to score this prize.
Check your email for a "You've Won!" message from me after noon PST on Thursday, May 8. I'll give the winner two days to respond before moving on to our next favorite.
Good luck!
Learn more about dogs with Dogster: