At first sight, a short-coated Bulldog seems better suited to summer weather than a heavy-coated Siberian Husky. But while the Bulldog's coat looks summery, he's one of many brachycephalic dogs in which short noses and decreased air-intake make regulating body temperature challenging. The Siberian not only has a longer muzzle, he also has a double coat, offering good thermal protection from both high and low temperatures. (Despite such adaptability, the Siberian goes on record saying he much prefers winter!) Let's hear from five flat-faced dog breeds that prefer to avoid the summer heat:
French Bulldog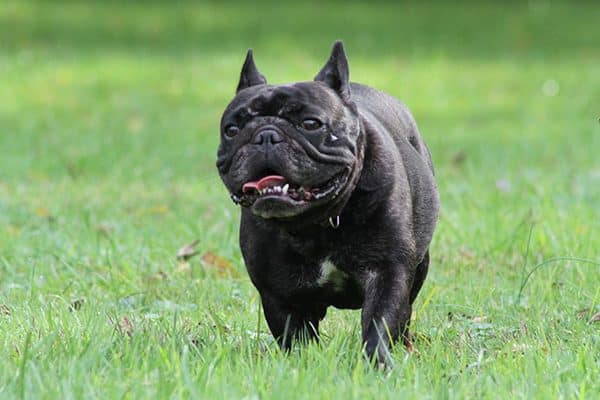 I'm no fan of long, hot summers. I am a brachycephalic dog. Sounds like a juicy confession of some sort, doesn't it? But no, brachycephalic is simply a big word explaining that my short face makes breathing inefficient, at least compared to longer-muzzled dogs. I'm sensitive to heat-induced problems on hot summer days. Fortunately, I'm also sensitive in spirit and personality. We Frenchies likely originated from Bulldogs carried to France by English lace laborers. We soon became treasured pets of both the upper and lower classes and allegedly Parisian ladies of the night. We're laid-back companions, game for fun or snuggling. But when the heat rises, we'd prefer you devise indoor activities. May I suggest dining and snoozing, with a smidgen of snoring?
Pug
First, some hot-off-the-press facts. We dogs don't perspire through our skin like you. We have some sweat glands, such as in our paws, but we mainly eliminate heat through panting. Many breeds pant quite efficiently. But because I'm a brachycephalic dog, I don't pant as well to cool off. Thankfully I was developed mainly for friendship, not summer sports. Historically, Chinese Emperors, Buddhist monks and British Monarchs held me in high esteem. Today, to keep me safe outdoors on warm days, I recommend cooling towels, a kiddie pool splash time or a misting spray. If it's dreadfully hot, I vote for a climate-controlled environment. Turn on an extra fan so we can cuddle in comfort!
Shih Tzu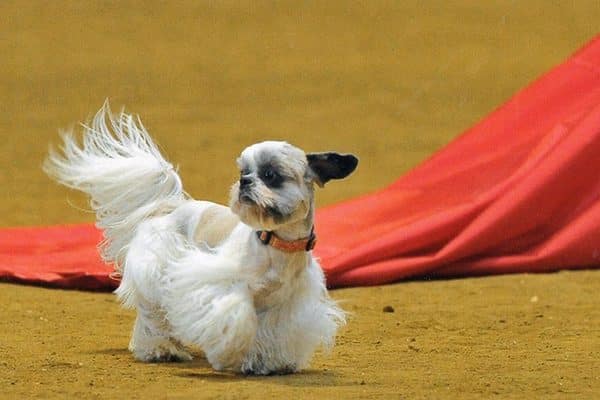 Although striking in appearance, our short noses and flatter faces contribute to our heat sensitivity. But thankfully, we're perfectly content playing parlor games with you indoors as the sun blazes. If you're expecting a hot-day jogging companion, keep looking. I'm lion-like in appearance, not in heat tolerance. An ancient, revered breed, we were favored by Chinese royalty and a cherished pet of the Ming Dynasty. Today, we're both regal and charming. And although I'm heat sensitive, I'm not promoting a Zero Exercise program. On sweltering days, I'll simply enjoy a shorter, shaded walk early or after sunset. We're called chrysanthemum dogs, so an evening garden stroll suits me well. My beauty may surpass the flowers' splendor!
Chinese Shar-Pei
Let's talk history before heat. I was developed in early China as a multi-purpose farm dog: killing vermin, hunting and guarding homes. My ancestors' perpetual scowls supposedly frightened off evil spirits as well as everyday intruders. My hippopotamus head shape and wrinkles are my distinguishing features. Now, let's talk about my midsummer blues. I may look tough, and I'm certainly brave, but I confess I'm slightly delicate about weather extremes. I'll take a sweater in the winter, and I'd prefer to stay indoors on hot summer days. Some point to my short nose to explain my sensitivity, but I contend my wrinkles also hold in the heat. Pools, lakes and hoses won't solve my hot-day dilemmas. Although a few of my friends may disagree, most of us aren't water devotees. Instead, offer us plenty of drinking water and shade and (best yet!) a cool kitchen floor for afternoon naps.
Boston Terrier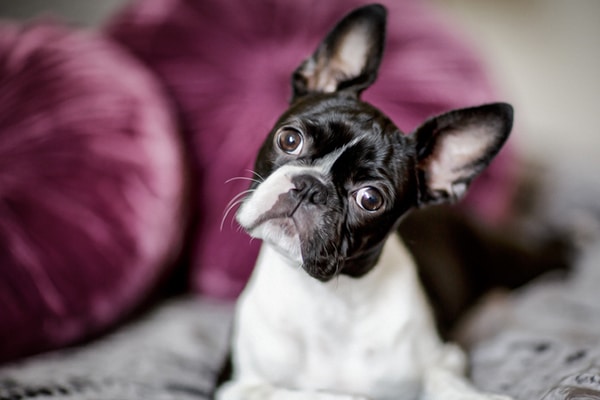 Bred on the east coast from Terrier and bully breeds, I'm designated the American Gentleman. I was developed from fighting dogs, but stable hands soon carried my early forefathers into the house; we're too amiable for anything besides companionship. Although we're cheery and playful, we're not merry about romps in freezing cold or high heat. Our brachycephalic head (and short coat) means we're more of an indoor gentleman when temperatures reach extremes. Our indoor suitability (we make great apartment companions!), however, doesn't exclude frolics in the great outdoors. We'll merely take a pass on your hotter-than-heck trekking!
Do you have brachycephalic dogs or flat-faced pups? How do you keep your brachycephalic dogs cool in the summer? Tell us!
Read more about dogs and summer here: