Self-assured and loyal, Rottweilers don't fuss for endless attention, but they delight in companionship, bonding closely with family. Gallant and alert, Rotties are willing, ready and able to serve their people, but they're equally eager to play. These all-around athletes will join their family hiking, camping and swimming, all the while keeping an eye out for trouble.
Rottweilers — a working breed now and then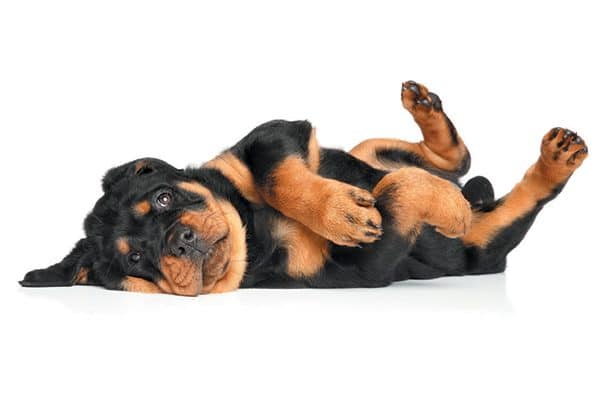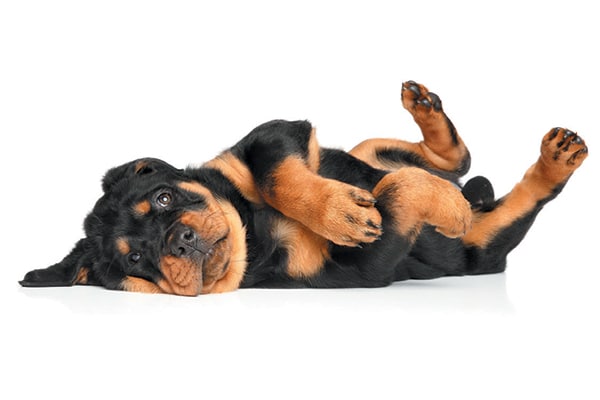 Although developed in Rottweil, Germany, this breed originated with early Roman drover dogs, who guarded the cattle of traveling armies from robbers and wild animals. Rottweilers worked as all-around farm dogs in the middle ages, herding livestock and pulling carts for farmers who couldn't afford horses.
In the 20th century wars, Rottweilers were used by militaries to haul loads, deliver messages and perform other wartime duties. Busting out of "tough guy" stereotypes, today's Rotties excel in service such as advanced water rescue but also in gentle therapy work. Families don't necessarily need a big fenced yard for this physical breed.
Rotties active in sports, hiking or family adventures will likely have their exercise needs met, whether they live in a small or large home. The Rottweiler, however, certainly doesn't match up with a wholly sedentary lifestyle.
Rotties are family first and may take some time to warm up to strangers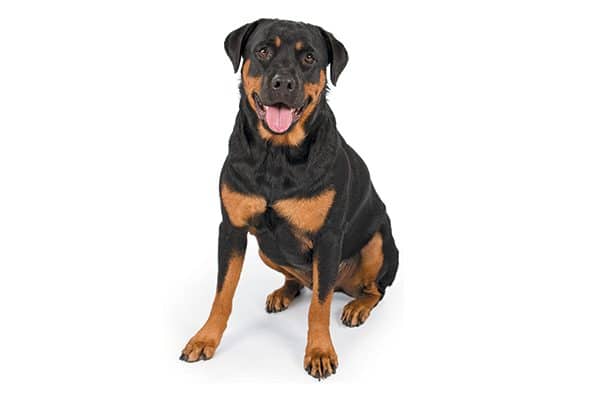 Rottweilers usually take their time warming up to people outside the family. The breed's wait-and-see, not overly reactive approach, combined with an inherent desire to protect, make him a gallant watchdog. Some may bark in response to strangers; others quietly evaluate newcomers. A dignified and controlled breed, most socialized Rotties don't respond thoughtlessly to circumstances around them.
While supervision with any dog and children is prudent, most Rotties show tolerance and love for the family's children. The German standard for the Rottweiler actually says that the breed should evidence fondness for children.
If you're a dog-park enthusiast, many Rotties may disappoint you. Although most will live peaceably with animals they've been raised with, many are distrustful about new (especially same-sex) dogs, and few revel in dog park shenanigans.
A quick learner, Rotties can excel in obedience, both formally and informally. The breed's history, however, includes some independent decision making, so Rotties may improvise (taking a detour on a tracking course or obedience ring, for example) on occasion. Along with training, early socialization to animals and people lessens the Rottie's natural suspicion of the world outside his home.
Rottweilers are athletic!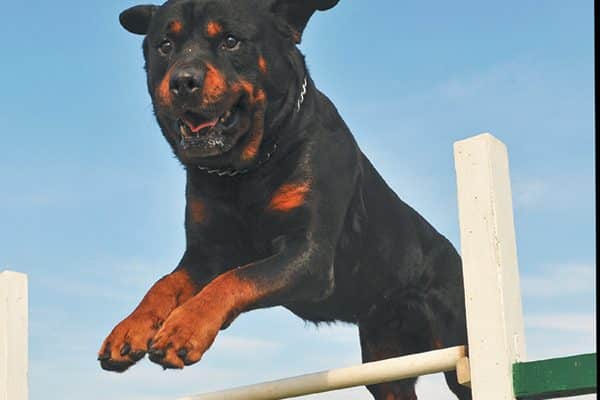 The Rottweiler is a multi-talented breed. Name any canine sport, and watch the Rottie succeed. Because they were developed as athletes but not for any one particular sport, they're game for almost any canine competition. They'll enjoy everything from a barn hunt to an agility trial. The breed thrives in dock diving, rally, Schutzhund, obedience, swimming, tracking, flyball and carting. And yes, they'll even shine in herding.
Rottie Fundamentals
Life span: Approximately 9 to 11 years
Weight: Males usually weigh 90 to 120 pounds; females 75 to 95 pounds
Height: Males, 24 to 27 inches; females 22 to 25 inches
Grooming: Regular brushing keeps the short, double coat in good condition.
Shedding: Rotties shed daily but require extra grooming when they blow their coats seasonally.
Color: Black, with defined rust to mahogany markings
Hot/cold tolerance: A Rottweiler tolerates cold weather better than heat, given that his black, double coat was developed to keep him warm (temperatures in Rottweil, Germany, rarely exceed 70 degrees Fahrenheit).
Breed saying: Might be: "There is nothing I would not do for those who are really my friends. I have no notion of loving people by halves, it is not my nature." —Jane Austen
Thumbnail: Photography ©FotoJagodka | Thinkstock.
Originally an attorney, Lynn Hayner has been writing for companion animal publications for more than 15 years. She researches breed profiles, dabbles in animal law issues and collects stories about dogs and their families in her travels. A lifelong dog aficionado, Lynn is shadowed by her "Who the heck needs a leash, I'll follow mama anywhere," German Shepherd Dog, Zoey. Follow Lynn on Twitter at @lynnhayner.
Read more about dog breeds on Dogster.com:
Editor's note: This article appeared in Dogster magazine. Have you seen the new Dogster print magazine in stores? Or in the waiting room of your vet's office? Subscribe now to get Dogster magazine delivered straight to you!