Last week, on the beach at La Cap Ferret, France, a friendly seal named You was taking a walk around his neighborhood, greeting visitors, when he happened upon one astounding looking fellow — a yellow Lab, tail a wiggling.
Of course, Labs look a lot like seals, especially if they're packing a little extra winter blubber. Labs and seals are practically related, if one of your benchmarks is how adorably similar they are.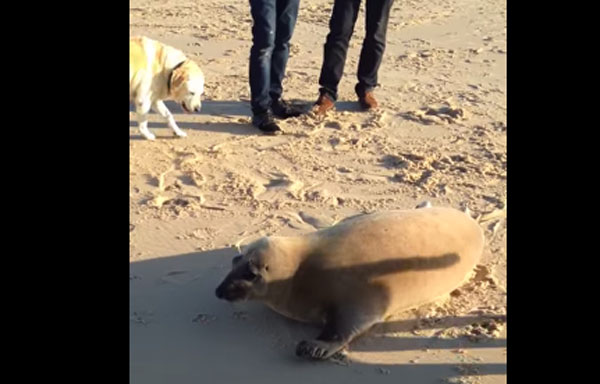 You was delighted — that's the most handsome dog I've even seen! he thought. The Lab promptly squatted down to become ever more seal-like and approachable; fetching, even. You hobbled over to him, thinking, Damn if I'm not going to give that dog the hug of his life!
Such is life along the seashore in France.
You, who got his name from some surfers he plays with, got in tight next to the Lab, lifted a flipper, embraced the dog, and proceeded to nuzzle him like a pup. The dog's owners, blithely unconcerned that this wild seal might possibly maul the their dog with those sharp, experienced aquatic teeth, so used to ripping through herring and squid like they're chevre truffles and escargots vol-au-vent, reached down to pet the seal.
Man, the French.
And then, after much nuzzling, the seal rested his head against the dog's neck, calm-like, and both animals went still, lost in a reverie on the French seashore, only the sound of the wind and the crashing surf to mark the passage of time.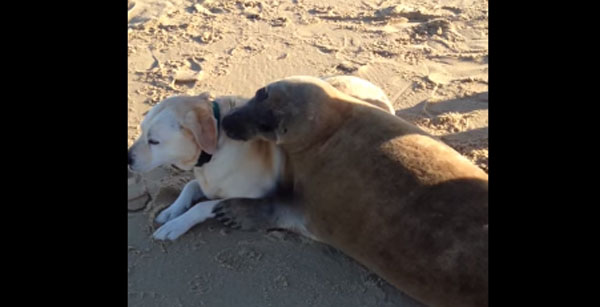 What a lucky dog, and MY GOD, PEOPLE, don't let wild seals nuzzle up against your dog on the beach, even if they have been nicknamed by the local surfers!
Still, what a cute video. Watch it:
Read more dog news on Dogster: