I adore veterinarians. I also respect and admire them. They are among the hardest-working individuals in the pet-care industry. I call many veterinarians friends, and most of my referrals for dog-training clients come from these fine human beings. Having said that, there are three things that I wish veterinarians would do differently for the sake of dogs everywhere.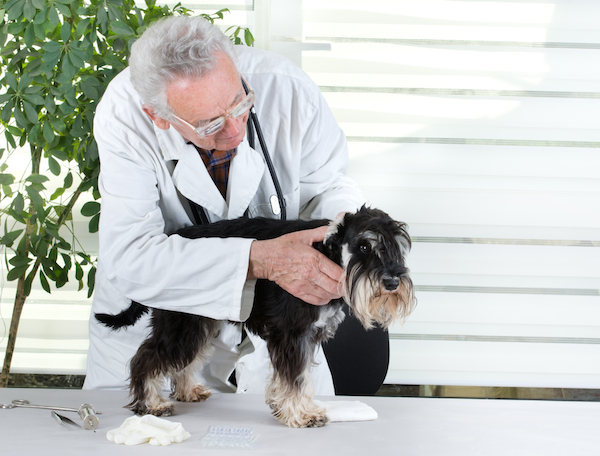 1. Improve the waiting room
Most veterinarian offices do not provide any kind of visual barrier that stops dogs from seeing (and often lunging) at one another. It is heartbreaking to sit in the wide-open waiting room and watch owners try to corral and control their already stressed-out pets. Going to the vet IS stressful for most dogs, not only because of the many smells in the building but because things veterinarians must do to keep our animals healthy sometimes involve pain.
Even something as routine as a toenail clip can freak out many dogs. Why add to the dog's (and the owner's) stress by allowing dogs to stare each other down in the waiting room? I know that veterinarians often stagger their appointment times, such as human doctors do. Nonetheless, every time I have a vet appointment for one of my own dogs or a foster dog, we run into other stressed-out dogs in the waiting room. My own dogs are not reactive, but I don't want them to have to face off against a dog in the waiting room who is aggressive or overly stressed.
Solution: Create solid walls, much like a cubicle set up in offices, and allow each dog and owner to wait in the mini stalls. They don't have to be fully enclosed rooms — often a visual barrier is enough to keep dogs calm and not lunging at others. Or veterinarians can do what my local wonderful vet does. She has four exam rooms, and right when we arrive for our appointment, we are escorted into our own private room to wait on the vet.
2. Have a complete understanding of the behavioral impacts of thyroid disease
Obviously I am not a veterinarian, and because of that I do not give medical advice to my dog training clients. I have read, however, a ton of information about how being low in thyroid hormone can have an impact on canine behavior. My knowledge comes from veterinarian Dr. Jean Dodds, DVM, through her groundbreaking book on the subject matter, The Canine Thyroid Epidemic: Answers You Need for Your Dog.

I work every week with aggressive dogs, and the first thing I ask my clients to do is to get a complete medical checkup with a veterinarian to rule out any possible health condition that may be contributing to aggression. I suggest to some of my clients (based on behavior I observe in the dog) that they ask their veterinarian for a complete thyroid test. At least half of my clients' veterinarians scoff at the client and refuse to do the test. What's the harm in ruling out a thyroid problem? The client requested a simple blood test that she or he is willing to pay for. Why not thank the dog owner for being involved and do the test?
Here are a few of the potential behavioral impacts a wonky thyroid can have a dog — from Dr. Dodds' excellent book:
Fearfulness
Whining
Nervousness
Schizoid behavior
Aggression
Disorientation
Erratic Temperament
Hyperactivity
Phobias
Anxiety
Submissiveness
Compulsiveness
Irritability
Solution: Help those of us who do work with unwanted canine behavior issues and run a complete thyroid test when an owner requests it. Ruling out a potential medical reason for behavior changes is smart, compassionate, and the only fair thing to do for an animal who can't speak up and tell us how he is feeling inside.
3. Understand canine behavior
How much does your veterinarian know about canine behavior? They are required to study it in order to become a DVM, right? Not so fast. The general answer is NO; understanding canine behavior is not a requirement for graduating from most U.S. vet schools. I've asked the veterinarians I know — they range from fresh out of school to being in their late-60s — if they had to take even one class in animal behavior to become a veterinarian, and they all say no, although some schools include one elective course.
I called a few veterinary schools to see for myself what is required. The Texas A&M College of Veterinary Medicine reports: "There is currently a one-hour course on animal behavior in the first year." You read that correctly: a one-hour course! The school's spokeswoman added, "Because of the importance of this area in veterinary medicine, a prerequisite in basic psychology was added a few years ago for students applying to our college."
UC Davis School of Veterinary Medicine in California does a little more, requiring one week of behavior training in the first year of vet school. Its spokesperson says that in the third year, "Students taking the small-animal emphasis have a three-week integrated block that is Wellness/Behavior/Nutrition." It's better than most schools do, but because behavior is such a complicated subject matter and can be so instrumental in reaching the right diagnosis, it would seem every veterinarian should be well versed on it.
Solution: Require vet students to graduate with a broad knowledge of how animals learn and a solid knowledge of behavior. Require students to (at least!) read and be tested on these books written by veterinarians: Manual of Clinical Behavioral Medicine for Dogs and Cats by Dr. Karen Overall, MA, VMD, PhD, DACVB, CAAB. This brilliant doctor has more upper-level degrees than anyone I've ever met! She is a champion for animals, and she has said her life's mission is to help fellow veterinarians understand the importance of animal behavior in veterinary medicine.
Also require veterinary students to read the late Dr. Sophia Yin's book Low Stress Handling, Restraint and Behavioral Modification of Dogs and Cats: Techniques for Developing Patients Who Love Their Visits.
I have one final request that may seem small but is, in fact, huge. I wish veterinarians would ditch the boring, dry dog biscuits some hand out in the exam room to their patients. Bravo for having a treat, but in order to have a canine prayer of pairing a dog's experience at the vet's with a good thing, it actually has to be a good-tasting thing. Replace those dry biscuits with dehydrated meat and see how many tail wags that creates in your patients!
Do you feel the same as I do about these issues? Tell us in the comments what you love most about your veterinarian and one thing you wish he or she would do differently.
Read more by Annie Phenix:
About the author: Annie Phenix, CPDT-KA, is a force-free professional dog trainer enjoying her mountain-filled life in Colorado. She is a member of the Pet Professional Guild and the National Association of Canine Scent Work. She takes her highly trained dogs with them everywhere dogs are welcome because of their exceptionally good manners. Join Annie on her dog-training Facebook page.