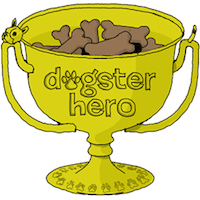 If you've ever felt sympathy for a dog scared of slipping on a hard floor, you can appreciate the joy Dr. Julie Buzby experienced when she found a unique solution to the problem.
She first recognized that toenails are a dog's natural traction. "I liken it to soccer cleats," Dr. Buzby explains. "Outside, dogs flex their paws and dig their nails into the earth, but hard nails can't grip hard floors."
This then led her to understand why boots aren't a good solution for dogs with low mobility: "Covering the nails seemed counterproductive to what a dog needed."
Instead, the nails need to be enabled. This is what she set out to do through ToeGrips, which are nonslip grips that fit onto a dog's toenails to restore traction and confidence on slick floors.
Dr. Buzby has been a practicing veterinarian for 19 years. Early in her career, she realized that her clinic didn't have all of the tools needed to address all of the issues presented by her patients, so she became certified in veterinary acupuncture and chiropractic in an effort to offer more options. As a result of adding these alternative practices, she saw more senior dogs than she normally would have.
"Most of the senior dogs I treated were improving with medications, herbs, supplements, and alternative therapies," she says, "but my clients worried about their dogs slipping on the floors at home. I understood their frustration."
Young dogs can adequately compensate for slipping, but muscular weakness, joint disease, and slower reflexes in older dogs often cause them to struggle on hard surfaces. Slipping is scary for them, so not only are these senior dogs suffering mobility issues, but they're losing confidence in themselves to continue trying.
"Often, these dogs choose to 'play it safe' by staying out of certain areas of the home with slippery floors and even isolating themselves. This clearly impacts quality of life," Dr. Buzby says. "When your dog follows you from room to room and remains engaged, she gets exercise. Moving is good! And it's good to be together."
In 2012, one of Dr. Buzby's friends had the idea to make grips for the nails of dogs, and she encouraged her to pursue the idea. She says of first seeing the design, "I had goosebumps. These wouldn't disable the natural gripping mechanism of the dog, but would enable the nails to do their job instead."
Dr. Buzby spent the rest of 2012 conducting research and development to perfect the grips. Working with rescues and colleagues across the country, she was able to create a basic measurement system for dog toenails that allowed her to size the grips appropriately. She was also able to test the grips on these same dogs. The results inspired her to debut the product at the North American Veterinarian Conference in Orlando, Florida, in 2013.
"I would lie awake at night, knowing that I had such valuable help for so many dogs, and I needed to share it. This has been the most rewarding journey of my life."
Dr. Buzby has truly changed the outlook on life for senior dogs everywhere.
Currently, ToeGrips are sold in more than 50 countries and have helped countless senior dogs gain mobility again, giving them a new lease on life. They come in seven sizes, from XS to XXXL, and are color coded for simplicity. It is recommended that you measure your dog's nails to be sure of a good fit; here's a video to show you exactly how to do that.
"Even today, the design gives me goosebumps," Dr. Buzby says. Instead of shutting down the dog's natural gripping mechanism, we're making it work better. Our product works on a wide range of dogs, large and small. If they have mobility issues from aging, injury, surgery, or special needs, we can help!"
ToeGrips are more for walkers than runners. Very active dogs may lose them and usually do not need them. When used in the correct context, a set of grips will last two to three months on average, with variations depending on a dog's weight, environment, and how hard a dog relies on them.
"I'm honored to be interviewed as a Dogster hero," Dr. Buzby says. "But we feel like the real heroes in this story are the dog parents. It is our privilege to empower them to improve their dog's quality of life through a solution as simple as ToeGrips."
Read about more Dogster Heroes:
About the author: Karen Dibert is a wife, mom, and dog lover living in the Laurel Highlands of Pennsylvania. She has five kids, three French Bulldogs, and a flock of useless chickens. Karen authors a pet column for her local newspaper, advocates for her son with Down syndrome, manages Louie the French Dog's Instagram accounts, compulsively photographs everything, and lives in the sewing room, filling orders for her Etsy shops, The French Dog, The French Dog Home, and Collar The Dog. A snapshot of her life can be seen on Facebook.