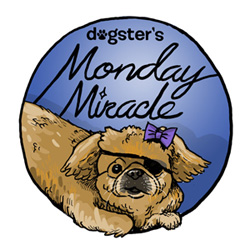 When Maddison Paton and her boyfriend set out to adopt their first dog as adults, they knew what they wanted. Both came from dog-loving families and agreed that they were looking for a medium-sized rescue to make their trio complete — but in the end, it was a pint-sized package of love on three paws who was the perfect match.
"When I met her, my heart just melted. I was so happy," Paton says, recalling the day when she picked up little Tippy the Tripod puppy from Tailchaser Rescue in California's Bay Area.
Little Tippy, a petite Terrier-Dachshund mix, was the last of a litter of nine pups and still needed a home. All the other puppies, along with their mom (who was abandoned when she was pregnant), were adopted before Tippy.
"Tippy was the runt, and she was the only one born with any physical disabilities," Paton explains. "She was born without her front left leg and without her tail."
Tippy's missing appendages might have scared away some potential adopters, but Paton and her partner were unfazed. The little tripod puppy was not the first dog the couple had met, but she was the first one that they felt an instant connection with.
"We were kind of looking for a while before we found her," Paton says. "In terms of breed, I didn't have my heart set on anything because I knew we wanted to adopt a rescue dog — it was more about meeting the dog and feeling a connection and knowing that it's right."
Patton wasn't concerned with her potential dog's pedigree, but she and her partner did have a particular size range in mind when they first began their search.
"I knew I didn't want a huge dog," explains Patton, whose parents have a Chihuahua mix and a Miniature Pinscher. "But I was also worried about getting a small dog because they tend to bark often and do not necessarily like meeting strangers."
After visiting a couple of local shelters and spending some time with medium-sized breeds who just didn't seem like the right fit, Paton went online to peruse adoption ads, and that's when she first laid eyes on the dog who would convince her that great things can come in very small packages.
"I hadn't heard of this rescue beforehand," says Paton, who first came across Tailchaser Rescue and Tippy (then known as Jocelyn) through an adoption ad on Craigslist.
"As soon as we saw a picture, we fell in love. We went the very next day to meet her and adopt her right away."
After adopting Tippy, the couple gave her a new name and whisked the happy little puppy off to the vet for a checkup.
"We were a little worried about possible long-term issues — hip issues or something — because of her displacing weight on just three legs."
Luckily, the couple's concerns were a non-issue for a dog Tippy's size.
"The vet said that because she doesn't weigh very much at all she won't have any issues growing older and she's going to get along just fine."
With her clean bill of health, Tippy spent the next few months getting to know her new family and proving that she can do anything a four-legged dog can.
"I think the biggest issue we've had so far is potty training, just like with any dog," Paton jokes.
Tippy loves playing with all the dogs in her new extended family, but her favorite is a Doberman named Judge who lives with Paton's boyfriend's parents.
"They're always playing together. In fact, the Doberman — who weighs around 100 pounds — was a little scared of Tippy at first, but now they're just best friends."
While seven-month-old Tippy is busy growing her canine social circle, Paton has been busy growing Tippy's social media circle. After just a few months online, Tippy has attracted a couple thousand Instagram fans who follow her every adorable move.
"She's kind of serving as a spokesperson for animals with disabilities," says Paton, who started the Instagram account to encourage adoption of physically different rescue dogs like Tippy.
"They really are no different than any other dog or cat who has all their limbs. They're just missing one. She gets along just fine."
The pictures on the Instagram account demonstrate just how active Tippy is and how this little runt is living life to the fullest. As for Paton's initial concerns about small dogs, Tippy is thankfully proving that the yappy reputation of many small breeds isn't always accurate.
"She doesn't bark often at people — if the doorbell rings, then maybe a little bit."
Read more Monday Miracles on Dogster:
About the Author: Heather Marcoux is a freelance writer in Alberta, Canada. Her beloved Ghost Cat was once her only animal, but the addition of a second cat, Specter, and the dog duo of GhostBuster and Marshmallow make her fur family complete. Sixteen paws is definitely enough. Heather is also a wife, a bad cook, and a former TV journalist. Some of her friends have hidden her feed because of an excess of cat pictures. If you don't mind cat pictures, you can follow her on Twitter; she also posts pet GIFs on Google+.