We've all seen the videos of a soldier reuniting with his or her dog after returning from the deployment — lots of hugging, kissing and crying — and not just from the two on screen. The reunions are emotional for everyone watching.
Service members can't bring their dogs with them when they are deployed, and if they don't have family or friends to watch the dog for their extended time away, they typically surrender the dog to a shelter, where it will either be adopted or, in some overcrowded shelters, euthanized.
"Families fall apart during deployment," says Alisa Johnson, who founded Dogs on Deployment, a nonprofit that pairs service members' pets with foster families. She felt the need after she was sent to Marine Corps training while her husband was deployed with the Navy simultaneously, without anyone to watch their Australian Shepherd for the six months they'd be away.
The founders of the three national organizations below have a love for our country and a soft spot for dogs, and they built their groups on the premise that most people do, too. Here, they explain how they make sure that when military members return home, there's a wagging tail to greet them.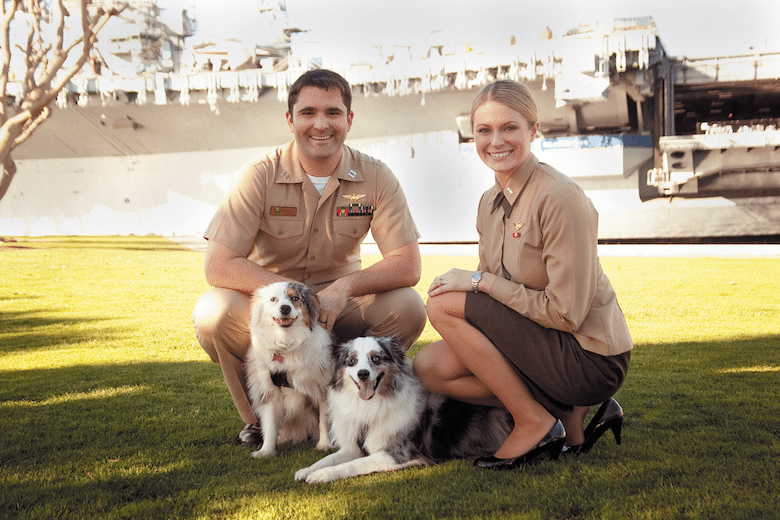 Dogs on Deployment
Alisa couldn't imagine giving her fur baby to a shelter, and professional boarding and kenneling were expensive. Together, in 2011, she and her husband founded a California-based nonprofit that enables service members to search online for a registered foster family to care for their pets.
"Think of it like match.com or a dating site," says Alisa, who this year is retiring from the Marines to work full time with DoD as it expands.
Matches are made depending on household activity levels, other pets and travel schedules. The military member sets up automatic shipping for pet food and any other needs, and puts a credit card on file with his or her veterinarian — eliminating all costs for the foster family.
In addition to its foster network, DoD provides financial assistance for veterans, military families and emergency vet care. Last year, through its pet chit (the military term for a hall pass) grant program, DoD gave out $175 thousand.
"Every year we have seen a rise in the number of applications for both pet fostering and financial assistance," Alisa says.
For more information, visit dogsondeployment.org.
Guardian Angels for Soldier's Pet
In Texas, Linda Spurlin-Dominik, a daughter and widow of Army vets, started her organization in the early 2000s after she found that nearly 400 dogs and cats were picked up by animal control at Fort Rucker, a U.S. Army post in Alabama.
Since then, she's gathered nearly 1,500 foster families nationwide, she says, and expanded her program to help active members and vets facing medical issues, homelessness and other transitional housing issues.
"It's a major need for those who have companion animals," says Linda, who places animals in foster homes for about 12 months while veterans figure out their living situations.
This year, Linda hopes to find the right volunteer trainer, so she can restart her Warriors' Angels program, which trains service dogs to help soldiers suffering from post-traumatic stress disorder.
Learn more at gafsp.org.
PACT for Animals
Buzz Miller, founder of Philadelphia-based PACT for Animals, personally finances a large part of his organization's expenses.
"We are expanding so fast we are always short on money," he says of his group of volunteers who individually match about 250 pets a year with 600 foster homes nationwide. They also offer free pet emergency services and 24-hour-a day support for both military and foster homes.
Buzz, a former lawyer and animal shelter volunteer, started his organization in 2011, inspired by the movie War Dogs: America's Forgotten Heroes about Vietnam War troops and their dogs.
In 2013, PACT started working with children's hospitals around Pennsylvania and now has expanded services to Arizona and Washington to match foster homes with pets belonging to kids suffering from serious illnesses like cancer and heart problems.
That program has been so high in demand that it's recently grown to include hospitalized adults recovering from hip or knee replacements who can't walk their dogs for six months.
During the fostering period, full transparency is encouraged through pictures, videos and updates.
Buzz says, "We want to encourage happiness between foster and owner."
For more information, visit pactforanimals.org.
Fostering is one way to contribute.
Use your skillset — whether it's legal services, marketing, IT or accounting — to help the back end of these nonprofits run smoothly.
These groups are meant to help military families who are impacted by deployment. Share their causes on social media and by word of mouth.
Read Next: This Company Creates Hearing Protection for Military Dogs