I've written before about how commercial airlines have become a special kind of misery. Last month, an airline kicked a blind man and his service dog off a plane, triggering a full-blown revolt by his fellow passengers, who had already been cooling their heels on the tarmac for an hour and a half. Even without those kinds of antics, no one likes flying anymore. It's easy to imagine that there's a secret room somewhere in the basement of the fabled Area 51, located between the headquarters of the Illuminati and the shape-changing lizard people, where airline executives have quarterly meetings to figure out how to make the flying experience even more excruciating.
If the actual flights don't show any signs of improving, at least the airports seem to be taking steps toward making time on the ground less stressful. In May, Los Angeles International Airport started the Pets Unstressing Passengers (or PUPS) program, which patrols the terminals with specially trained therapy dogs for travelers to pet and relax with.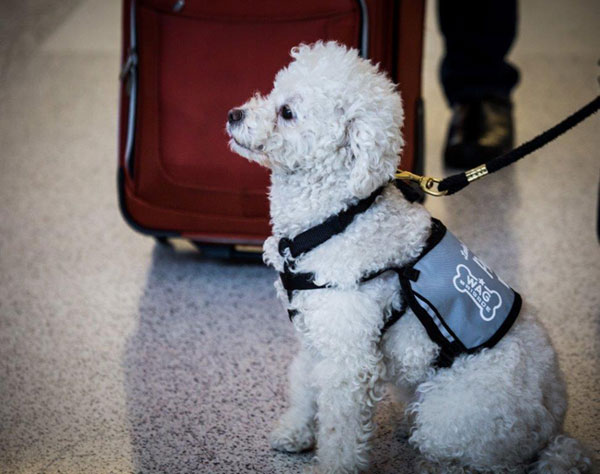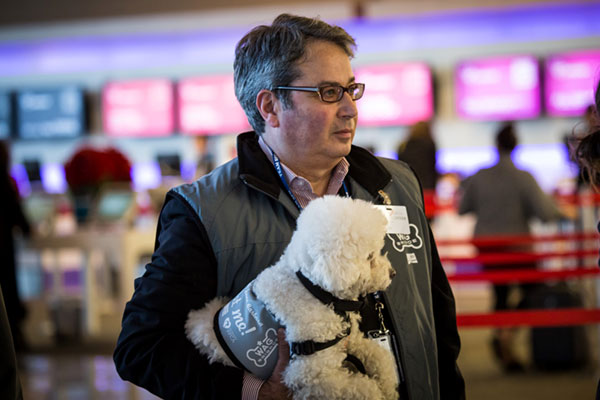 And now, San Francisco International Airport is following suit with a program called the Wag Brigade. Just in time for a seasonal influx of highly stressed passengers who desperately want to be anyplace that's Not An Airport, trained handlers from the San Francisco SPCA will be walking therapy dogs around the SFO terminals to bring a little much-needed relaxation and cheer.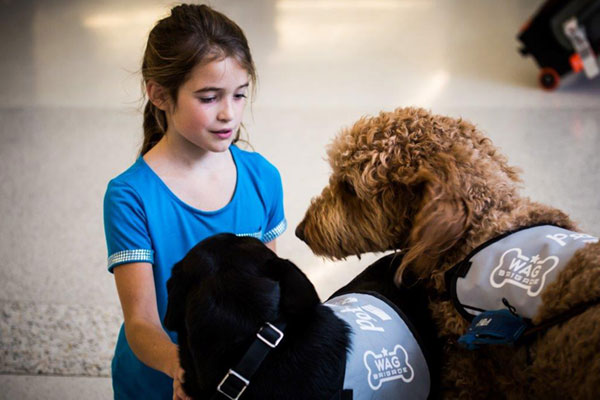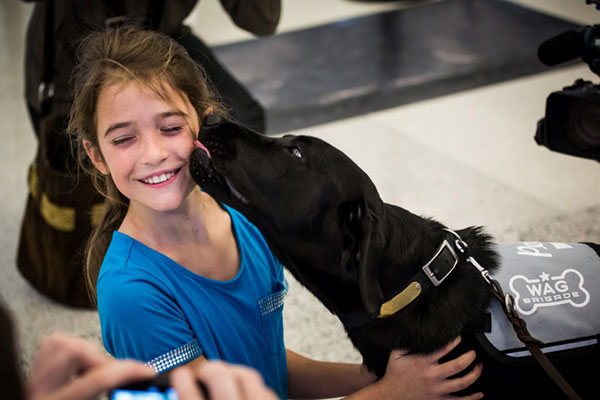 The dogs are trained in the SF SPCA's Animal Assisted Therapy program, and they visit the airport before being formally accepted as part of the Wag Brigade, to ensure that they have the temperament to handle the environment and the people. The handlers are the dogs' owners, and like the dogs, they undergo training in classrooms and in the terminal itself. They also have to pass a 10-year background check. Dogs and handlers can be identified by the similar blue vests they wear. Unlike the dogs, however, the handlers' vests do not say "Pet Me!" in bright white letters. Barring private negotiations with the handler, travelers should probably restrict themselves to petting the dog.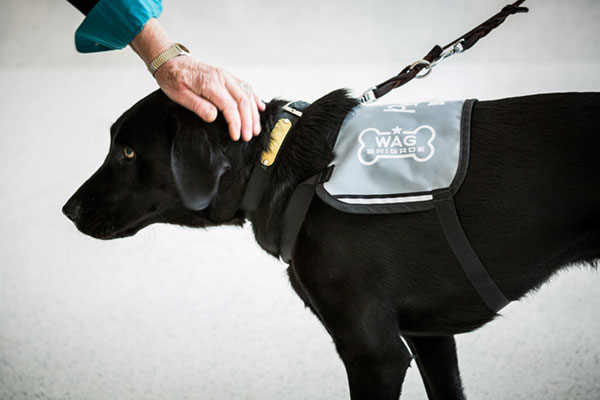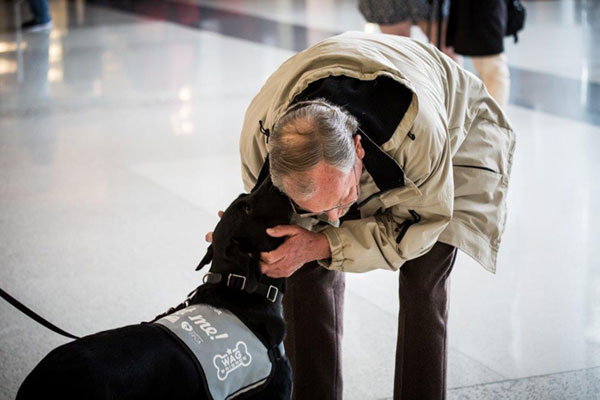 Dr. Jennifer Emmert, Animal Assisted Therapy Manager at the SF SPCA, said "Interacting with therapy dogs has been proven to offer physical and mental health benefits. We're hoping our therapy dogs will help provide stress relief to SFO passengers during the busy holiday season and beyond."
It sounds like a step in the right direction, and if there's any time that people are going to need stress reduction, it's while making their way through the labyrinth of airport bureaucracy and security theater during the holidays. If you happen to pass through LAX or SFO during your holiday travels this year, come back here and let us know what you think think of the PUPS and the Wag Brigade.
More on traveling with dogs: