Last week, the world was gifted with the very first "smart" dog bone — or will be shortly, given that the GoBone Kickstarter blew through its $60,000 goal in less than a week. Soon, you will have an electronic, interactive bone your dog can play with when you are not in the room, the house, or even the state.
According to the Kickstarter, you can customize the toy for your own dog, take control of it using an app, and even pack it with food to make it more interesting. The GoBone works by going to "sleep" when the dog plays with it; then, when he loses interest, it "wakes up" and starts giggling and zooming around the house. It also features a "bonding mode" to sway pooches who might not warm up to a fake bone when nobody is home.
All this technical gee-whizzery being thrown at dogs got us thinking — why stop at bones? Why don't we just offload all our dog interactions and pet tasks to machines? Here are some more automatic doohickies and thingamajigs that we'd like to see happen:
Automatic food bowl — enjoy hands-free filling thanks to a subterranean pipe affixed to the bottom of the bowl on one end and to the pet-food factory of your choice on the other!
Automatic water bowl — a second subterranean pipe, which is fitted securely to a mountain spring, a Swiss glacier, a Fijian lake, a municipal water treatment center, or what have you.
Automatic leash, which walks your dog on a programmable route, sends you text updates, and automatically posts pictures of people gawking at your dumb leash on Instagram.
Automatic water bowl cleaner — neutralizes horrific slobber via nanobots developed by the medical waste industry.
Smart dental robot — provides basic, routine dental care for owners who can't be bothered to brush their dog's teeth monthly, yearly, or ever — oh, wait, we have this already. She's your vet tech!
Smart bathtub, which lures the dog into the water with the promise of a hamburger and then deploys hundreds of scrubbing bubbles to clean and shine, disinfect, and deodorize — and then go down the drain, together. They work hard, so you don't have to. (Not affiliated with Scrubbing Bubbles, except for the fact that we stole all their ad copy.)
Automatic stick-throwing machine to complement the automatic ball-throwing machine.
Automatic beer-retrieving machine to complement the automatic stick-throwing machine that complements the automatic ball-throwing machine (owners only).
Automatic hair de-shedder nanobots that individually carry each loose hair off the dog and deposit it in a governmentally approved pet-hair waste disposal site. May cost one billion dollars.
Automatic belly scratcher, which remarkably resemble your children — who should be playing with the dog instead of letting all these damn machines do it!
Automatic playmates, which, of course, we wouldn't need to make if SONY HADN'T KILLED THE AIBO.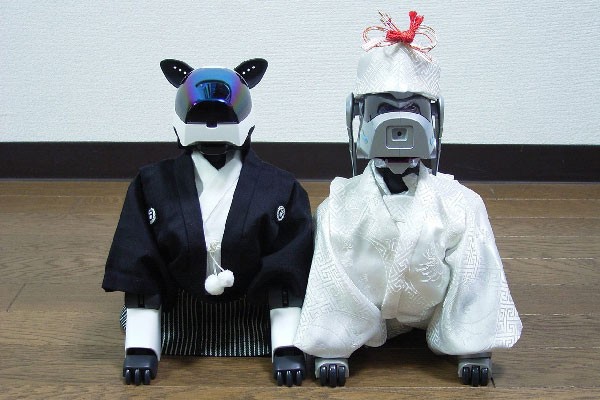 I think we should get right on these. Anyone know Elon Musk? He'd probably make all of these if he hasn't already. Someone should email him.