Let's just start by saying that no one thinks their home smells like dog. And if you ask your friends, they will politely tell you they don't think so, either. So it's really hard to know if you do, in fact, have a "doggy" house. Despite having three indoor/outdoor farm dogs who get a bath somewhere between never and once in their life, I do not think we have a very doggy-smelling house. But we might.
What I DO know we have is a dusty, dander-y, hairball-y house. I know this by the frequency with which I find Cairn Terrier-sized hairballs under the sofa, despite our only owning short-haired dogs. And the dust is pretty chronic, too. I like to tell people it's part of the farm ambiance. Because dusting sucks. For a while now, we've been considering trying out a HEPA-filter air purifier, and we finally got that chance about a month ago.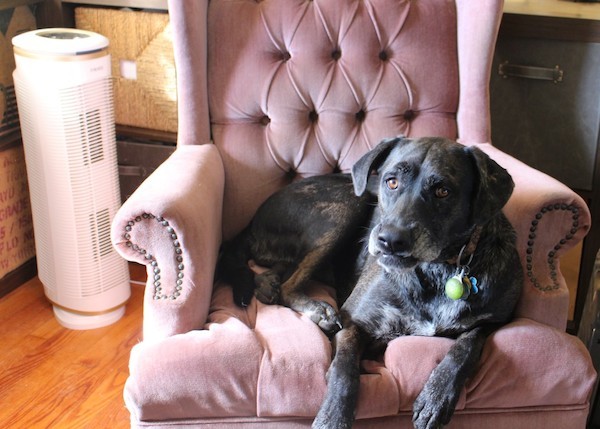 The HoMedics AirMaster was specifically designed for homes with pets. According to the company literature, it uses "Pet Plus technology, which removes litter-box odor, wet-dog smell, pet fur, dander, and much more." Basically, what that means is that it has three different filters: a pre-filter to catch hair, fur, and dust; a charcoal filter to trap odors; and a HEPA filter to catch the assorted small allergens your pets may be sharing with you.
The tower housing holds the three filters plus a relatively quiet fan with three speed settings. Relatively quiet is, as you may have gathered, relative. Here's what it means for us: Our foster dog, Coop, does not like machines that make noise. He barks at hair dryers, food processors, vacuums, etc. He does not, however, bark at the AirMaster set on medium. The fan is a pretty constant white noise that I find unobtrusive, though I do find the high speed rather loud.
The machine is designed to be effective in a space up to 189 square feet; we are using it in our highly dog-trafficked office, which is about 140.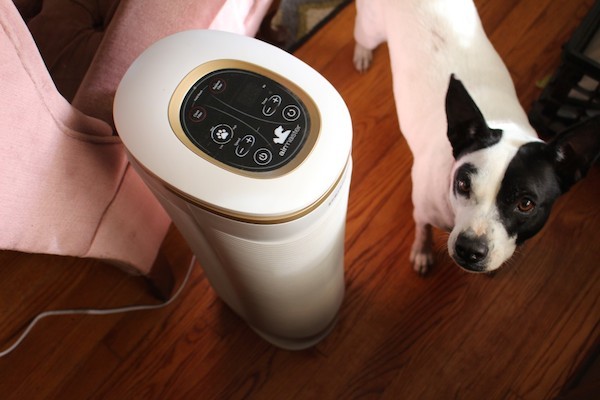 We have had the machine for more than a month now, and I can definitely tell a difference in the dust levels in the office. The filters are obviously catching a lot of the dust and dander that we have always figured we just had to live with. As for odors? As I said, I never thought our house smelled particularly doggy, but I will say that the office — where our Catahoula–Boxer mix Lefty sleeps — smells clean to me. And a couple weeks into the test, I noticed that our living room, where Coonhound mix Coop sleeps in a crate, actually had a bit of dog smell to me. In all honesty, this could be a number of things, but my gut tells me one of two: 1) It must be working and our house really DOES smell a bit doggy, or 2) crates are just smell concentrators.
The true test of the odor filter for us will actually be in our goat farm's kidding season, when we regularly keep a playpen full of baby goats in our guest bedroom. They are every bit as stinky as they are adorable. I am not sure anything yet invented by man can tame the smell of baby goat pees and poops, but for your average three-dog household, the filter seems to work as advertised. We were impressed enough by the dust reduction that we plan to buy a second one for the living room. I hate dusting. House cleaning of any variety, really, so a tool that reduces the frequency with which I have to do it is a real boon to me.
To remain effective and efficient, the AirMaster does require a little routine maintenance. HoMedics recommends the pre-filter be vacuumed clean once a month, the odor filters replaced every six months, and the HEPA filter cleaned once a month and replaced every 12 to 18 months. I imagine those guidelines can be taken with a grain of salt, depending on how many pets you have and how much dirt they bring into your home.
Overall, we are pleased with the AirMaster and, as I said, are getting another one for our living room. I will be honest, though — this was a tougher review for me to write than one for a toy. There is a lot of room for interpretation of results on a machine like this. Plus, no one can truly tell how smelly her own home may be. But if you've been thinking about using a filter to cut down on dust and dander, this is definitely a good one for that. And it's not going to make your house smell any worse, so, you know — why not spring for the extra charcoal filter?
Scorecard
Quality: The fan strikes me as being a little too noisy on high speed, but otherwise everything seems to work well.
Style: This is a machine with a function. It is not a design piece and definitely will not enhance your decor, but placed in a corner, it should not attract too much attention.
Function: It definitely traps a lot of pet fur, dust, and dander. I think it may be helping with general dog smelliness, too, but that's hard for me to judge, as I have trouble discerning a smelliness baseline in my own home.
Creativity: Nope. But that's OK. It's an air-purifying machine.
Value: At $179.99, the AirMaster is not cheap, but it is a lower price point than similar products on the market. As a tool to cut down on dust, dander, and other allergens? Worth it.
Bottom Line
This is our first time using an air purifier. I am quite happy with it and plan to get another. When you come over, tell me honestly if you smell the dogs.
Read more Dogster Reviews:
About the author: Lisa Seger (who goes by Blue Heron Farm on most social media platforms) is a former office drone turned dairy farmer and cheesemaker. She found that cubicle jobs just didn't allow for enough quality animal time and so made animals her work instead. Like all dairy farmers, she has virtually NO free time, but what little she gets is generally spent in pursuit of rescuing, fostering, and placing homeless dogs. Or being a smart-alec on the interwebs. Follow her on Facebook, Twitter, and Instagram.