On Jan. 1, 1996, I began one of my most epic traveling adventures: a three-month overland trip through Central America and the Yucatán Peninsula. I touched down in Guatemala City, and then made my way to Antigua for several days before flying to Tikal. I had a couple of good days in Tikal and Flores before the inevitable happened: My young, naive (in both the psychological and immunological senses) self became sick. I made my way north to Playa Del Carmen, Mexico, to recover.
I was a lot younger then (as we all were in 1996). Somehow I managed not to vomit on one of the Batty Brothers Bus Company's old U.S. school buses as I crossed Belize. When I finally made it to the youth hostel in Playa Del Carmen, I was a wreck. I was suffering from horrible nausea, inappetence, lethargy, fever, and diarrhea. It was standard traveler's sickness.
There was plenty of bad news, and some good news. Let's start with the worst news of all. I was sick because I had consumed someone's poop. That's what traveler's sickness is. There was some good news, however: At the time, I did not know what causes traveler's sickness. I had assumed simply that some water had splashed into my mouth during a shower (which was probably true — but that water was contaminated with someone's poop). So I wasn't as grossed out by my illness as I would be if I were to suffer the same fate now.
There was more good news. A few doses of ciprofloxacin or azithromycin would have fixed me up almost immediately, and these drugs were available over the counter at any pharmacy in Playa del Carmen. But alas, there was more bad news. I didn't have any medical knowledge at that time, and it never occurred to me to purchase one of those antibiotics. So I stayed sick.
I met a friendly Australian at the youth hostel. He took pity on me, and assured me that he knew of a secret — and best of all, natural — cure for traveler's sickness. He gave me a bottle of tea tree oil, and advised me to put one drop of the stuff into every liter of water that I drank. I followed his recommendation.
The tea tree oil did nothing to make me feel better. But it tasted horrible. For three days I used the "remedy." And to this day, the mere smell of tea tree oil makes me feel nauseated. (I finally got better on my own about a week later.)
At the time, I was excited about the tea tree oil because it was a natural product. I believe that it is a nearly universal human desire to be drawn to natural products and to be averse to "artificial" or man-made ones.
And indeed, many natural things are good. Lettuce, spinach, fresh air, tomatoes, olive oil, and avocados all come to mind. But there is a darker side to nature as well. The E. coli or Campylobacter that made me sick in 1996 was all-natural. Tetrodotoxin, aflatoxin, Fer-de-Lance venom, gamma radiation, and rabies are natural. In 1996 I was sick because of a natural bacteria; a completely un-natural antibiotic would have saved me from 10 days of feeling horrible. Natural tea tree oil did nothing except leave me with an aversion to its smell and taste.
So what does this have to do with dogs? Well, as someone with an 18-year-old aversion to tea tree oil, I was interested to read a scientific report in the January 1, 2014 Journal of the American Veterinary Medical Association (JAVMA) entitled, "Concentrated tea tree oil toxicosis in dogs and cats: 443 cases (2002-2012)."

Tea tree oil continues to be marketed as a wonder product. In humans, the product is marketed for dozens of uses (although I can assure you it does not work for traveler's sickness). In veterinary medicine, according to the article, tea tree oil is "marketed for use on dogs, cats, ferrets and horses for cleaning hair, healing hotspots, and treating some skin allergies."
And, in fact, veterinary products containing tea tree oil rarely cause problems for pets (other than putting them at risk of being vomited upon by their veterinarian, if the veterinarian is me). But there are two rubs: The veterinary products contain highly diluted tea tree oil, and in my experience they don't do much of anything other than make the pets stink.
Dogs get into trouble with tea tree oil when human products, which often aren't diluted and can contain 100 percent oil, are applied to them. Exposure to the undiluted products, according to the authors of the paper, can cause hypersalivation as well as neurological problems, including weakness, lethargy, tremors, staggering, and partial paralysis. In other words, tea tree oil is a natural neurotoxin. The veterinary products simply don't contain enough of the toxin to cause symptoms (in general). The human products do, and the symptoms can last up to three days. Fortunately, the paper does not make any mention of dogs dying from exposure to the product.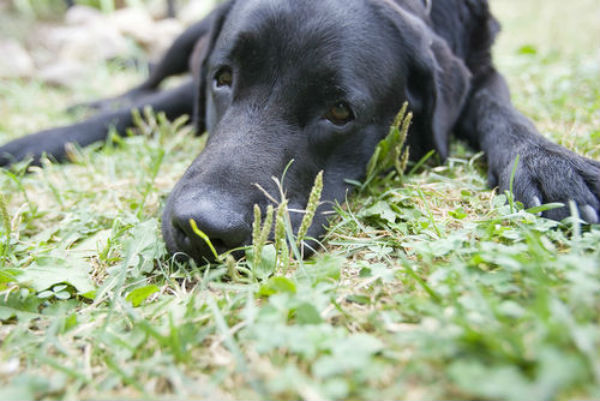 About 15 minutes after I finished the JAVMA article I picked up the November/December, 2013 Journal of Veterinary Emergency and Critical Care (JVECC). And what did I find? There was a paper entitled, "Hemolytic anemia after ingestion of the natural hair dye Lawsonia inermis (henna) in a dog."
The paper described a nearly fatal reaction to henna in a dog. The dog suffered kidney injury and a life-threatening condition called hemolytic anemia. Fortunately the dog recovered after a blood transfusion (although the potential for longstanding kidney injury exists).
Do these articles prove that natural products aren't safe for dogs or people? Not at all. Do they prove that man-made products are safer than natural ones? Absolutely not (although they often are more effective).
But they serve as a reminder: Although it's normal to think of natural products as being always safe, that's not the case. And it's also important to remember that products, be they natural or man-made, that are safe for humans may not be safe for pets.
Learn more about dogs with Dogster:
Got a question for Dr. Barchas? Ask our vet in the comments below and you might be featured in an upcoming column. (Note that if you have an emergency situation, please see your own vet immediately!)