Evan Diez has always fashioned himself a collector of discarded art. But the guitarist for New Orleans-based punk rock band Stereo Fire Empire could not believe what he and his bandmates had stumbled upon Tuesday.
"His face was ghost white — jaw dropped, like, 'You don't understand,'" singer John Kennedy told WVUE-TV.
The whirlwind events on Tuesday were hard for everyone involved to understand, but what the band had in its hands was a $250,000 blue dog painting by renowned New Orleans artist George Rodrigue that had been stolen from a nearby gallery just hours earlier.
The painting, one of the famous blue dog series called "Wendy and Me," depicted the dog as Rodrigue appeared in his wedding invitation photo, alongside his wife.
The thief simply walked into the gallery, took the painting off the wall, and left, all in a matter of minutes, in broad daylight, under the watchful eyes of surveillance cameras.
"The whole incident took about 55 seconds from entry to exit," Jacques Rodrigue, gallery manager and son of George Rodrigue, told the TV station. "When he first walked into the gallery, he walked to the left, and our sales person in our room, in the print room in the left, said hello, and he said hello back. He entered the main room, and he took the piece off the wall and walked out."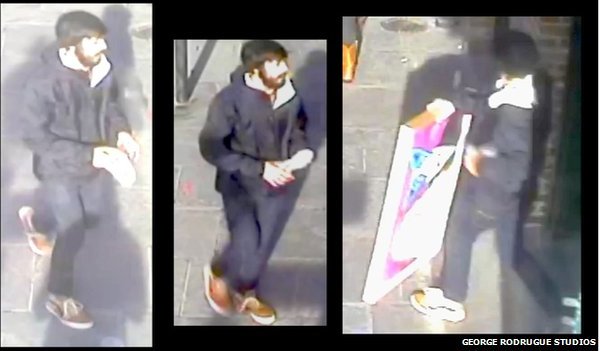 Word of the daring grab soon spread on social media, where Stereo Fire Empire members saw it on Facebook.
"Our guitar player was actually talking about how he saw on Facebook that a Blue Dog painting was stolen, and it was weird cause literally five minutes later we were walking past the Rib Room and our guitar player was like, 'What's that?'" Elliot Newkirk, the band's bass player, told WVUE.
"That" was the painting and another pilfered print, propped up along the side of a building as the band was walking by. It was there that Diez's knowledge and interest in art saved the day.
"I collect discarded art and things like that," Diez said. "Even if it's just a frame, I'll pick it up. I saw those canvases and had to check them out."
Kennedy flipped the canvas around, but only Diez understood what was happening.
"I flipped it over, and not really knowing much of the details of the story I was like, 'Oh it's just a Blue Dog print — it's cool and all, but I don't think it's worth you taking home,'" Kennedy said. "[Diez said,] 'You don't understand … this is a $250,000 piece of artwork.'"
Describing their sudden involvement in a major art heist — what the band members described as a "Scooby-Doo" moment — the group trooped the artwork to a nearby police station.
"So we're walking down the street with these, you know, quarter-million-dollar paintings in our hands, and they're facing out, and I'm like, 'No! Turn that around! We don't want people seeing that,'" Newkirk said.
At the station, they recorded a cell phone video of themselves turning in the painting and print.
"We're currently at the police station right now. We have recovered stolen items, and here we are. How crazy is that?" the friends laughed in the video.
Jacques Rodrigue said the painting only had minor scratches on the frame, which will be replaced.
Police searched the pieces for fingerprints in order to help track down the thief. The band did not ask for a reward.
"They're like really great guys and really awesome friends of mine, and I'm really glad that we got to do this together," Kennedy said.
"We joked last night that we're going to write a song about it, so we'll see what happens," Newkirk said.
Via WVUE
Read more dog news on Dogster:
About the author: Jeff Goldberg is a freelance writer in Quincy, Mass. A former editor for MLB.com and sportswriter for the Hartford Courant who covered the University of Connecticut's women's basketball team (Huskies!) and the Boston Red Sox, Jeff has authored two books on the UConn women: Bird at the Buzzer (2011) and Unrivaled (2015). He lives with his wife, Susan, and their rescue pup, Rocky, an Italian Greyhuahua/Jack Russell mix from a foster home in Tennessee, hence the name Rocky (as in Rocky Top).