When Ernie Altamirano adopted his dog Sassy, he was told she likely wouldn't survive beyond her third birthday, but somehow this diminutive Pit Bull has outlived all expectations.
"Three years came — and she was fine. Then four years came — and she was still fine," Ernie tells Dogster.
Ernie was among the more than 10,000 Facebook users who began following Sassy's foster care journey online after she was pulled from New York City's Manhattan Animal Care Center by a rescue group, Forgotten Friends of Long Island, in 2012.
Born with dwarfism and a host of other health issues, Sassy is likely the product of inbreeding and doesn't look like other Pit Bulls.
"She has bent front legs, flipper feet, and she has severe hip dysplasia in her hind legs," Ernie explains. "She also can't bark because her trachea is bent like a lowercase 'n.'"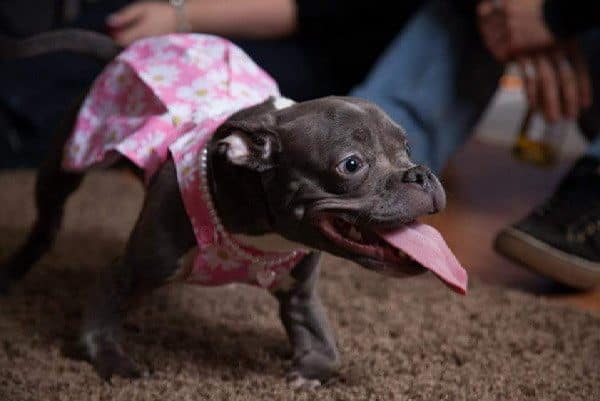 The folks at Forgotten Friends of Long Island knew they would need to find a special home for Sassy, and set up a Facebook page for the little dog shortly after saving her from the shelter. By the time Ernie stumbled onto the page, Sassy already had thousands of friends and dozens of offers from prospective adopters hoping to give her a forever home. Ernie remembers feeling compelled to arrange a visit with Sassy's foster mom, but he never expected that out of all the potential homes, his would be chosen.
"Being a dog lover, I just really wanted to go and meet her," he recalls.
It turned out that Ernie's location and life circumstances made him the perfect pet parent for little Sassy. Forgotten Friends liked that he lived nearby, in Oyster Bay, New York. With three rescue dogs — including two seniors — at home, Ernie had the experience Sassy's rescuers were looking for, and at 9 months old Sassy went to live with Ernie and his pack.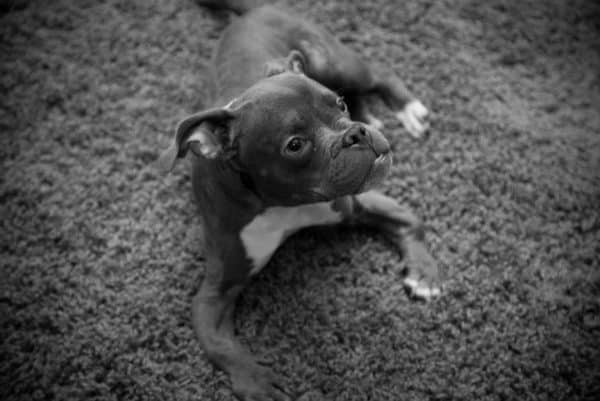 She had found her forever home, but Sassy still needed to win over Ernie's other dogs. The two seniors were disinterested in the pup, but Ernie's youngest dog, a Chihuahua–Greyhound mix, was downright terrified.
"At first, Dolly Parton did not get off the bed," says Ernie, who knew he needed help integrating Sassy to the pack. "It took a few months, but I hired an amazing dog trainer and now they get along really well."
Ernie's dogs weren't the only ones who didn't quite 'get' Sassy at first. Some neighbors were aghast when the miniature, bent-legged Pit Bull was first spotted on sidewalks. Passersby would suggest that keeping Sassy alive was cruel, but many changed their opinions after getting down on her level and playing with the spunky pup.
By her first adoption anniversary, Sassy had won over her community and would soon win the heart of special canine friend.
"That's when one of the foster moms from Forgotten Friends of Long Island called me up," Ernie recalls. "They usually rescue big dogs — Pit Bulls — but they had rescued this [small] dog, Chiqui, and I had just lost one of my senior dogs."
After some consideration, Ernie adopted then 12-year-old Chiqui, a Chihuahua mix, but almost instantly regretted the decision. It turned out Chiqui's vision problems were worse than he initially thought. The senior dog was almost completely blind, falling down and bumping into things.
"The next day, I called and said, 'I feel horrible, but I cannot keep this dog.' It's just so much to have four dogs if two are disabled."
The rescue understood and asked Ernie to keep Chiqui only until they could find a home for her. He agreed, but later that day saw something that changed his mind. Sassy and Chiqui were cuddling together — it was clear a special bond was forming, and Ernie knew he had to keep Chiqui.
"Then one day I look, and there's Sassy leading the blind dog around — they both had a toy in their mouths and Sassy was just leading her," he says.
Sassy is as sweet with kids as she is with Chiqui, and Ernie says therapy dog work may be in her future. For now, Sassy and Ernie are advocating for acceptance of special needs people and pets and have recently launched an Instagram account to spread Sassy's inspirational story even farther.