Her black paw stepped over the threshold and met the cold surface of the hospital corridor. For almost seven years, Runty had followed her favorite human's feet as they moved from room to room or across Wisconsin farmland. As she stepped into the oncology unit, Runty wasn't standing in David Bond's familiar shadow, but she was still following him. This was her inaugural visit as a newly minted therapy dog — something Bond had always been leading her toward.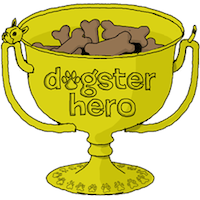 He'd first noticed her potential when she was just a wiggling puppy — a tiny people pleaser among a litter of purpose-bred hunting dogs born to his daughter's dog.
"I don't think my father ever had the intention of getting a big Lab as a dog," explains Bond's daughter, Heidi Ennenga. "He had just lost his little Pomeranian, and when he came up to see the puppies, he just fell in love with Runty."
The connection was too strong to resist, and Runty went home with Bond, who called her the perfect dog. He started training Runty in obedience, with the intention of eventually getting her certified as a therapy dog. Over the years, the pair worked hard on obedience, but health issues and other responsibilities prevented them from taking the final steps toward therapy dog certification.
Then in May 2015, Bond was diagnosed with Stage 4 pancreatic cancer — the most serious and final stage of the disease. He spent the summer in and out of the hospital and could no longer care for his loyal Lab. As he fought cancer, he asked Ennenga to take permanent custody of Runty. Her place had always been Runty's home away from home, as her family still included Runty's biological mother and sister. Bond knew the dog's transition back to her birthplace would be an easy one. As father and daughter made plans for the future of the dog they both loved, Bond made a confession.
"He told me he regretted not completing her therapy dog training," Ennenga recalls. "He felt bad about it."
Knowing how much this meant to her dad, Ennenga decided she would try to made Runty a therapy dog while Bond was still around to see it. She signed up for online animal therapy education through Pet Partners and completed the work just over a month after her father's diagnosis.
The next step was to schedule a test with an evaluator, but Ennenga was disappointed to learn all the evaluators nearby were all booked up for months. She was starting to fear her father would pass away before seeing Runty realize her potential, when suddenly she was contacted by one of the evaluators she'd emailed. There had been a cancellation — Runty could be evaluated almost immediately.
"I kind of put her through boot camp," says Ennenga, who had just three days to help Runty brush up on her skills. "She was used to working with my dad primarily, and because of Dad's illness she hadn't been worked with [recently]."
After the cram session, Runty was ready and willing to work with her new handler. She and Ennenga travelled an hour and a half to reach the testing facility. When they arrived, they found the original evaluator they'd been in contact with had asked a second evaluator to test Runty. The woman who had fast-tracked Runty's test had been very touched when she learned the dog's backstory, and didn't think she could remain unbiased while assessing Runty's skills.
"She told me she would have wanted to pass us no matter what," Ennenga recalls.
Thanks to years of obedience training, it turned out Runty didn't need any sympathy to get through her evaluation. She passed the test on her own merit, and she received her acceptance to the therapy animal program a few weeks later, in the fall of 2015.
Meanwhile, Bond's condition had become worse. His health was declining, but he didn't want to be in the hospital any longer. Instead, he headed to Ennenga's house for a final visit. On the way there, he asked his daughter if there were any veterans' administration homes in the area and explained how much he wanted to see Runty in action as a therapy dog.
"I told him I would check with the local nursing homes in the morning," says Ennenga.
Unfortunately, the next day proved to be difficult for the family, as Bond got weaker and weaker. There wasn't time to arrange for Runty to visit a local nursing home as the family dealt with Bond's rapidly declining health. New scans indicated his cancer had spread, and he had to be readmitted to hospital. His doctors estimated he had one to two weeks left.
On October 4, 2015, Bond finally got to see Runty in action during her very first outing as a therapy dog. With Ennenga acting as her handler, Runty stepped into Bond's hospital room wearing the official vest he had always wanted to see her in.
"He was so proud," says Ennenga, who placed Runty's blanket on the hospital bed and gave her the command to jump up and reunite with the man she'd loved for her entire life.
"He held her paw for three hours. She didn't want to leave him."
Six days later Bond passed away, with Runty and the rest of his family by his side. Afterwards, Runty turned into herself. For six months, her therapy dog vest was left unworn.
"She just wasn't ready," says Ennenga. "She was grieving."
When the bounce returned to Runty's step this spring, Ennenga knew it was time to schedule more visits. Runty will never forget her first outing as a therapy dog, but she is finally ready to offer her paw to others in need — just like her human always wanted.