Scroll through some dog products that you and your pup will love!
Dish it up for your own dog or someone else's with this fun and modern ceramic bowl. It's decorated with a dog bone that can be stamped with your pet's name or a cute paw print. Text colors include silver, gold, black, light blue or light pink. The bowl has two sizes: Small/Medium or Large. Each order includes one dog bowl; purchase two bowls for a set. $36.95/S-M or $39.95/L | Susabella; susabella.com
Your dog can snuggle up and transition into a relaxing night dreaming of rabbits and squirrels with this sweet bear hiding a belly full of calming, organic lavender. Comes in a variety of sizes (regular and mini), patterns and colors — orange, denim splatter, red floral bow tie, black floral bow tie, mint polkadot bow tie and pink polkadot bow tie. Black floral and red floral available in mini only. $28 — $34 | MODERNBEAST; modernbeast.com
Get peace of mind with this durable, waterproof, real-time location monitor, not limited by range or location. The battery last weeks with active use. Other benefits: Add people to the Care Team so you know who your pet is with. Set a geofence around your yard or home, and be notified when your pet leaves it. Download the app for mobile updates and find out what your dog's been up to with a full location history report. Purchase includes jiobit, charging dock, USB cable, fabric pouch and secure loop for attachment to pet collars. Service plan additional $8.99/month. $99.99 | Jiobit; jiobit.com
Finally, a quick and easy way to add a pet door to your sliding glass door giving your dog easy access to the yard. Installs in less than five minutes and works with a wide range of homes and dogs. The folding panels keep bad weather and pests out plus saves on electricity by filling the gap in your sliding door. There's a simple flap among the panels that allows the pet to come and go. Can also be used with a sliding screen door. Under 3 pounds, it's easy to pop it in and out. Comes in 80-inch or 94-inch height and flap size small to extra large. $59.99 | Pop Up Pet Products; popuppetdoor.com
Fun for both you and your dog, this collection of toys comes with an accompanying fantasy story. Follow Charlotte the Unicorn as she searches for her magical wand in the Unicorn Fairytale line. The curious and kind Liam the Llama helps a family find their missing candy. Create more together time with these interactive toys. $6.99-$13.99 | ZippyPaws; zippypaws.com
Dazzle friends and family with these petite dog head studs from the Purrfect Accessory. Adorable ears are in 3D and the post comes out of the center of the dog's head. Choose from Silver-Plated Brass, Gold-Plated Brass or Rose-Plated Brass. Matching necklace also available. $28 | The Purrfect Accessory; thepurrfectaccessory.com
Honor your cherished fur baby with this stunning handmade necklace. Select from sterling silver, 14-karat gold-filled or 14-karat rose gold- filled and from chain lengths of 16 to 20 inches or a 16 inch with a 3-inch extender. Customize up to 10 to 12 characters per bar with three different font choices. $49 | Lemonbug; shoplemonbug.com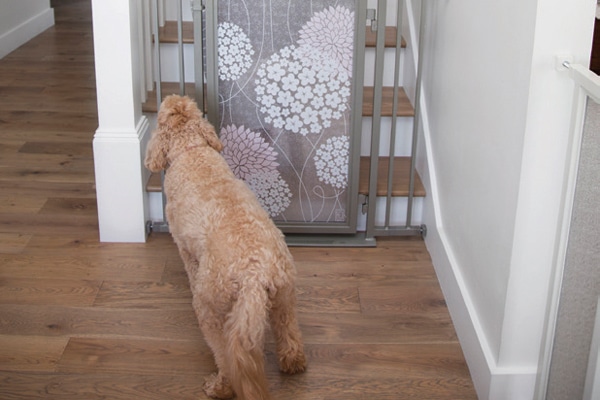 These beautiful modern designer gates combine art and safety. Plus, the interchangeable art screen system lets you change the trendy to traditional screens anytime you want. Choose from gate sizes 32 to 74 inches along with a gate finish of black, satin nickel or white pearl. Gate extensions also available. Screen styles include Modern Lines, Willow Branches, Songbirds, Chevron Trail, Peaceful Palm and much more. $199 | Fusion Gates; fusiongates.com
Want to clean up your home's air quality for you and your pets? BISSELL's new library-quiet air purifier features an advanced, three-stage air filtration system with Pre, HEPA and Carbon filters. It will capture 99.97 percent of airborne pollutants like dust, mold, bacteria and dander, pollen and even odors. The automated cirQulate system works with the filter's particulate sensor and air-quality indicator to manage the level of filtration your space needs and has a 1-hour, 4-hour and 8-hour timer. $399 | BISSELL; bissellair.com
Thumbnail: Photography ©sanjagrujic | Getty Images.
Covering the pet world for more than 25 years, Melissa L. Kauffman has been an editor/writer for a wide variety of pet magazines and websites from the small critters to parrots to cats and dogs. Her advisory team of rescued pets — dogs Tampa Bay and Justice and parrots Deacon and Pi-Pi — help keep her on top of the latest and greatest pet health research, training and products, anything to give keep them in the high life they are accustomed to. Follow Tampa and his crew on Instagram @tampa.bay.pup.report while Melissa can always be found working on the next issue of Catster and Dogster magazines at caster.com and dogster.com.
Editor's note: This article appeared in Dogster magazine. Have you seen the new Dogster print magazine in stores? Or in the waiting room of your vet's office? Subscribe now to get Dogster magazine delivered straight to you!
Read more dog news on Dogster.com: