Three of my favorite things in the world are dogs, words and collecting. So it makes sense that I'd become a writer on dog topics, right? Though, thank goodness, I do not collect dogs –- if I could, I'd rescue every last one on this earth and then be featured on one of those animal-hoarder shows. I'm fine with the awesome rescue pair I have right now. But I do collect dog names.
As a shy, introverted scribe with little interest in humans or their children, my collection started out as a go-to topic of party conversation. "Do you have a dog? What's his name? How'd you decide on that?" Before I knew it, I'd collected a ton of cool names and stories.
I started to enter them into a spreadsheet (nerd alert!), and break them down into categories: Movies/TV/Comics, Food/Drink, Presidential, Behavior, Color/Breed, etc. And of course, that end-of-the-year day that the most popular dog name lists came out was a huge holiday highlight. (Nerd alert level 2!)
And like any other 21st-century geek worth her weight in Star Wars memorabilia, I could not let my obsession remain private. So I recently started my own website, DoggieNames.com, where I could share my names, lists, cute dog pics and name profiles with the world. (Nerd alert level 3 = now entering dog-name geekdom!)
I also decided to put together the very first most popular dog names ranking that compiles data from all the other lists to come up with a comprehensive breakdown of the top 10 names not just in the U.S. but in England, Australia and New Zealand as well. Many of the lists come from major pet insurers around the world, who've analyzed hundreds of thousands of names in their databases. But I also factored in news reports and county records from various large and small cities and towns across the U.S.
I discovered some really interesting stuff … and then I created an infographic about it. (Now we're just off the geek-nerd chart altogether, I know.)
The breaking news is that, after years of Max appearing as the No. 1 most popular dog name on most lists here and abroad, 2013 found the name Charlie taking over the top spot.
Bella, meanwhile, has remained steady at the top of most dog name lists for more than five years now, and shows no sign of shaking off the No. 1 worldwide female ranking, despite the fact that the Twilight craze, featuring its main character Bella, has somewhat waned.
What hasn't waned is the trend for dog owners around the world to give their fur kids human names. In fact, out of the entire top 10, the only "non-human" name to show up was on the boys' list: Bear at No. 10. And even then, we can think of a few human Bears, Bryant and Grylls among them.
Of course, back in the day, dogs were more likely to serve a purpose beyond companionship and cuteness –- they often helped out around the house and farm as ratters, guard dogs, herders and the like. Now, there's a reason we call them our "fur kids." Our pups are a part of the family, so it's only fitting that their names reflect that.
Now, drumroll please:
The world's 10 most popular female dog names:
Bella

Molly

Daisy

Lucy

Maggie

Sadie

Chloe

Coco

Sophie

Ginger
The world's 10 most popular male dog names:
Charlie

Max

Buddy

Rocky

Bailey

Jack

Cooper

Riley

Toby

Bear
Meanwhile, my research discovered some other pretty cool stuff:
Rising in popularity are the female names

Lola, Lily, Zoey

and

Roxy

, and for the boys it's

Cody, Buster

and

Bentley

.

Expect to hear more of those mixed in with the Lucys and Baileys at your local dog park.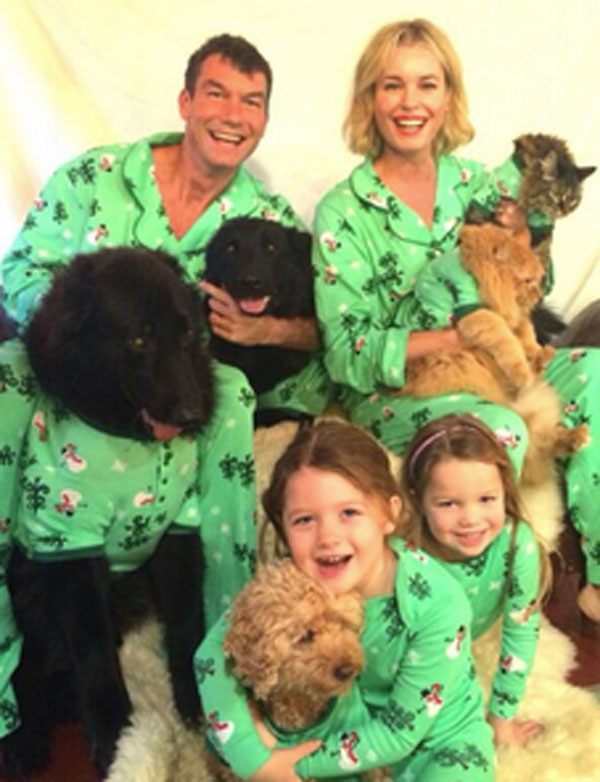 In Boston and Wellesley, MA,

Teddy

was one of the most popular names, perhaps in tribute to the beloved late Senator Teddy Kennedy.

In the UK, the most popular male and female names overall were

Alfie

and

Poppy

, which don't appear on any of the U.S. lists.

Charlie

and

Bella

come in second in the UK. Of course, royal baby

George

is predicted to make an appearance on next year's lists.

In the American South,

Jake

was more popular than

Jack

, and in New Jersey,

Rocco

was the name more often chosen for male dogs than

Rocky

.
Before I even started this project, I'd named my dogs Daisy and Bud (going for a flower theme), only to discover that both those names have been in the top five for more than five years. So despite my love and admiration for odd names (Rebecca Romijn's Poodle is named Better Business Kisses Galore), I somehow managed to go with the zeitgeist.
Hey, Zeitgeist would make a cool doggie name! Adding it to the database now …
Learn more about dogs with Dogster:
Read more about dog names:
About the author: Atlanta's own Toni Perling writes mostly about dogs — hence her blogger name, Doggienista, and her two beautiful rescues, Daisy Jo and Bud Earl. She tweets for them at DaisyJoBudEarl and covers all the latest Hollywood dog scoop at her Celebrity Dog Blog. She's also a longtime supporter of spay/neuter/rescue, and adopted her first dog, a sweet lovable mutt named Sophie, from an L.A. County shelter. Toni started out in Hollywood as a TV writer, with credits ranging from network drama to informational, including a boatload of episodes of a little Discovery Networks show named I Didn't Know I Was Pregnant, before transitioning to the Web.