Every day, police dogs around the world do their best to serve and protect humans, but one canine cop in Washington is attracting extra attention in the community he tries so hard to keep safe. K9 Deputy Basco is becoming a bit of a celebrity dog in Okanogan County, as his smiling face becomes a frequent feature on his fans' Facebook feeds.
Basco's handler, Deputy Shane Jones, created a Facebook page for his K9 partner to help educate the public about the great work Basco and his canine colleagues do. The popular three-year-old Belgian Malinois has attracted thousands of Facebook friends — fitting for a dog who's just as friendly and social off-line as he is in the pictures Jones shares.
"I am not kidding — this dog is a sweetheart," explains Deputy Jones. "Kids can come right up and grab his face. You'd never know he's a cop dog, he'll crawl up in your lap."
While Basco may seem like a loveable family dog in his downtime, this canine cop knows how to be serious at work.
"His obedience is just off the hook," explains Jones. "He's what's called a dual-purpose illegal narcotics dog."
Trained to sniff out various drugs (with the noted exception of marijuana), Basco tracks, searches, and protects his handler while in the line of duty.
"He will only bite if he's been told to bite," says Jones, who adds that Basco is so good at his job as a K9 deputy that most suspects give up before it gets to that point.
"Two weeks ago, we tracked a guy for about a mile, and right when [Basco] goes into the garage to bite the guy, the guy gives up," Jones recalls.
Jones says after the arrest, he asked the suspect why he stopped. The man explained that he'd been bitten by a different police dog during a past arrest and didn't want to repeat that with Basco. "He knew the drill."
Jones knows the drill, too — he is an experienced handler, and Basco is his third K9 partner. The pair have been together for about a year now.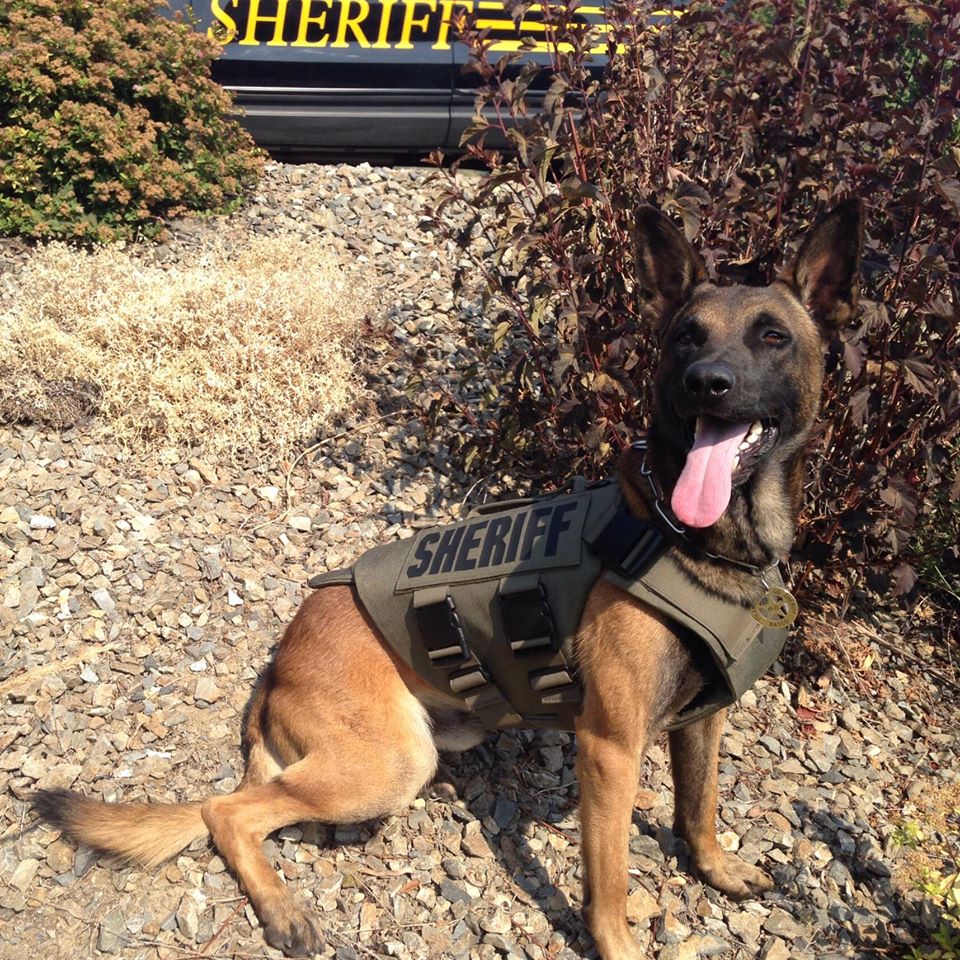 Like many police dogs, Basco was born and trained in Europe before coming to the United States. He came from Holland, so all his commands are in Dutch, and Jones had to learn how to speak to Basco in the language the dog understands.
"My first dog was in French, my last dog was in German, and now this one's in Dutch. You revert back to what you know during stressful times, so when I first got Basco I would sometimes say commands in German. He could look at me like, 'What the hell, Dad?'"
Despite the initial language barrier, Jones was very happy to be working with Basco — even if the opportunity to do so developed out of some very sad circumstances.
"My last dog I had for about two years. When I was in a class cross-training him for drug training, he ended up getting bloat and passing away."
Jones was very upset over the unexpected and sudden death of the K9 partner he'd been training, but knew that the department would be needing to replace his departed dog quickly.
During that last training class Jones attended with his previous dog, he had been struck by the behavior of another agency's K9 deputy and asked where that dog had come from. The answer was Vohne Liche kennels, the K9 training facility featured on National Geographic's Alpha Dogs. The Okanogan County Sheriff's Office turned to Vohne Liche when it needed to find Jones' new partner.
"We were so happy with them, [we said] that's where we're gonna get our next dogs," says Jones.
Currently, Basco is one of three K9 deputies working for the sheriff's office, but Jones hopes to see four dog cops patrolling the vast county in the future. Because one of Basco's K9 colleagues — a nine-year-old, single-purpose patrol dog named Ayk — is about to retire, the Sheriff's office is now fundraising for two more dogs.
Jones says a generous donation from a woman whose daughter was the victim of a violent crime has been a huge help, but because the sheriff's office is not only looking to replace Ayk but also add another K9, they still need to raise about $15,000. Jones hopes Basco's Facebook popularity will help attract donations.
"One hundred percent of any donations we get goes to the canine fund," explains Jones.
Although one of the new dogs will be replacing Basco's buddy Ayk, the retiree won't be forgotten by the Sheriff's Office, or his handler.
"These dogs are like our kids," says Jones. "We pay one dollar, and the dog is retired to the handler's family as a family dog."
Young Basco is still a long way from retirement himself. His good health and great attitude make him the perfect K9 deputy to accompany Jones as he carries out daily drug searches near the Canadian border.
"I love the guy to death," says Jones, who adds that Basco proves canines don't have to be mean to be police dogs. "I just can't say enough good things about him."
Read more on police dogs:
About the Author: Heather Marcoux is a freelance writer in Alberta, Canada. Her beloved Ghost Cat was once her only animal, but the addition of a second cat, Specter, and the dog duo of GhostBuster and Marshmallow make her fur family complete. Sixteen paws is definitely enough. Heather is also a wife, a bad cook, and a former TV journalist. Some of her friends have hidden her feed because of an excess of cat pictures. If you don't mind cat pictures, you can follow her on Twitter; she also posts pet GIFs on Google+.