When Erin Amadon adopted her Jack Russell mix, Chloe, three years ago, she never imagined that the little puppy who had survived a potentially fatal disease would achieve so much. These days, Chloe is a well-trained therapy dog with a clean bill of health. She's busy making friends at nursing homes and on Facebook, but Chloe almost didn't make it past puppyhood.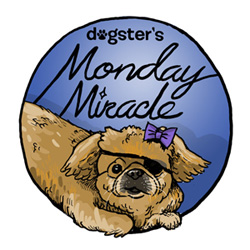 "Basically, she had been obtained by someone at a flea market — it was probably like a puppy mill-type situation," Amadon says of Chloe's early days.
"They had her for like two days, and she got really sick. They took her to the vet and were told she's got parvo."
After the diagnosis, things looked bleak for little Chloe, as the humans who'd picked her up at the flea market were suddenly in for more than they'd bargained for financially.
"They didn't want to treat her," Amadon explains. "She was five or six weeks old at this point, and puppies that young typically don't survive parvo, and also it's several thousand dollars usually for the treatment if you do choose to go that route."
Fortunately for Chloe, she had a guardian angel that day — one wearing vet scrubs.
"The veterinarian actually got them to surrender her instead of euthanizing her, which is what they'd originally requested," says Amadon. "The vet obviously saw something in her that the original owner didn't see, and she must've just been in the early stages of the disease."
Thanks to Finding Great Homes Dog Rescue out of Greensboro, NC, Chloe quickly recovered from the parvo. When she'd received a clean bill of health, the little pup became adoptable and got her own profile on Petfinder.
"I was kind of interested in a Jack Russell-type mix. I've always loved the way they looked," Amadon recalls. "I saw her story, and I saw her picture, but she was about two hours away from where I lived at the time."
Feeling an instant connection with the puppy in the pictures, Amadon reached out to the rescue at six o'clock on a Sunday night, expecting to schedule a visit on another day. To her surprise, the rescue suggested she come that evening, and when Amadon arrived it was like little Chloe had been waiting for her all along. It was clearly a mutual case of love at first sight.
"They handed her to me, she crawled up in my sweatshirt, and I was like, 'Here is your adoption fee. Have a great night.' It was only after I took her home that I realized I didn't even have a dog leash," Amadon remembers.
Despite Chloe's early history of parvo, the little dog has had no health problems since her treatment, something Amadon sometimes has to stress to people who learn about Chloe's beginnings and mistakenly believe she could still be contagious.
"A lot of times, the first response is negative, as people think she still has it and that their animals are going to be infected. People don't know a lot about parvo."
Chloe and Amadon are supporters of parvo education and awareness, and they also advocate for adoption and responsible breeding. Amadon says she completely understands why some people want to purchase a purebred dog from a breeder, but cautions buyers to do their research and visit the kennel to weed out backyard breeders and puppy mills.
"That's why people do bring dogs — like Chloe — to flea markets and [other] places, because then you're not seeing their house. You're not seeing any backstory."
Advocating for animals is just one small piece of the lives that have kept Amadon and Chloe busy over the last three years.
"I went through graduate school while I had her. I just graduated, and she was like my stress relief. I would not have survived pharmacy school without her."
Despite having a stressful course load, Amadon still found time to get Chloe back into school as well. The pair had completed an introductory puppy classes shortly after adoption, but Amadon admits she hadn't really followed through with the training and needed to reboot Chloe's education.
"After a year I was like, okay, my dog needs to come when she's called," she says.
"I contacted some local trainers, and they worked with her, and we worked every week, and now she is fully commanded."
After a year and a half, Chloe surpassed all training expectations, earning awards and certificates for her efforts.
"She has her Canine Good Citizen Award AKC Certificate, and then she has the advanced step up from that which is the Community Canine Good Citizen."
According to Amadon, Chloe loves meeting people, so it was natural for the pair to pursue further training as a therapy dog. Of course, the pup passed with flying colors.
"At one of the nursing homes we go to, there's a woman who is paralyzed completely from the neck down, and because Chloe is so small — she's only seven pounds — she's so tiny, I just put her up on the bed, and she just gives that lady kisses all over her face. Oh my gosh, it just makes her day, and it's wonderful to see that."
Outside of her therapy work, Chloe loves to dance to the theme song for The Ellen DeGeneres Show (which she hopes to appear on one day) and play with her feline siblings.
"She and the one cat, Louie, are best friends. They wrestle, they chase each other, and they play fetch together. The cat loves fetch."
As much as Amadon loves her cats, she can't imagine what her life would be like without her canine companion.
"The minute I saw her picture it was like, that's my dog. I need that dog."
Read more Monday Miracles on Dogster:
About the Author: Heather Marcoux is a freelance writer in Alberta, Canada. Her beloved Ghost Cat was once her only animal, but the addition of a second cat, Specter, and the dog duo of GhostBuster and Marshmallow make her fur family complete. Sixteen paws is definitely enough. Heather is also a wife, a bad cook, and a former TV journalist. Some of her friends have hidden her feed because of an excess of cat pictures. If you don't mind cat pictures, you can follow her on Twitter; she also posts pet GIFs on Google+.