Duncan Lou Who is not like other dogs. Born with a severely deformed pelvis and fused rear leg bones, the adorable Boxer had both of his back legs amputated when he was just a puppy. Vets discovered that his condition was damaging his spine, leaving his rescuer, Amanda Giese of Panda Paws Rescue in Vancouver, Washington, with two choices: Either amputate and give him a chance, or let him go humanely.
Fortunately for Duncan, Panda Paws is not like other rescues. Giese founded the nonprofit organization many years ago after she quit her job at an emergency veterinary clinic to provide better care for the animals who needed it most.
"I felt the injured strays deserved better than what they were receiving," Giese says. "By law, the clinic only had to provide the bare minimum until animal control could pick them up. Nobody wanted to be financially responsible for going above and beyond the minimum, and that was heartbreaking to see these animals suffer."
Giese certainly went above and beyond for Duncan, who has adapted to his condition by learning to walk on his front legs and in all other ways is a happy, playful pup. The photos Giese shares on Panda Paws' Facebook page show a curious, feisty, wide-eyed dog who has no idea he's any different from his playmates. Giese never questions whether she made the right decision for Duncan.
"He has proved that we made the right decision on a daily basis!" she says. "His long-term future is unknown; we don't know how long we will have with him, but we do know that every day we have him is a blessing, and we couldn't be more in love with him!"
Giese knows Duncan is happy and healthy because she is with him — and her other foster dogs — all day, every day. Panda Paws is operated out of her home, where she lives with her family, including her two children. Because Panda Paws is a home-based rescue, there is no overhead, so all donations go directly to helping the animals, who are nursed back to health before finding their forever homes.
Animal rescue seems a natural vocation for Giese, who rescued her first kitten when she was in elementary school. Giese bottle-fed the young cat and took her to vet appointments on her bike. The cat lived to be 16 years old and taught Giese the value of patience and empathy for all creatures. She hopes Panda Paws imparts the same values to her own children.
"Fostering dogs has changed myself and my family in various ways," she says. "We have all gained quite a bit of patience over the years, priceless knowledge that continues to help the future animals we take in, and endless empathy — not only for the animals but for many of their previous families, the homeless, victims of violence and abuse."
Opening her home to the world via social media and sharing "the daily ins and outs of rescue, the good and the bad, without sugar-coating anything" has been a double-edged sword. On one hand, it has empowered others to get involved in animal rescue, but it has also invited unfair criticism and judgment.
"We have a grown thicker skin to the negativity brought on by those who can't think outside the box or aren't willing to broaden their horizons via education," Giese says. "We have to let a lot of things roll off our backs like water off a duck, but let me tell you, that is one of the hardest parts!"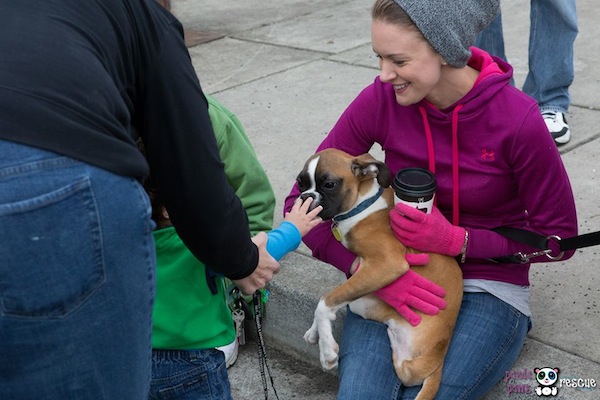 Another hard part is knowing that Panda Paws cannot help all of the animals in need. In recent years, Giese has cut back the number of dogs she fosters to focus her efforts on the most difficult cases — as well as raising her own family and making sure to take time for herself, since an at-home rescue means she is always in "rescue mode."
"Something I am constantly preaching about is quality over quantity," she says. "I would rather give 100 percent to the ones I commit to then make them ever go without. I have to remember I am merely human and the overpopulation issue isn't my fault. I am simply trying to help make a difference in cleaning it up."
And like many (if not all) rescuers, Giese is quick to point out that everyone else can help make a difference as well.
"I feel it is important to plug four little words that can have a significant impact on the battle we rescuers are fighting every day: Spay and neuter, please!"
Visit Panda Paws' Facebook page and website.
Check out these adorable stories on Dogster:
More by Angela Lutz:
Do you know of a rescue hero — dog, human, or group — we should profile on Dogster? Write us at [email protected].
About Angela: This not-crazy-at-all cat lady loves to lint-roll her favorite dress and go out dancing. She also frequents the gym, the vegan coffee joint, and the warm patch of sunlight on the living room floor. She enjoys a good cat rescue story about kindness and decency overcoming the odds, and she's an enthusiastic recipient of headbutts and purrs from her two cats, Bubba Lee Kinsey and Phoenix.