You may have seen him at your local mall, smiling out at you from a poster in the window of a shoe store, but Oliver the dog model is more than a brand ambassador — the photogenic former shelter pup is also a breed ambassador. Officially, he represents Bzees shoes, but he's also the unofficial poster dog for misunderstood Pit Bulls everywhere.
"I've had Beagles, Poodles, Terriers, Yellow Labs — and I've never had a dog as affectionate and as goofy as Oliver," explains Oliver's human, Lori McDermid.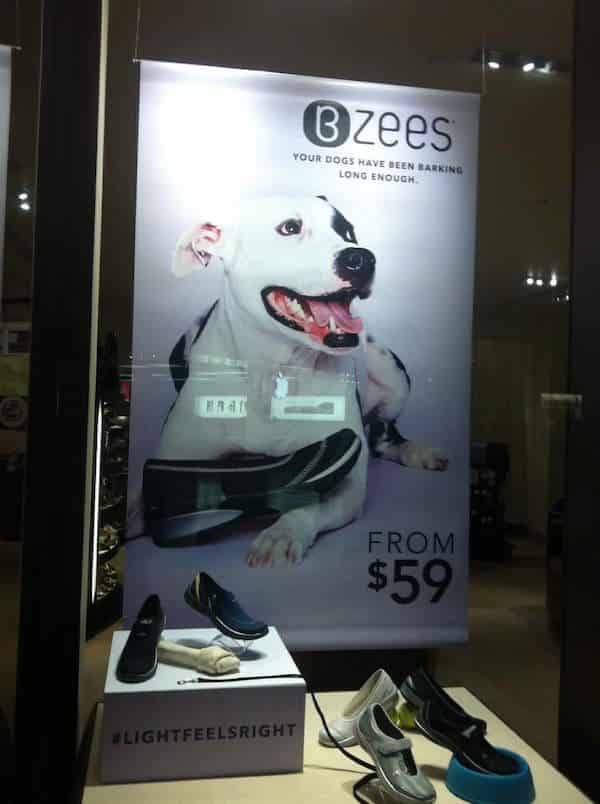 The vice president of Bzees, Lori is proud of how far the company's Chief Canine Officer has come since the pair met at the St. Louis Humane Society shelter on December 22, 2010. Oliver was between 6 and 8 months old at the time. Rescued from a empty warehouse weeks earlier, he had just come out of medical isolation when Lori walked into the shelter to drop off some holiday donations.
"He was so sad," Lori recalls. "He had come in with parvo — and that's a hard disease — so he was in isolation for a month. When he came out he got pneumonia, so he had to go back into isolation. He had only been back out for two days when I saw him."
Despite everything that he'd been through, Oliver managed to make Lori fall in love at first sight. His cute little ears pulled on her heartstrings, and soon she was signing adoption papers. Lori knew others might be wary of a Pit Bull, but the label didn't scare her.
"When I saw Oliver, it didn't matter what you called him — he was such a love bomb," Lori remembers.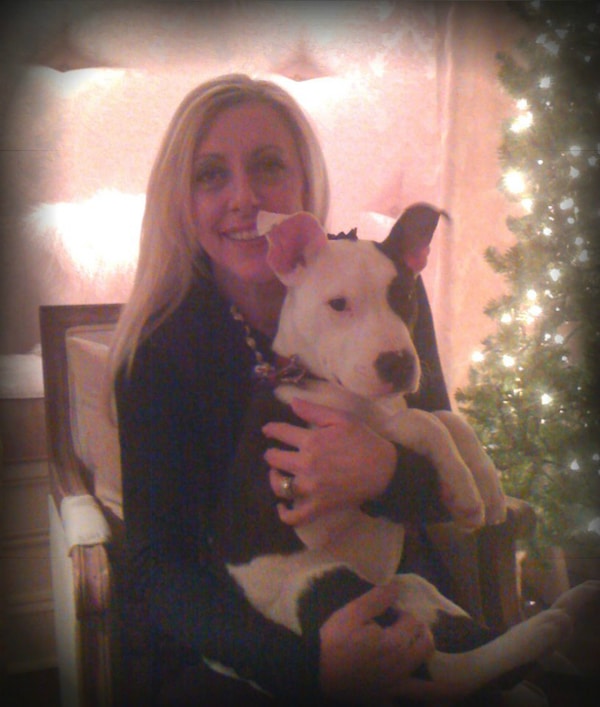 Soon Lori and her husband were welcoming Oliver home to meet their other dogs — an Akita mix named Polly and a Coonhound mix named Monty. Oliver's adoption happened just one day before the whole family planned to head to their lake house for their annual Christmas trip, but Oliver wasn't about to go anywhere after spending the night in his very own dog bed.
"He didn't want to leave the house. He wasn't leaving that bed," says Lori, who believes Oliver was afraid leaving his new bed would mean going back to the shelter.
"So we got everybody in the car, and we put his bed in the car. When we got to the lake house, he saw there were other dog beds there, and he was so happy," she recalls. "Once he realized that he was gonna get to stay, he just became this gregarious, loving pooch."
As Oliver's personality blossomed, Lori learned more and more about the bias dogs like Oliver face, and decided to create Oliver's Clubhouse, a Facebook page dedicated to advocating for Pit Bull-type dogs. Lori credits Oliver's infectious energy with motivating her to get involved with the cause.
"I work full time, and I don't have the time to do actual rescue, but I thought, well, if I do a Facebook page and I can help advocate for rescue that way, maybe down the road in a different phase of my life, we can maybe make the clubhouse have actual walls."
On Facebook — and at the office — Oliver and Lori are dedicated to their mission. Oliver is the face of Bzees' Fetching Hope campaign, which sees the shoe company partner with animal charities each quarter. Most recently, Fetching Hope raised $1,000 for the Colorado State University Flint Animal Cancer Center. This campaign was close to Lori's heart, as Oliver fought cancer himself earlier this year. Chemotherapy and surgery successfully treated his mast cell tumor, and according to Lori, all the encouragement from Oliver's Facebook fans helped, too.
It's been six years since Oliver left the shelter behind and stepped into his picture perfect life as a pampered dog model, but many Pit Bulls aren't as lucky. As Oliver is challenging perceptions of the breed though adorable poses, Lori is urging potential dog adopters to look past breed labels when visiting a shelter. She says many people are still unfamiliar with who Pit Bulls really are.
"They're just dogs, and they're just looking for a family to love them."
Top: Oliver is the Chief Canine Officer and dog model for Bzees shoes. (Photo courtesy Bzees)